Accidents caused by defective traffic lights and signals result in thousands of car accidents and hundreds of fatalities in the United States. Victims can include motorists and their passengers, pedestrians, motorc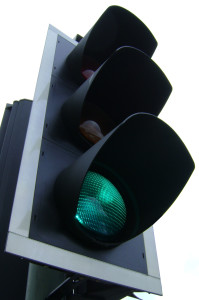 yclists and pedestrians. Victims of accident caused by defective roadway conditions including non-working traffic lights may have the right to seek compensation from all liable parties including government entities.
State and City Liability for Defective Traffic Signals and Traffic Lights
Under California law liability on the part of a government entity would be established if the public entity, 1. Fails to provide for traffic regulatory warning signals that are necessary to properly warn of a dangerous condition which endangers the safe movement of traffic. (AND) 2. The dangerous condition on the road would not be reasonably apparent to, and would not have been anticipated by, a  person exercising due care. Common Types of Improper Traffic Lights Resulting in Accidents:
What if I was Partially At Fault for the Accident
A common question asked by individuals involved in auto accident revolved around partial fault. Contributory negligence laws in the state of California allow for individuals who were partially at fault to recover for their damages. However potential recovery for damages incurred will be based on the percentage of fault allocated to each party. Here is how it Works: If the courts place you 20% at fault and the total calculated damages is $100,000 then you are entitled to receive up to but not exceeding $80,000.
Statute of Limitations Against Government Agencies for Personal Injury Claims
Lawsuits against government agencies entail a different set law with respect to filing deadlines. An injured party must first file an administrative claim within SIX MONTHS (120 Days) from the date of the incident. Once an administrative claim has been denies a party has two years from the date of the accident to file a lawsuit in civil court. In some case victims may be able to toll a statute allowing them to file even if the statutory time limit to filing a case has run out. For more information on see here for California laws pertaining the statute of limitation for auto accidents.
Recover for Your Injuries – Estimated Value of Your Case
Victims of personal injury at the hands of another individuals wrongful or intentional acts have the right to money damage recovery. The amount of recovery available to them is predicated on several important factors described below..
Common Injuries Associated With Auto Accidents: Some of the most common injuries associated with auto accidents include the following:
Attorney Consultations Available: If you have any further legal questions regarding the filing of a car accident lawsuit due to faulty traffic signals feel free to contact our law offices toll free. All confidential legal consultations are conducted by our attorneys free of charge.