Falling Tree Madeira, Portugal 8-15-2017
Falling Tree Causes Injuries in Portugal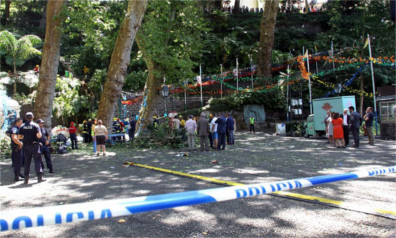 In Madeira, Portugal, a tree fell during a religious holiday on Tuesday, August 15, 2017, injuring over 50 people and killing 12 bystanders, including 2 children.
The tree fell in Funchal, a small suburb of Madeira, during a celebration of the Roman Catholic Feast of the Assumption. Dozens of people, including tourists from Europe, were present at the church for the island's Lady of the Mount festival; the festival is the largest celebration on the island.  The church is located at Fountain Square, and eyewitnesses say that the event was sudden and unexpected. Streaming footage via Facebook Live shows the tree falling.
After the incident, emergency personnel crowded the area, administering aid to all who needed it, as well as transporting the severely injured to the hospital. Reports surfaced that the tree was over 200 years old and was hollow inside, giving it more chance to crack and fall; over the past few years, there were attempts made to keep the tree standing with a support system.
Reasons for electing to keep the tree supported and opt to not cut it down are unknown. The tree is located on the property of the church at Fountain Square, which also houses a shrine, monuments, and plane trees, which are usually tall. However, the tree that fell was reported to be an oak.
Portuguese government officials have expressed their condolences and are expected to be arriving in Madeira later on Tuesday to give speeches and lend support.
Falling Tree Accident Lawyer
If you have been injured by a falling tree or tree branch, contact Normandie Law Firm to speak to a falling tree accident lawyer today.
Trees require some form of upkeep and monitoring to ensure that they do not cause accidents or harm. Each year, falling branches and toppling trees cause dozens of injuries and accrue thousands of dollars of property damage to houses and cars. Proper ownership of the tree determines who is responsible for its upkeep and liable for any accidents that occur if it falls: for trees on personal property, the landowner is responsible; for trees on public property, the city or state government is responsible.
A landowner is held responsible for an accident stemming from a falling tree if he had Actual Knowledge of the dangers of the tree; that is, he was aware of the risk and condition of the tree, but chose not to take any action in fixing the situation. Constructive Knowledge, on the other hand, states that a reasonable person would or should have been aware of the condition of the tree and taken measures to shore it or chop it down, but the landowner did not. In either case, the landowner is liable to cover your damages.
If the tree is on public property and was planted to improve the land or general public, then any damages resulting from an accident with the tree are the responsibility of the city or state. The tree in question did not improve anything but instead lead to a negative impact. Further, proper maintenance of trees on public property is the responsibility of the city or state, and if they do not trim branches or cut off dead limbs, there is a large risk for injury.
Any number of causes can contribute to a tree falling, such as rot, fungus, and improper maintenance, but if the tree fell due to actions beyond the control of anyone, then there is no fault and no chance for a lawsuit. If you are injured by a tree due to an act of god or force of nature, you cannot sue a landowner, as there is no negligence or responsibility on his behalf.
Proper Representation
Injuries stemming from falling trees and tree branches are not common, but it is important to find a lawyer who has some experience in the field so that you can recover the highest restitution possible from the responsible party.
At Normandie Law Firm, our attorneys have dealt with falling tree cases for years, including claims involving falling branches at parks and toppled palm trees. If you sustain bodily damages or loss of property due to a falling tree, call one of our falling tree accident lawyers today, and you will receive a free legal consultation on your case. We will give you all the information you need to know, as well as provide you with a zero fee guarantee when you select us to represent you – we do not ask for payment unless we win your case and bring you a settlement. If we lose, you owe us nothing.
For more information on falling tree accidents, contact Normandie Law Firm today.
Other pages on our site dealing with fallen tree topics:
Fallen Tree Injury Lawyer