According to recently published data, every year, thousands of individuals in the United States suffer severe injuries due to falling trees and falling branches. In many instances, the causes of falling trees or branches can be attributed to the negligent or wrongful actions of property owners or government entities charged with the safety and upkeep of streets, sidewalks, and roads. Victims of such accidents are entitled to recovery for all damages suffered, including all past and future medical costs, pain and suffering, emotional distress, and loss of income. Our top-rated law group, Normandie Law Firm, is proud to represent individuals who have suffered harm in premises liability and government entity accidents across the state of California. Our qualified attorneys with experience in falling branch cases serve clients based in communities in Los Angeles, San Bernardino, and Orange County.
Free Consultation:  If you have any further questions after reading this article, please feel free to contact our top law offices. All legal consultations are provided free of charge by a skilled lawyer with experience handling falling tree claims.
Ownership of a Tree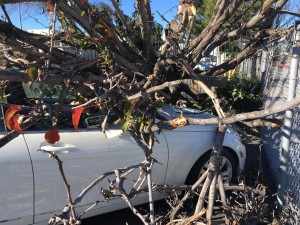 Pursuant to California Civil Code Section 833, "If the trunk of a tree stands wholly on the land of one landowner, that landowner owns the tree regardless of whether its roots, foliage, or branches have grown onto the land of another. However, if the trunk of a tree stands partly on the land of two adjoining landowners, then both landowners own the tree." (Civil Code Section 834).
For further clarification, call an experienced attorney.
Who is Liable for My Injuries and Damage if a Tree or Branch Falls on Me?
Liability hinges on a few different factors. In California, landowners have a duty to inspect trees on their properties to make sure the trees are healthy and do not pose any hazards to an adjacent landowner or bystanders walking on the street. If a tree owner notices the hazardous condition of the tree (such as a broken branch or limb) and does nothing to correct it, which results in injury or harm to another person, the owner of the land can be said to have been negligent in maintaining his tree. In this case, he would be liable for your injuries.
On the other hand, landowners are not liable for "forces of nature" or "acts of god." Some examples include earthquakes, natural disasters, heavy storms, tornadoes, and hurricanes. If your neighbor's tree is struck by lightning and falls on your house during the middle of the night, then your neighbor will NOT be liable for your resulting damages. He was not negligent in his duties and is thus not responsible.
To learn more about what constitutes liability and if you have a potential claim, call one of our experienced lawyers at Normandie Law Firm.
Proving Your Case in The Court of Law – Negligence-Based Cause of Action
Negligence is used in determining liability and fault in personal injury actions. If you have been injured by a falling tree in California, you will need to prove the following:
The tree owner had some duty to prevent the harm
The tree owner breached that duty
The breach resulted in your harm
Determining whether the tree owner breached his or her duty of care owed to you can be solved by asking yourself or your expert attorney the following question:
What were the tree owner's responsibilities, and did he fail to adequately meet those responsibilities? If the answer to that question is yes, then you may have a claim for recovering damages.
How Does the Court Decide if the Tree Were Hazardous or Dangerous?
The courts will determine if a tree is hazardous or dangerous by considering whether the landowner had Actual or Constructive knowledge of the danger or hazard presented by the tree.
Actual Knowledge: Deciding whether a landowner has actual knowledge of the dangerous condition presented by the tree hinges on whether the tree owner was actually aware of the defect or risk posed by the tree in question. If the landowner had actual knowledge of the condition of the tree, then remedial action is required by the tree owner. That is, if he knew a branch was dead and hanging from the tree, only connected by a flimsy piece of wood, and he did nothing to fix the problem, he would have had actual knowledge of the risk.
Constructive Knowledge: The determination of whether a landowner has constructive knowledge of a dangerous condition on their land hinges on whether a reasonably prudent person would, or should have been aware, of the risk with the tree, although the actual person in question was not aware of that specific hazard. He may not pay attention to the trees on his property and does not maintain his property to that extent, but a reasonable person would. Therefore, he would have constructive knowledge of the risk.
Inverse Condemnation: Under California's inverse condemnation laws, a public entity or city is liable for damages to private property caused by a "public improvement." If there is a tree planted by the city on public property with the intention of "public improvement," then the city will be liable if that tree has caused you any injury or harm. The rationale behind this rule is that if the city is attempting to improve the public by planting a tree, and the tree actually caused someone harm or injury, then the tree was not really improving the public, but further injuring it.
Common causes: Trees and tree branches can cause serious injury or death if they fall on you due to their weight, areas of sharpness, and size. Some common causes of falling trees are:
Improper Maintenance
Failure to Maintain
Rotted Tree Trunk
Root Rot
High Winds
Storms
Bad Weather
Tree Fungus
Prolonged Drought
Painting Chemicals
Common Injuries
Injuries associated with a falling tree or branch are usually severe. Some trees have been around for over 100 years and may not be as solid as they seem. A falling tree can cause Death, Traumatic Brain Injury, Neck Injury, Back Injury, and paralysis. Recently in California, a young boy was standing outside of his home under a giant palm tree. Suddenly, a large tree branch fell from the tree, landing directly on the boy. The firefighters discovered the boy was killed by the palm tree after they lifted the branch off his body. The weight of the branch was approximately 2,000 pounds, resulting in his instant death.
Of course, there are other injuries associated with falling trees and branches, but the risk of death is always extremely high when you are dealing with an object as large and heavy as a tree. Broken bones are another common injury that comes with falling trees, including fractured clavicles, shattered shoulders, and broken legs. Additionally, if a tree or heavy section of a tree falls on someone's head, it can cause permanent brain damage. A traumatic brain injury can result in a huge loss in the quality of the injured individual's life, leading to extensive hospitalization or an inability to care for oneself. Further, the family of the brain injured victim will suffer as well.
Statute of Limitations for Filing a Lawsuit in the Court of Law
California has a two-year (2) statute of limitations on personal injury actions. If you or a loved one has been seriously injured or killed by a falling tree, you will need an attorney to help you file a claim for damages. A statute of limitations is essentially the time-frame you have to file a claim and receive compensation for your injuries before it is too late. If it has been more than two years since you were injured by a falling tree or branch then you may be unable to pursue a claim and receive damages.
Keeping the Statute Open: Only an accomplished personal injury attorney with expertise in falling branch injury lawsuits can help preserve the statute of limitations on your claim. The remedy used to preserve your claim is usually by filing a lawsuit against the at-fault party. If you were injured by a falling tree and require extensive medical care and treatment, your personal injury attorney will make sure to preserve the statute on your claim by filing a lawsuit in a timely fashion. Once a lawsuit has been filed, the statue will remain open as long as the case is in litigation.
Statute of Limitations – Minors: There is a special rule that applies to minors that are injured as a result of another's negligence. The statute of limitations for minors in personal injury actions remains open until two-years (2) after the minor's 18th birthday. Hypothetically speaking, if your child were injured when he was 10 years old, the 2 year statute of limitations doesn't begin to run until the day after his or her 18th birthday.
Compensation for Victims
Our top law firm takes great pride in every case that we handle. Our goal is to make sure that your health and well-being is preserved and that you are happy and satisfied with our results. If you have been injured by a falling tree or tree branch, then you are entitled to substantial compensation that our offices will help you recover.
Specifically, compensation for a personal injury claim includes both General and Special damages. General damages consist of pain, suffering, loss of use, reduction in quality of life, or inability to perform specific tasks. The most difficult element of a claim can be General damages. General damages are usually intangible, and putting a price on someone's suffering is tricky. The courts allow general damages to be awarded in every case, and the amount of compensation you receive depends upon the nature and extent of your injuries. Additionally, if your case goes to trial, then the amount of General Damages you may receive depends solely upon what the jury feels is "fair and reasonable."
On the other hand, Special Damages are also awarded in personal injury actions. Special damages, also known as economic damages, are all of those costs that can be determined by placing a dollar value on them. Costs that can be determined are any out-of-pocket expenses, lost earnings, lost wages, property damage, and past and future medical costs.
Attorney Consultation Available – Free of Charge:  If you have any further questions regarding the filing of a lawsuit for your injuries, please feel free to contact our law offices. All legal consultations are 100% free of charge and provided by an attorney who has experience in falling tree claims.
You are also afforded a zero fee guarantee with your claim. Throughout the litigation process, you do not owe us any money from your own pocket; our fees are paid at the end of the case, and only if we win. Our payment comes out of the settlement we earn for you, and if we lose, you don't have to pay us anything at all.
Contact Normandie Law Firm to speak with a lawyer experienced in falling tree cases.