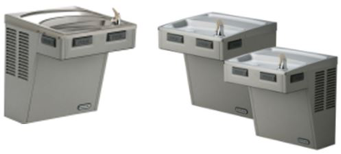 Elkay and Halsey Taylor have issued a recall for their water cooler and bottle filling water stations. The recall was announced on January 25, 2018. The reason for the recall concerns the interior composition; there are screws that have been reported as loosening or not being properly affixed to the cooler. There have been over 360 reports of these loose screws in various water coolers across the country.
The screws are located over the electrical wiring inside of the cooler that allows the cooling and flow to take place. The ground wire is left exposed when a screw is loose, which can lead to severe electric shock injuries that can be made even worse due to the presence of metal and water touching the body.
These water coolers are primarily located in schools and universities, office buildings and office outlets, public transportation terminals, and airports. As a result, the risk is not confined to any singular group of people; anyone can potentially be shocked due to a loose wire. Children and adults alike are equally at risk. Fortunately, no injuries have been linked to the issues.
Over 31,000 units have been recalled across the country. The serial numbers all start with the numbers 1704, 1705, or 1706. Dozens of different models fall under these categories, and the CPSC website can give you a more comprehensive list of what specifically has been recalled. All of the units have nameplates or embossed sections that state the brand name, Elkay or Halsey Taylor. The coolers were sold for a duration of one month, from May 2017 to June 2017, for anywhere between $600 and $7,500, depending on the type of product. The coolers were manufactured by the Elkay Plumbing Products Company in Savannah, Illinois, and distributed by Elkay Sales in Oak Brook, Illinois.
It is recommended by the manufacturer that you immediately stop using the products, unplug the coolers, and contact the manufacturer for a repair.
Risk of Electric Shock
A loose ground wire on an electrical product can cause a severe shock if you are not careful. Electric shocks can cause direct burn injuries if there is a prolonged exposure, but they can also cause internal damage. You may suffer a range of effects in the aftermath of an electric shock, including headache, dizziness, muscle pain, burns, nerve damage, heart palpitations and pulmonary issues, neurological issues, disfigurement, and scarring. You may also become temporarily paralyzed if the shock is strong enough.
These are dangerous effects on their own, but there is also a chance that you will fall over with locked muscles as the shock occurs. This can lead to blunt force injuries, such as hitting your head on the ground or landing on a limb in the wrong manner, which can break bones, cause fractures, induce swelling, and result in other injuries.
Children exposed to electrical shocks are more likely to suffer long-term effects due to their relatively undeveloped nervous systems. Because these water coolers are in locations that are usually flooded with people, there is a chance that many injuries can happen throughout the day with nobody able to attribute the cause to the water fountains.
What to Do with a Recalled Water Cooler
Although Elkay and Halsey Taylor issued a recall that consisted of calling the company so there could be a repair, you should be aware of certain steps to take. As the owner of the water cooler, you are likely the supervisor of the building in some way, and it is your duty to protect your customers and users.
To prepare for a lawsuit, you should not throw away the old water cooler or send it in for a repair. You should keep it intact and not tamper with it; our investigators will be able to tell what the problem is and who caused it. If you are offered a refund in return for the trade of the product, do not do so. You may not be able to collect any compensation if you already accepted a refund.
You should absolutely not try to fix the product yourself. It will be impossible for an unbiased party to reliably tell what damages were caused by your tampering and what problems existed beforehand. If you tamper with the water cooler, you very likely won't be able to receive any compensation at all.
If you were shocked by the bottle filling station, you should immediately contact medical assistance. Although it may not feel like a severe injury, it can still have effects on your heart and pulmonary system; trained medical professionals will be able to determine whether or not you have any lasting issues from the shock.
Importantly, you should locate any receipts or documents that show you are the lawful purchased and owner of the water cooler. It can be hard to hold on to all receipts, but it comes in handy in case of a situation like this.
Common Causes of Faulty Products
Product recalls usually happen for one of three reasons.
Design Flaw: This is a flaw in the design and creation of the product. It can be overlooked if there are not enough eyes on the project; as a result, the item could be fundamentally problematic, and all items that are manufactured and distributed thereafter could have this same issue.
Manufacturing Defect: In the event that there was a problem with the machine used to create the products en masse or if there was an issue while the item was being moved around or shipped, you could blame the manufacturer for the issues. Usually, manufacturing defects only affect a few different products, as the mistake is often caught soon after it is made, but the items are seldom recalled on the spot.
Lack of Safety Warnings: Any product that has a potential risk must have a safety hazard warning on it, either on the packaging or on the product itself. If there is a failure to warn of the risks involved with using the product, the company could be held liable for its actions.
Elkay and Halsey Taylor's water coolers likely had a manufacturing flaw in them that allowed the screws to come loose inside.
Compensation
With the help of an attorney, you could earn various types of compensation for the damages you sustained due to an electric shock from a water cooler. You could be reimbursed for medical bills, lost wages, damaged property, pain and suffering, punitive damages, and more. An attorney will be able to give you a better explanation on each one.
Our Law Firm
Normandie Law Firm is here to make sure all customers and consumers are not harmed by various products. The company owes its customers a duty to protect them in any way possible, and if that promise is violated, the responsible party should be held completely accountable.
Call our law firm today for a free consultation with an expert attorney. You can ask any question you want about the Elkay water cooler or about product liability claims in general. We will give you the information you need to make an informed decision regarding legal action. You will also receive a zero fee guarantee if you choose to hire us for legal representation. You will not owe us any money at all from the start of your case to the end. All of our fees are taken care of in the event we win your settlement; the defendant will cover your legal bills and all affiliated costs. If we lose, you will not owe us anything at all.
Contact Normandie Law Firm today for more help in filing a product liability claim.