Driver Killed When Car Crashed Into Construction Sign on 91 Freeway in Anaheim 8-29-2017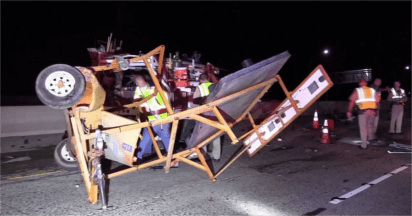 Our law firm is currently investigating an accident that occurred on August 29, 2017.
Early Tuesday morning, a collision with a construction sign on the 91 Freeway left one driver dead, and the left eastbound lanes of the freeway temporary closed. According to the California Highway Patrol's traffic incident log, the crash occurred at roughly 3:30 a.m. when the car crashed into a construction sign near Tustin Avenue. A private contractor was responsible for hooking up an 'arrow sign' to end a planned closure of the number one lane when an approaching Lexus was spotted. The contractor leaped out of the way just before the Lexus collided with the sign and the truck the contractor was working on.
The driver of the Lexus was described as a 35-year-old-man and was pronounced dead at the scene. The contractor suffered no injuries. The cause of the crash is still under investigation by local authorities. All lanes and the Tustin Avenue on-ramp were temporarily closed as a result of the crash, and traffic did not move again until roughly 5:00 a.m. The freeway was cleared of the wreckage at roughly 6 a.m. according to California Highway Patrol.
About Normandie Law Firm
If you or a loved one has suffered any physical injuries or property damages as a result of the negligent conduct of others behind the wheel, you may be entitled to monetary compensation for all the damages that you have suffered. If you file a claim with Normandie Law Firm you could find some, if not all, of these following expenses compensable:
Any and all medical expenses
Loss of Income
Loss of potential future income
Emotional Damages (anxiety, depression, PTSD, etc…)
Punitive Damages
Victims of this incident or incidents like this one can contact our law offices to learn more about how to receive compensation for their injuries. Our team of attorneys is committed to ensuring every one of our clients has the resources to put up a fair fight for their case. As a show this commitment to you and your case we offer our clients the benefits of a zero fee guarantee policy. Under our zero fee policy, all clients don't pay for our services until their case is won. If you feel in need of a second opinion, second opinion case reviews are also free under this policy. Call our law offices today for a free consultation by one of our skilled attorneys, and we can discuss the incident, your damages, and the path to receiving proper compensation for your damages.