Downtown LA Metro Bus Accident Crash 8-30-2017
2 In Serious Condition After Downtown L.A. Bus Crash; Police Suspect One Driver Ran a Red Light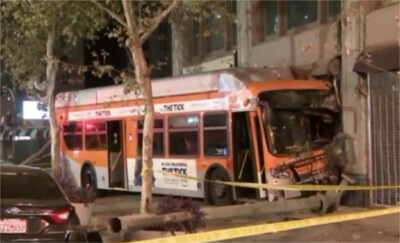 Our law firm is currently investigating an accident that occurred on August 30, 2017.
According to LAPD authorities, seven people were injured, two left in serious condition, when a L.A. Metro bus collided with an SUV in Downtown Los Angeles, early Wednesday morning. The accident occurred at approximately 1:30 a.m. near Broadway and Olympic Boulevard. Authorities were put on alert after they suspected that one of the drivers ran a red light. However, they were unable to determine which driver ran the light or caused the damaging accident.
According to the Los Angeles County Fire Department, during the crash, the Metro bus struck and toppled a streetlight before riding onto the sidewalk. The crash also caused damage to a nearby building, denting the metal bars of its exterior.
Both the driver of the SUV and one person on the bus were left in serious condition after the crash, although their injuries are were not considered life-threatening. Local authorities reported that only six people were on the bus at the time of the incident, and five of them were in 'fair condition,' after the crash. However, all seven people involved in the crash were left injured in some capacity. The front windshield of the bus was smashed in, and the front end was left mangled. The SUV was also left with frontal damage, as it was struck by a falling street pole knocked over by the careening bus.
One of the witnesses inside the building, Jesus Rincon, said that people were not allowed to enter the building after the accident, as officials from the Occupational Safety and Health Administration (OSHA) were expected to arrive later in the day. A red flyer from OSHA was later seen in the building, and the agency is expected to perform a thorough inspection of the building's structural integrity before anyone else can go inside.
About Normandie Law Firm
If you or a loved one has suffered any physical injuries or property damages as a result of the negligent conduct of others behind the wheel, you may be entitled to monetary compensation for all the damages that you have suffered. If you file a claim with Normandie Law Firm you could find some, if not all, of these following expenses compensable:
Any and all medical expenses
Loss of Income
Loss of potential future income
Emotional Damages (anxiety, depression, PTSD, etc…)
Punitive Damages
Victims of this incident or incidents like this one can contact our law offices to learn more about how to receive compensation for their injuries. Our team of skilled personal injury attorneys is committed to ensuring every one of our clients has the resources to put up a fair fight for their case. As a show this commitment to you and your case we offer our clients the benefits of a zero fee guarantee policy. Under our zero fee policy, all clients don't pay for our services until their case is won. If you feel in need of a second opinion, second opinion case reviews are also free under this policy. Call our law offices today for a free consultation by one of our skilled attorneys, and we can discuss the incident, your damages, and the path to receiving proper compensation for your damages.