Defective Fitness Gear Tubes Recall Lawsuit Info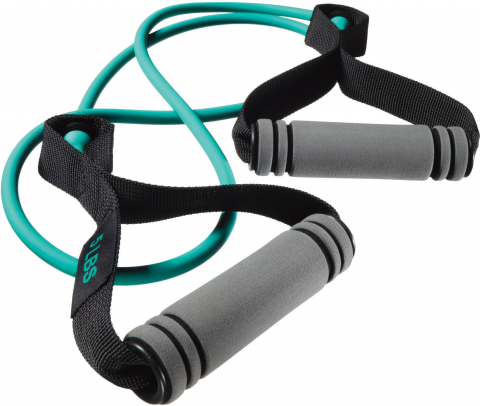 On September 27th, 2017, DICK'S Sporting Goods issued a recall for its exclusive Fitness Gear resistance tubes due to a product malfunction. The resistance tubes have the potential to break while being used and stretched, which can lead to injury to the user.
The products came in multiple varieties of color (blue, green, gray, purple, orange, and red) and resistance (5 to 30 lbs). They were sold as individual products, but were also sold in packages of three, four, or five. For reference, the level of resistance is listed on the handle's strap, printed in the same color as the band itself.
The resistance tubes were sold out of DICK'S Sporting Goods stores nationwide and could also be purchased online at DICK'S website. The bands were manufactured in China but distributed from Coraopolis, Pennsylvania. Over 200,000 of the units were recalled. If you purchased a resistance tube from September 2015 to August 2017, for anywhere between $15 and $80, you can bring the item back to a DICK'S Sporting Goods location. A representative will give you a full refund for the product if you have a receipt with you; if you do not, you will receive store credit.
DICK'S voluntarily recalled the product after 12 reports came in stating that the tubes broke during use. Two users were hit by the tube and another fell.
Resistance Tube Information
Resistance bands are used in place of weights to complete some exercises. Common exercises include overhead raises while standing on the resistance bands, extensions with a band looped around a pole or a beam, and pull-downs with a band twisted around a pull up bar. These exercises are done in lieu of using weights to reduce the risk of injury and overexertion. It is safer to use a resistance band when beginning to weight train or after physical therapy, for instance, and they can be used to assist in stretching, muscle building, and more.
If a resistance band were to suddenly break in some way, an injury can occur. For example, if the handle dislodges in the middle of a stretching exercise, the band will snap back to its only other point of resistance, and can slap or whip the user. There is the potential for severe eye damage if the user is doing certain exercises with the band in front of his face. Further, if a user is in a position of restraint and off balance while using the tube, a sudden release of resistance can throw him completely out of his base, leading to a fall or a wrenched joint. It is possible that you can sprain an ankle or break a leg on a fall; additional, your arm will follow the resistance, and you may dislocate your shoulder or wrist or suffer a sprain, strain, torn muscle, or torn ligament.
Resistance bands are used in numerous environments. They are present in gyms, physical rehabilitation centers, fitness centers, schools, and homes. Users can range anywhere from children playing with them during physical education to regular gym-goers requiring them for certain exercises to elderly patients using them as a form of physical therapy. As a result, the implications of the possible malfunction can be disastrous. In some cases, this may lend itself to an opportunity to file a lawsuit against both the organization the bands are being used in and the manufacturer of the product.
Filing a Product Liability Claim
In order for a product liability claim to be filed, you must be able to show that the product was dysfunction in one of three ways.
One, was it improperly designed? Some products are designed with flaws that will prevent them from working properly, will increase the rate of damage, or may cause injury if the object breaks. This design flaw occurs prior to manufacturing. In the case of resistance tubes, it likely isn't a design flaw, as many tubes of similar design and build exist.
Two, was it a manufacturing defect? Some items are subjected to a defect when they are actually created. There is a chance the machine that makes the item temporarily broke or did something wrong; additionally, if the product were handmade, the person making it could have made an error and improperly assembled it or affixed parts together. There was likely a problem with the resistance tubes when they were created, as many similar bands function just fine with similar, if not identical, designs.
Three, was there a failure to warn? If a product can cause an injury or poses a hazard, it is required that there be a warning label either on the packaging or on the product itself. Misusing a resistance band can lead to injury, but proper use should not. If there were no label warning of the potential dangers, you may have additional grounds for a claim.
If any of these grounds are met, you have the potential to earn compensation from pursuing a product liability claim.
What You Receive
A product liability claim can earn you financial compensation for damages that occurred due to the malfunction of the product. Many times, an item will merely break and not be able to be used again; in more unfortunate circumstances, such as with the Fitness Gear resistance tubes, the break may cause injuries. If you received an injury from a malfunctioning resistance band, you can earn the following:
Medical Expenses: If you were forced to receive medical treatment for your injuries, you can have those costs covered. You may require stitches, additional treatments, and future follow-ups. Anything medically related in the past and the future stemming from the accident can be covered.
Lost Wages: Time spent at the medical center or recovering from an injury can cause you to miss time at work. If this occurs, you can recover your income from those last days, whether past or future.
Property Damage: You can be reimbursed for the damaged product as well as any other damages to additional personal items, belongings, fixtures, or furniture.
Proper Representation
We at Normandie Law Firm want to make sure that businesses and companies are not getting away with selling shoddy products and not being held responsible when injuries happen. If you are the owner of a Fitness Gear resistance tube and its malfunction causes you an injury, we are here to help. Our team of attorneys will fight for your fair compensation from the company and will not stop until we earn you a settlement you can be proud of.
Call us today to receive a free legal consultation on your potential claim. We will discuss the case with you and what happens during the legal process, as well as advise you what to do, such as making sure to have documented the injuries you sustained and kept the broken product as evidence.
All our clients are offered zero fee guarantees when they select us for legal representation. We do not take any money from your pockets – our fees come from the settlement we earn for you. Therefore, we only get paid if we win your case; if we don't, you owe us nothing at all.
To speak to a lawyer about filing a product liability claim against DICK'S Sporting Goods' Fitness Gear resistance tubes, contact us at Normandie Law Firm today.
FURTHER INFORMATION: