Banzai Inflatable Pool Slide Recall Lawsuit Attorney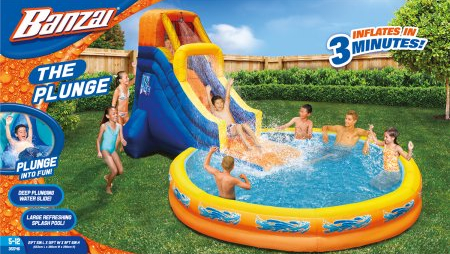 Popular Toys R Us and Walmart Product, the Banzai Inflatable Pool Slide has been recalled after a death caused by severe neck injury was reported to have occurred. According to the report, the recall covers about 21,000 inflatable Banzai in-ground pool water slides. This is because, during use of the product, the slide can deflate allowing the user to make contact with the ground beneath the slide and become injured. The slide is also considered unstable and can topple over in both still and windy conditions. The slide also carries poor warning signs and instructions for owners.
The Consumer Product Safety Commission, or CPSC, has reported that a 29-year-old Colorado mother died in Andover, Massachusetts after fracturing her neck while going down a Banzai in-ground pool water slide. The slide in this incident was placed over the concrete edge of the pool, and the victim hit her head at the bottom of the slide because it had become partially deflated. The CSPC and other retailers have also reported two other injuries caused by a similar manner. One of such reports included a 24-year-old man from Springfield, Montana who has been left with quadriplegia from the slide.
These slides were sold at Walmart and Toys R Us locations nationwide from January 2005 through June 2009 and were priced at around $250. These recalled slides have the barcode number 2675315734 and have the model number 15734. Both of these numbers should appear on the original packaging, however, are not on the actual slide. The CPSC has urged consumers to stop using the slide immediately and to return it to the nearest Walmart or Toys R Us for a full refund.
If you or a loved one has suffered neck or brain injury as a result of one of these slides you may be eligible to file a Banzai inflatable slide or wrongful death lawsuit against the company which manufactured them. At Normandie Law Firm our skilled injury lawyers can walk through the often arduous process of suing companies like Walmart and Toys R Us. If you have any questions after reading this article, please feel free to reach out to our law offices for a free consultation by one of our experienced legal associates.
Spinal Cord & Brain Injuries
Spinal cord and brain injuries can be devastating to those unfortunate enough to have to suffer from them. These portions of the body are both incredibly sensitive and incredibly important to the everyday function of an individual.
The spinal cord, for instance, is the bundle of nerves that run down the center of a person's back. This cord carries signals back and forth between the brain and the rest of the body. A spinal cord injury directly affects this signal. Spinal cord injuries are defined as damage that is inflicted to any part of the spinal cord or the nerves at the end of the spinal canal. These injuries can often cause permanent effects in strength, sensation and other day-to-day motor functions. A spinal cord injury can come in two forms: complete or incomplete depending on the severity. Complete spinal cord injuries make it so that signals cannot be sent beneath the point of the injury. Complete spinal cord injuries can often leave victims paralyzed below the area of injury. Incomplete spinal cord injuries involve a loss of sensations and movement beneath the point of injury.
Spinal cord injuries usually require extensive medical treatment and should be seen by a medical professional immediately as to avoid long-term effects. These treatments can involve: medicine, braces or traction to stabilize the spine and surgery. Further treatment may include further medication and rehabilitation therapy. Below are some of the symptoms of a spinal cord injury:
Degrees of paralysis including tetraplegia/quadriplegia and paraplegia
Trouble breathing (need for a respirator)
Problems with bladder or bowel function
Frequent infections
Bedsores
Chronic pain
Headaches
Changes in personality or mood
Loss of libido or sexual function
Loss of fertility
Nerve pain
Chronic muscle pain
Pneumonia
Brain injuries can also be incredibly damaging to those who suffer from them. Typically referred to as Traumatic Brain Injuries or TBIs, these injuries can range from minor concussions to severe brain damages that can affect a person for a lifetime. These brain injuries can vary greatly depending on where they occur and how severe the injury is. Listed below are some of the more common brain injuries that an individual can suffer from:
Concussion: Concussions are caused when the brain receives trauma from a direct or indirect impact or a sudden momentum change. In a concussion, the blood vessels in the brain can stretch, and cranial nerves can become damaged. Post-concussion syndrome can arise long after the date of the injury and can cause serious symptoms to continue for weeks, months, or years after the date of the injury.
Contusion: Contusions can be resulting from direct impact to the head. A contusion is a bleeding in the brain, and in severe cases may need to be removed through surgery. Contusions also adversely affect the intracranial pressure within the brain which can be just as dangerous.
Coup-Contrecoup: These injuries are a kind of contusion wherein the damage occurs at the site of impact and on the opposite end of the brain where the impact occurred. This happens when the force of the impact is great enough to both cause a contusion at the site of the impact but also to make the brain slam into the opposite side of the skull causing another contusion
Diffuse Axonal: These type of brain injuries can be caused by a shaking or a strong rotation of the head (such as Shaken Baby Syndrome). This injury occurs when the sudden movements cause tearing in the brain's structure. Diffuse Axonal brain injuries can produce temporary or permanent widespread brain damage, coma, or even death.
Penetration: Penetration injuries occur when an object forces itself through hair, skin, bones, and tissue to damage the brain. This is usually caused by the bullet of a gun, and 91% of all penetration brain injuries are caused by firearms.
Any of these or similar brain injuries can occur at a varying level or degree of intensity. The three categories of brain injury intensity are:
Mild Traumatic Brain Injury: A mild traumatic brain injury often causes a brief loss of consciousness, and is diagnosed when there is a change in mental status at the time of injury. This change is apparent when the victim is dazed, confused or loses consciousness.
Moderate Traumatic Brain Injury: Most brain injuries fit into mild and moderate degrees. Moderate brain injuries occur when a loss of consciousness lasts between a few minutes to a few hours. The victim can be left confused and dazed from days to weeks. Moderate brain injuries can also affect the physical, cognitive, and behavioral condition of a victim.
Severe Brain Injuries: severe brain injuries usually result from crushing blows to the head. These injuries can rip, and shear the delicate brain tissue and is extremely life-threatening. The treatment of severe brain injuries often involves prolonged hospitalization and extensive rehabilitation.
Both brain injuries and spinal cord injuries can leave a victim paraplegic or worse. For this reason, those who have suffered a brain or spine injury as a result of this product defect can file a Banzai inflatable pool slide injury lawsuit to sue the manufacturer and receive proper compensation for their damages.  However, it is in your best interest to seek the assistance of an attorney with experience in taking on manufacturers as they can best guide you through the complicated process of filing your claim.
Product Liability & Lawsuits
When filing a lawsuit against a manufacturer or company for a defective product, it is important to understand the kind of defects that can occur during the manufacturing process. Identifying the type of defect and where the defect occurred can truly make or break your case. Listed below are three types of defects that could play into your case:
Design Defects: These are the defects that can occur before the product is sent to the assembly line. The defects that occur in this stage of production are faults that make the product inherently dangerous. In most cases, these defects can lead to full-scale product recalls, and the company which organized the design of the product could be held liable for the damages.
Manufacturing Defects: These defects typically occur on the assembly line of the product. They can range from minor mistakes along the manufacturing chain to reoccurring mistakes that can result in large recalls. In these instances, the manufacturing company could be deemed responsible for the damages.
Marketing Defects: These defects occur during the marketing of a specific product. These defects include things like improper labeling, insufficient instructions, or inadequate safety warnings.
If a company causes a defect that somehow harms a consumer that consumer has every right to file a product liability lawsuit against the company responsible for the said defect. Under product liability laws, manufacturers are expected to provide safe products for consumers. When this expectation is broken, the consumer can seek compensation for the damages that they have suffered. The same is true for the company responsible for the deflating defect in the Banzai inflatable pool, as the company that manufactured the pool can be held liable for the damages. However, when pursuing legal action against a company it is highly recommended that you seek the assistance of an expert lawyer, as having skilled legal guidance on your side can mean the difference between filing a successful claim for compensation and having your case dismissed from court entirely.
How Our Product Defect Attorneys Can Help
If you or a loved one has suffered from the damages of a defective Banzai Inflatable Pool, you may be eligible to file a claim for compensation. If you file a claim with our firm you could find some, if not all of the following expenses compensable:
Any and all medical expenses
Loss of Income
Loss of potential future income
Emotional Damages (anxiety, depression, PTSD, etc…)
Punitive Damages
Victims of a Banzai Inflatable Pool defect can contact our law offices to learn about how to receive full compensation for their injuries. Our team of product liability attorneys is committed to ensuring every one of our clients has the resources to put up a fair fight for their case.
FREE CONSULTATION: As a show of our commitment to you and your case, we offer each of our clients the benefits of a zero fee guarantee policy. Under this zero fee policy, all clients don't pay for our services until their case is won. If you feel in need of a second opinion, second opinion case reviews are also free under this policy. Call our law offices today for a free consultation by one of our skilled attorneys, and we can discuss the incident, your damages, and the path to receiving proper compensation for your damages.