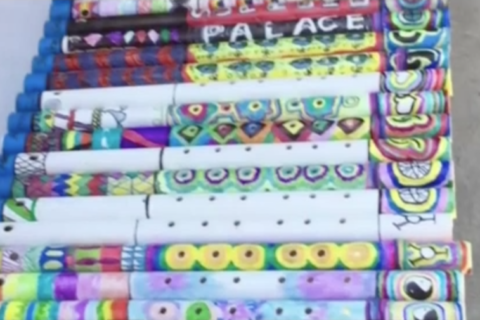 Our law firm is currently investigating the claims of parents who say that a music instructor had a part in distributing tainted flutes to 13 school districts across California.
The flutes have been distributed as part of a program that is meant to spread the power of music to other parts of the world. Flutes Across the World allows students in the U.S. to paint flutes which are then sent out to other countries. After an 11-year-old girl brought one of the flutes home to her mother, her mother brought the flute to a police station in Orange County, suspecting that it was contaminated in some way. Officials have stated that the contaminants may be bodily fluids; they listed semen as one of the main components.
Officials have taken the music teacher who distributed the flutes to the students into custody. There is suspicion that he contaminated the flutes himself with his own semen and/or other fluids. The man, whose name has not been released, is an independent contractor. This means he is not an official teacher or instructor, but is given work on a contracted basis through another agency, much in the way some substitute teachers work.
Various parents have come out with statements about the incident, saying that it is disgusting, sickening, unreal, and more. They are wondering if they should have their children tested for any diseases. The teacher may be charged with sexual misconduct, but depending on the extent of the actions, may be charged with more.
The U.S. Postal Service is involved in the investigation alongside the California Department of Justice. The main areas of interest include school districts across Los Angeles and Orange Counties.
Suing for Sexual Misconduct
Our law firm can sue the school district for sexual misconduct or other related acts. Normandie Law Firm places the protection of children on the highest pedestal; we have no desire but to make sure your children are not placed in harm's way or exposed to anything damaging or traumatizing. In the event of an incident, we are here to help you file a lawsuit against the school district for any damages you need.
Sexual misconduct is defined as any action that can be considered sexually inappropriate; for instance, a teacher who sends lewd text messages to a student, makes suggestive remarks, practices inappropriate touching, or commits other similar actions. Further, a student does not need to necessarily be touched in order for sexual misconduct to occur. In the case of the contaminated flutes, because the contaminant is a bodily fluid that comes from a sexual organ, it can be placed in the sexual misconduct category.
In normal cases, it is not possible to sue a business for the actions of independent contractors; the organization that supplied the workers is the one that usually must be sued. However, the school district may have practiced negligent hiring; negligence can be used as the basis of a personal injury lawsuit filed on behalf of a child by a parent. Lawyers in California are able to argue that teachers working in schools are there with the express permission of the school district, and the district must be held responsible for the actions of its employees, whether contracted or not.
Our California law firm is here to help you file a lawsuit. We can sue the school as well as the teacher for negligence and misconduct. Some schools are too lazy or cheap to conduct background checks or monitor the activities of their employees; if any negligent actions led to the incident at hand, we will uncover them and get you the fairest compensation possible.
Type of Claim to File
Personal injury claims can be filed against any party that negligently brings about harm to another person. Although sexual misconduct can lead to criminal charges, there is also the possibility of a civil case. In a civil case, there is no option for jail time; thus, the responsibility of providing evidence that showcases the defendant's proof beyond a reasonable doubt is greatly reduced. It is much more difficult to prove someone is guilty in criminal courts.
Due to this less difficult process, the punishments are not as severe. It should be noted, however, that your personal lawsuit can be litigated independent of a criminal lawsuit carried out by the state, so there can still be other punishments.
A lawsuit against the school can also be filed as a personal injury claim. The school may have been negligent in its hiring process, tried to cover up the incident, willingly allowed a sexual predator to work at the school, or did not take any previous complaints seriously. There are numerous reasons to sue the school.
What You Earn
If your child has been affected by any form of sexual misconduct, you can make sure that the proper help is sought and that it is fully covered. Children who are affected at such a young age may suffer emotional distress, psychological trauma, physical illness, and more problems. Since children cannot file claims on their own behalves, you can earn compensation for them in many forms, including:
Medical Expenses: If any illnesses or diseases were spread due to sexual misconduct, you may have needed to spend time going to the doctor to have tests run and to receive medical treatment. These costs can also include any surgeries, medication, and hospitalization that ensued from the incident. Further, if there is the need for future medical treatments, those expenses can be covered as well.
Lost Wages: The time spent dealing with the legal process and bringing your child to certain locations may have caused you to miss work or will cause you to miss work in the future. You can collect these damages from a settlement.
Pain and Suffering: Emotional damage is a potentially dangerous injury to sustain, as it can cause long-term mental issues. These damages cannot be measured by a dollar amount due to their mental nature. Juries will congregate and decide on fair amounts. These types of damages include fear, anxiety, PTSD, psychological suffering, and mental stress.
Punitive Damages: When a defendant acts with gross negligence with regard to the life or health or others or intentionally causes harm, he can be made to pay punitive damages. These damages are meant to punish him for his actions by making him pay even more compensation. However, these damages are sometimes seen as excessive by arbitrators, and skilled lawyers even have difficulty securing them.
If your child has been the victim of sexual misconduct, contact us at Normandie Law Firm today, and one of our Los Angeles attorneys will help.
Why Choose Us?
Normandie Law Firm is here to assist you in getting the fairest settlement for your child. It is our duty to serve you as best as we can, and we will not stop fighting for your rights as a parent and for your child's rights as a student. We will make sure that the responsible party pays what they need to in order for you to move forward – whether it's the school district, contracting company, independent contractor, or teacher.
FREE LEGAL CONSULTATION: Call us today to receive a free legal consultation on your case and we will give you all the information you need to know. You are invited to ask us any questions you want, and we will answer them to the best of our ability. We will be happy to tell you all about the legal process, what we think your case is worth, and how we can help you win a settlement.
Further, we offer a zero fee guarantee on all our cases. You pay no out of pocket expenses to have us represent you – our fees only come if we win your case, and from the settlement itself. This is done to ensure that you pay nothing from your own savings, thus preserving your financial situation.
Contact one of our California attorneys at Normandie Law Firm to find out more information about filing a sexual misconduct claim against a teacher.