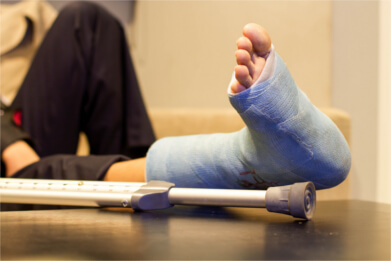 If you or a loved one has suffered from the damages of a fall at a nursing home or hospital due to the negligence of the medical staff, you may be eligible for significant financial compensation. Hospitals and nursing homes are expected to up hold a degree of care for all of their patients. If this level of care is not maintained the hospital or nursing home can be held liable for their actions or inactions. An accomplished attorney who has experience in nursing home injuries can help you receive compensation, and one of the top firms in Los Angeles, Normandie Law Firm, can help.
Hospital & Nursing Home Falls
Falls at hospitals and nursing homes are relatively common. Whether from a bed or during a stroll through the facility, over 700,000 patients fall in U.S hospitals every year. Out of these incidents, roughly 30% result in an injury. However, not every fall that a patient endures can lead to legal action. Accidents happen even when the medical staff is providing proper care. Hospital and nursing home staff are expected to take all of the measures to prevent a fall, and when these measures are not followed or neglected, a lawsuit can be filed for damages. With the assistance of a qualified attorney who has experience handling nursing home malpractice claims, you can receive a fair amount of compensation.
The Injuries Endured
Falls at nursing homes and hospitals can range from a minor stumble to severe accidents that can result in worsening conditions. Typically, patients who are in nursing homes and hospitals are more susceptible to the damages of a fall because these patients are often in a state of recovery. It is also important to note that no two falls are the same, just as no two patient conditions are the same. A bed fall accident for one patient may be far more severe than a bed fall accident for another. Below is a list of some of the common injuries that occur in hospital and nursing home falls:
Head Injuries: head injuries or Traumatic Brain Injuries (TBI) can range from minor contusions to severe concussions that cause recurrent seizures, mood changes, and cognitive impairment. TBIs tend to afflict children and older adults more commonly.
Hip Fractures: Hip fractures can be both physically and financially devastating to an individual. Hip fractures often require surgery and regular hospital visits. These surgical procedures may include an implantation of an artificial hip for the place of a fractured one. According to the CDC, more than 95% of all broken hip injuries are the result of a fall, and one in five hip fracture patients die within a year of their injuries.
Back and Spinal Cord Injuries: Back and spinal cord injuries in their more severe forms can lead to permanent paralysis, temporary paralysis, or other neurologic and sensory impairments. These injuries are more likely to occur in adults age 65 and older.
Shoulder Injuries: Shoulder injuries can result in minor dislocations or more severe brachial plexus injuries. Brachial plexus injuries are often treated with surgery followed by a series of physical therapy to rehabilitate the patient. The brachial plexus is a network of nerves connecting the spinal cord to the shoulder, arm, and hand.
Sprains and Fractures: Falls can inflict serious tension on the connective ligaments and joints within the knee and ankle. In some cases, falls can break bones. Older adults are most susceptible to this kind of injury as bones become weaker with age. The most common form of fractures is the hip, spine, forearm, leg, ankle, pelvis, upper arm, and hand.
If you or a loved one suffered any of these injuries at a nursing home due to the negligence of a staff member, call our top-rated law offices today to speak with an experienced attorney.
Preventing Injury
Hospitals and Nursing homes are expected to provide some preventative measures to ensure their patients do not suffer from injury from a fall or other form of physical accident. These preventative measures can include equipment like:
Walkers and other mobility equipment
The Installation of rails and grab bars
Cushioned surfaces
The assessment of a safe height for beds, chairs, and toilets.
Placement of protective railing.
If a fall injury occurs and these measures or any similar measures aren't followed, that hospital or nursing home can be held liable for the damages. If this is the case, you or your loved ones may want to employ the assistance of a skilled attorney with expertise in nursing home injury lawsuits to assist in guiding through the complexities of the legal process.
About Normandie Law Firm
If you or a loved one has suffered a bed fall injury as a result of the neglect or misconduct of nursing home staff, you may be entitled to monetary compensation for all the damages that you have suffered. If you file a claim with our expert attorneys with experience in nursing home injury cases, you could find some, if not all, of these following expenses compensable:
The costs of any further medical care
Any future medical care and treatment
A loss of income and loss of future earnings due to long-term recovery or permanent disability due to the accident
Any non-economic damages include emotional distress, trauma, PTSD resulting from the accident, pain and suffering and anxiety.
Victims of patient bed fall injuries can contact our law offices to learn more about how to receive compensation for their monetary damages. Our team of experienced lawyers is committed to ensuring every one of our clients has the resources to put up a fair fight for their burn injury case. As a show this commitment to you and your case we offer our clients the benefits of a zero fee guarantee policy. Under our zero fee policy, all clients don't pay for our services until we win their case. If you feel in need of a second opinion, second opinion case reviews are also free under this policy. Call now for a free consultation by a lawyer experienced in nursing home injury cases, and we can guide you down the path of receiving proper compensation for your damages.