Common Causes of Slip and Fall Accidents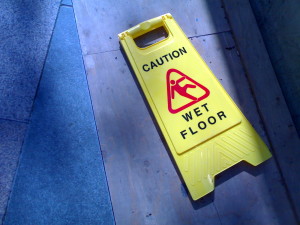 Every year tens of thousands of individuals suffer severe injuries due to slip and fall accidents. In fact after auto accidents slip and falls are the most common cause of preventable injuries in the United States. Below our attorneys have compiled a list of the most common causes of slip and fall accidents. If you or a loved one have suffered injuries resulting from a slip and fall and have any legal questions feel free to contact our law firm toll free. All consultations are provided by our legal team free of charge.
Wet and slippery floors and Failure to Pick up Debris
Under personal injury laws owners and operators of commercial establishments must clean up wet, slippery liquids and debris from the floor as possible. Liability is established when the debris on the floor is not cleaned up in a timely manner.
Loose Carpeting and Loose Floor Boards
Property owners owe visitors to their property a heightened duty of care to either protect form known dangers or warn of such dangers. Within this duty
Poor Lighting: Under premises liability laws owners and managers of building including apartment and shopping malls must provide for reasonably safe entrances and exits from their property. In many instances lack of lighting or broken lights in hallways and stairways are a contributing factor in slip and fall accidents.
Place where Slip and Fall Accident Are Frequent: Slip and fall accidents can take place anywhere. Some of the placed with the highest frequency of slip and fall accidents are as follows…
Common injuries associated with slip and fall accidents include, back injury, broken and fractures bones, slipped disc injuries, traumatic brain injury, facial injuries including broken nose, fractures wrists, miscarriage and spinal cord damage.
Legal Help: If you have suffered injuries due to s slip and fall accident feel free to contact or law offices toll free (800)790-5422. All consultations are provided by our attorneys free of charge.