Cochlear Implant Class Action Lawsuit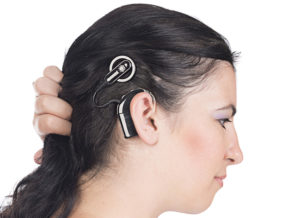 The attorneys at the Normandie Law Firm are currently investigating possible class action and or single party lawsuits against Advance Bionics, the manufacturers of the various models of the Cochlear Implant. According to various studies conducted by various entities the implantation of the hearing aid implant has been linked to the development of serious injuries including but not limited to bacterial meningitis, complete loss of hearing, necrosis of the ear tissue and other potentially deadly infections.
Facts on Cochlear Implants:  The Cochlear implant is an electronic device which stimulates the nerves inside the inner ear resulting in an increase in a patient's hearing.  According to the most recent data there are more than 120,000 individuals with Cochlear implants with more than 40% of the implant patients being minors under the age 18. One quarter of all patients with the implant are under the age of 5. Since its inception the manufacture of the Cochlear device has been specifically targeted towards parents of pediatric patients aged 12 months or older.
Harmful Side Effects Associated with Hearing Aid Implants: Since its introduction the device has been the cause of numerous medical health issues. Some of the most common side effects resulting from the use of this device include the following…
Damage to the cochlea cells.
Worsening of the hearing impairment.
Complete loss of hearing.
Facial Nerve injury sometimes diagnosed as bells palsy.
Bacterial infections including bacterial meningitis.
Tinnitus – constant ringing in the ear.
Nerve injury around the ear.
Necrosis of the tissue.
Electric shock.
Malfunctioning of the device resulting in loud noises, buzzing and crackling resulting in significant pain.
Hearing Loss: A 2013 FDA study found that close to 50% of individuals experienced "significant loss of residual hearing up to profound or worse levels." Many victims will have to undergo and 8 hour painful and complicated surgery to remove the defective device.
Establishing Liability – Proving a Defective Medical Implant Lawsuit in the Court of Law
Generally there can be three ways establish liability against a manufacturer of a harmful consumer item.
(1) Defect in the Design: Takes place when the manufacturers failed to utilized other less dangerous designs for the product existed at the time of production.
(2) Defect in the Manufacturing Process: A manufacturing defect takes place when the final manufactured and distributed item is markedly different than its original design resulting in a medical device that is significantly more dangerous.
(3) Failure to Warn – Defective Labeling: In many cases manufactures fail to properly warn medical doctors and end user of all known and knowable dangers associated with the use of their products.
Bacterial Meningitis Resulting in Death – Filing a Wrongful Death Lawsuit: Bacterial meningitis is a dangerous infection linked to the implantation of Cochlear devices. In some instances bacterial meningitis can result in death. In most jurisdictions certain relatives of the deceased have a right to file a wrongful death claim against liable parties.
What Is a Class Action Lawsuit – Should I Join or File a Single Party Claim
Class action lawsuits are a type of mass tort claim which can take place when there are a large number of plaintiffs who have a similar cause of action (grievance) against a defendant. Class action lawsuits require certification by the court based on these criteria.
1. Numerosity: Presence of a large number of victims.
2. Commonality: Victims have a substantially similar or nearly identical cause of action against the responsible party.
3. Adequacy: The class representative has the resources to dutifully represent the claims of all class members.
4. Typicality: The claim of the class representative is substantially similar with those of the other class members.
Cochlear Lawsuit Attorney
Compensation Available For Injured Victims: Victims often ask "Can I sue Cochlear for complications with the implant" or "Can I file a lawsuit against Cochlear" in an effort to seek a legal remedy for their damages. Individuals who have suffered significant harm due to the implantation of defective medical implants have the right to seek compensation for all harms suffered. A Cochlear ear damage attorney should be consulted for the best results. According to personal injury laws victims may be entitled to recovery for the following…
Recovery for all medical and health related costs.
Cost of any rehabilitation expenses.
Any loss of income or salaries including future loss of income.
Non-economic damage compensation – this includes recovery for emotional trauma pain and suffering and mental anguish.
Punitive damages – often awarded where the at fault manufacturer acted with intent to cause harm or knew to a substantial degree of heightened levels of risk associated with the use of the item.
More in Punitive Damages: According to various reports and documentations released on previous lawsuits Cochlear America and Advanced Bionics new of the dangerous nature of the Cochlear Implant years before a formal declaration of a recall. In January 2003 engineers from Advanced Bionics warned their managers that a specific component of the implant can be "vulnerable to a potential leak." According to the confidential internal report in order to ensure there would be no leaks the current materials would have to be replaced. "The good molecular bond between the glass seal and metal is very essential. The platinum -iridium used for our pins are not capable of creating the good molecular bond…" In 2004 according to an NBC News investigation executive at the company admitted that they failed to conduct key tests on the device. By 2005 the company had received hundreds of reported malfunctions of the Cochlear device. In 2008 the Food & Drug Administration reached a settlement with Advanced Bionics because the company failed to notify the FDA of potential unnecessary health risks to patients using the implanted device.
Statute of Limitations – Time Period To File a Lawsuit:  Civil cases against private entities must be filed within a certain time period from the date of the injury or from the date the injury was recognized to have been caused by the consumer product. The specific time period in which a lawsuit must be filed is based on the jurisdiction where the claim must be filed. In order to learn more about the time period for filing your claim contact a cochlear device attorney at our law offices.
Cost of Legal Representation: Our law firm is proud to represent victims of defective medical device based on a No Win Zero Fee Guarantee. Our guarantee means that victim will not have to pay for any of their legal expenses out of pocket. To learn more about our guarantee click here…
Legal Assistance Available: If you are looking for a Cochlear ear damage attorney or if you have any further questions regarding claims against manufacturer of defective implanted hearing aids, feel free to contact our law offices toll free. All legal consultations are provided by our law offices free of charge.