Chair Injury Lawsuit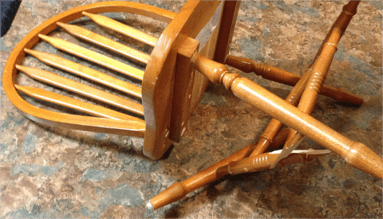 Serious injury by a breaking chair is more common than many might believe. While sometimes the breaking of a chair at a place of business or work results in little to no injury, there are cases where chair breakage has accrued severe damage that is eligible for compensation. Contact the top-rated Normandie Law Firm today if you or a loved one has experienced injury as the result of a collapsing chair. Our expert team of experienced lawyers can guide you through the process of filing your defective or broken chair lawsuit against the business owner or employer. Please don't hesitate to call; the personal injury is serious and the sooner you take legal action, the sooner you can receive proper compensation for your damages.
What Classifies A Falling Off a Chair Injury
Falling from a chair can cause more serious injuries than it may seem. Whether you have fallen from a movie theater seat, office chair, or a nightclub bar stool, the repercussions of the event could be serious Thousands of people are admitted to emergency rooms every year because of severe chair accidents. Damaged chairs can inflict damage like severed fingers, crushed hands, and fractured tail bones. Falling off a chair injury is considered any injury inflicted due to a damaged chair at a place of business or workplace. If you are curious whether or not your injury can be used as grounds for a lawsuit, call an accomplished attorney who has experience in chair injury cases.
Damaged Chairs At Restaurants
The most common setting for a broken chair injury is in restaurants. They can occur in small 'mom and pop' shops and large conglomerates like Subway, McDonald's, Subway, KFC, and Burger King. Whether on a bench, restaurant seat, stool or folding chair, the owner of the restaurant can be held liable for your injuries. Chair accidents are usually less likely to occur in national chain restaurants as they typically hold strict maintenance and quality control policies. Mistakes happen, though, and a broken chair injury can occur at these locations just as they can anywhere else. Small restaurants are less likely to have the strict policies of a national chain, usually because there are fewer resources to go about finding and replacing broken equipment. No matter where you've been injured, contact a skilled lawyer who has experience handling chair injury claims.
Broken Chairs At The Workplace
Broken chair injuries can occur at a place of work as well and often happen in the form of office chair injuries. In your office building, your employer is expected to supply a safe workplace. If that safety is not enforced and the broken chair is not the source of a manufacturer error, then your employer should be held liable. If a chair breaks and you are injured because of it, you can collect compensation, whether it is in the form of workers comp or the form of a broken chair lawsuit. An attorney with expertise in broken chair injury lawsuits can assist you.
Other Broken Chair Incidents
Injury from a broken chair can occur in other locations as well, and the owners or operators of those places can be held liable for their negligence of maintenance. For example, at a hotel, the hotel owner can be responsible for a poorly maintained chair like a rocking chair or recliner. Or at a school, if you have injured yourself as a result of a cracked chair or you could file a broken chair lawsuit against the school or school district for compensation. The same can be said of a chair injury caused by a defective product. If a defective chair was the cause of a serious injury, it might not be the place of business at fault, but the manufacturer of said chair. Regardless, in the event of any chair injury that requires compensation, it is best to seek out the legal counsel of a chair accident lawyer. Business owners and businesses tend to have more resources at their disposal and can hire an expert legal team of their own. So if you or a loved one has experienced injury as the result of a broken or damaged chair do not go it alone. At Normandie Law Firm, our top legal team can advise you and your family on the best course of action in suing for compensation.
Filing A Broken Chair Lawsuit
The process of filing a broken chair lawsuit can change depending on the injury itself and where it occurred. For instance, if your broken chair injury took place at work you may only be able to collect workers' compensation as employees are expected to receive reparation for their injuries through the employer provided workers' compensation insurance. However, if your employer does not carry suitable workers' compensation insurance or the expense of your damages exceeds the support of workers' compensation, you may be eligible for a lawsuit against your employer. Or, for instance, if your damaged chair injury occurred at a restaurant or hotel, you will want to file a lawsuit against the owners of these locations. The 'where and how' of your broken chair injury all come into play in pursuing compensation for your damages. Although if legal action is to be pursued, you and your attorney must be able to prove that the owner acted in fault. This is why it is so vitally important that you have a qualified lawyer experienced in broken chair injury cases.
To prove that an owner or operator of the location where your chair injury took place you must be able to meet the burden of proof. A burden of proof is defined as the obligation to prove one's assertions. In the case of chair injury lawsuits the plaintiff must be able to prove the following:
That the owner or operator was aware or should have been aware that the chair in question was in a state of disrepair or defective
Upon acknowledgment of the damaged chair, the owner or operator failed to repair or remove the chair
The owner or operator's failure to repair or remove a chair (negligence) was in breach of their duty to keep the patron or worker safe
The injuries sustained by the plaintiff resulted in real damages like medical bills, a loss of wages, a loss of future income, and pain and suffering.
Our Los Angeles attorneys believe that, to win a personal injury claim on a chair accident injury lawsuit, it is best to have as much significant hard evidence as possible. Evidence can come in a variety of forms. One such form is through photography and video. Photographs and videos capture the scene as it is, and is considered one of the strongest if not 'the' most reliable form of evidence. In the event of a broken chair injury, you should take multiple photographs of the chair itself and the part of the chair that caused injury. It may also help to take photos of the surrounding area and nearby chairs. Video can be an efficient way to record statements made by wait staff and managers.
Another form of evidence used in personal injury cases are witness statements. Witness statements made by individuals other than family and friends carry significantly less weight than the statements made by strangers. If a witness statement is made try and get the contact information of the said witness. Witness statements can come in any form (video, text, or audio) as long as the witness signs and dates it.
Medical bills are a good way of proving the severity of your injury. Medical bills show that you have sustained a serious injury that required assistance from a medical professional. This is considered a vital piece in a successful personal injury lawsuit as without a medical bill the case can be easily refuted. Medical records are also a very useful form of evidence. If you were admitted to the hospital, it is, recommended that you request a copy of the medical professional's record. This will typically include things like x-rays, CAT scans, MRIs and other diagnostic tests used to determine the severity of the injury.
If you have sustained serious injury as the result of a broken chair in a place of business, work, or education you should seek the counsel of an experienced attorney. Our Los Angeles injury lawyers have litigated many complex cases, and they are ready to review the details of your case and sue the responsible parties. While you have every right to represent yourself in a court of law, the complexities of filing a personal injury as the result of a broken chair lawsuit can often be too taxing to handle alone without proper expertise.
Contact Us For A Free Consultation
Have you or a loved one suffered serious injury as the result of a broken or defective chair? You may be eligible for compensation. Contact our law offices today and receive a team of well versed legal experts at your back committed to winning your case. At Normandie Law Firm we operate under a zero fee guarantee policy. So, in the unlikely event that we do not earn you the compensation you deserve you don't pay us anything. You only pay once we win your case. If you feel in need of a second opinion, still don't hesitate to reach out. Per our zero fee policy, second opinion cases are free of charge as well.
Contact Normandie Law Firm to speak with one of our attorneys with experience in broken chair injury cases.