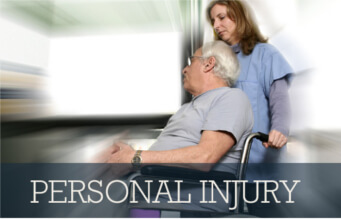 Car accidents can cause truly severe injuries, from traumatic brain injuries to life-threatening spinal damage. However, one car accident-caused injury, in particular, can cause permanent damage to an individual and adversely affect a victim's life forever: amputations. If you or a loved one has suffered from a wrongful amputation of the toe, finger, hand, arm, foot, leg or any other part of the body, you may be eligible to collect significant monetary compensation. At the top-rated Normandie Law Firm, our skilled car accident lawyers can assist you in filing a personal injury lawsuit against the party responsible for your damages. If you have any questions after reading this article, please feel free to contact our law offices for a free consultation with an expert attorney who has experience handling amputation claims.
Amputations
In the U.S., there are an estimated 1.7 million people who live with limb amputations. While amputations can be caused by severe injury, they can also be performed intentionally by a medical professional. Amputation procedures are used by a broad range of physicians as a way to stave off infection and to treat deadly diseases like gangrene, cancer, and diabetes. However, amputations can also occur in accidents as a severe injury. While this article is focused on amputations caused by auto accidents, some other causes of accidental amputations are listed below:
Workplace accidents
Agricultural Accidents
Firearm/Explosives/Firework Accidents
Electrocution Accidents
Ring Traction Accidents
Building and Car Door Accidents
While all of these accidents can cause limb amputations, car accidents are considered to be the leading cause. Car accidents can cause one of these traumatic amputations to a victim's fingers, toes, hands, feet, or even entire limbs, and sometimes the injury is so severe that reconstruction is not an option. In some cases, the limb or portion of the body can be so damaged that a surgical amputation may be required to prevent further damage or even save a person's life. Sometimes the limb can be reattached, but these instances happen pretty rarely.
Treatment of an amputated limb can often time be incredibly costly to the victim. Not only does the physical and emotional trauma play a huge factor in the victim's recovery, but the financial burden of treatment can adversely affect a victim's condition. Treating an amputation can require extensive hospitalization, physical therapy, and expensive prosthetics depending on what part of the body the amputation occurred. For this reason, victims who experience a wrongful amputation of a body part can file a lawsuit against the at-fault party for the damages they have had to endure. Some of these compensable damages can include:
Loss of Wages
Loss of Future Potential Wages
Any Medical Expenses
Emotional Trauma (anxiety, depression, PTSD)
Pain & Suffering
Punitive Damages (which are given out in instances of gross negligence or intent to cause harm; they are, however, difficult to acquire, and only an accomplished attorney with expertise in amputation injury lawsuits will be able to win them)
While every individual has a right to represent themselves in court when pursuing a personal injury car accident lawsuit, it is highly recommended that you seek appropriate legal consultation. The key to any successful lawsuit is a good lawyer. Having a qualified lawyer on your side can mean the difference between filing a successful claim for compensation and having your case dismissed from court. At one of the top Los Angeles law groups, Normandie Law Firm, our attorneys with experience in amputation cases can provide you with all the resources you need to fight and resolve your claim.
Filing an Amputation Car Accident Lawsuit
Filing a car accident personal injury lawsuit for your amputation case can often time be incredibly complicated when done. In most cases, car accident injury claims end in settlement, and a majority of these lawsuits usually end far before they go to trial. In most cases, these insurance claims are resolved without there ever having been a filed lawsuit. However, in some instances it is far more beneficial to take a case to court, to have your dispute heard by a judge and jury. This is especially true with cases that involve severe injury, like amputation, wherein the insurance companies cannot cover the full damages a victim has endured.
The key to any car accident lawsuit is determining liability, or who was at fault for the accident. In some states (like the state of California), there are no-fault insurance laws. Otherwise known as 'no-fault' states, accidents that occur are usually paid for by the driver's insurance policy. The only time where an insurance company would not cover a driver's injuries is if the accident involved drugs, alcohol or any other criminal behavior. However, there are instances where an insurer will still refuse to pay for the damages, and in these cases, the insurance company can be sued.
Within the no-fault process, there are two thresholds where a lawsuit is permitted to be filed and are typically set by state governments. These two thresholds are bulleted below:
Monetary Threshold States: Accidents that cause exuberant medical expenses that surpass a particular threshold can proceed to lawsuit
Verbal Threshold States: Accidents that result in specified categories of serious injuries can continue to lawsuit
Some states may have both monetary and verbal thresholds that must be met before lawsuits can be filed. The best way to determine the thresholds in your specific state is to discuss your accident with an experienced attorney who is learned in the process.
In instances where the threshold has been met, or in states that do not have no-fault insurance laws, a car accident lawsuit can be filed against the at-fault party. However, the key to any successful car accident lawsuit can prove the negligence of the other driver. The requirements of a claim of negligence are bulleted below:
Duty: Every driver owes a duty to other drivers to ensure that they pilot their vehicle safely and competently. The injured party must able to prove that the other driver did not uphold this duty.
Breach of Duty: The injured party must be able to show that there was a breach of this duty took place.
Causation: The injured party must be able to show that the breach of duty caused the harm for which they are seeking compensation for.
Damages: The injured party must be able to show that they endured actual damages. This can usually be shown through the presentation of medical bills, medical records, evidence of a loss of income, or evidence of a loss of future income.
Negligence is relatively easy to prove in cases wherein the injury was caused by the carelessness of a driver under the influence of drugs or alcohol. However, if this is not the case, particular states apply theories of contributory and comparative negligence. These theories, often reduce or eliminate a driver's responsibility for the injuries when the injured person's actions were also negligent. These theories of negligence are as follows:
Contributory Negligence: Can completely wipe all driver liability where the victim's negligence contributed to the car accident
Comparative Negligence: Can reduce the driver's liability wherein the victim's negligence contributed to the accident.
Pure Contributory Negligence: This allows for the victims of the accident to collect some form of compensation for their injuries even if their negligence contributed to the car accident.
Modified Comparative Negligence: This theory of negligence limits the victim's recovery where their fault exceeds a certain degree of responsibility. Some states don't allow a victim's recovery where they are more than 50% liable for the accident.
Regardless of the details of your particular car accident amputation injury, it is highly recommended that you seek the advice of a lawyer experienced in amputation cases to guide you through the often complicated process of filing a car accident amputation lawsuit.
Free Consultation and Zero Fee Guarantee
If you or a loved one has suffered an amputation injury as a result of the negligence of another driver behind the wheel, you may be entitled to file a claim for compensation. At Normandie Law Firm, our team of experienced lawyers is committed to ensuring every one of our clients has the resources to put up a fair fight for their amputation personal injury case. As a show this commitment to you and your case we offer our clients the benefits of a zero fee guarantee policy. Under our zero fee policy, all clients don't pay for our services until we win their case. Already have an attorney and in need of a second opinion? Not to worry second opinion case reviews are also free under our policy. So, don't hesitate, give our law offices a call, and we can discuss the accident, your damages, the aftermath, and the best path to getting you the compensation that you deserve. Call us today to speak with an attorney who has experience car accident amputation cases.