Can A Hospital be Sued for A Patient Falling Out of Bed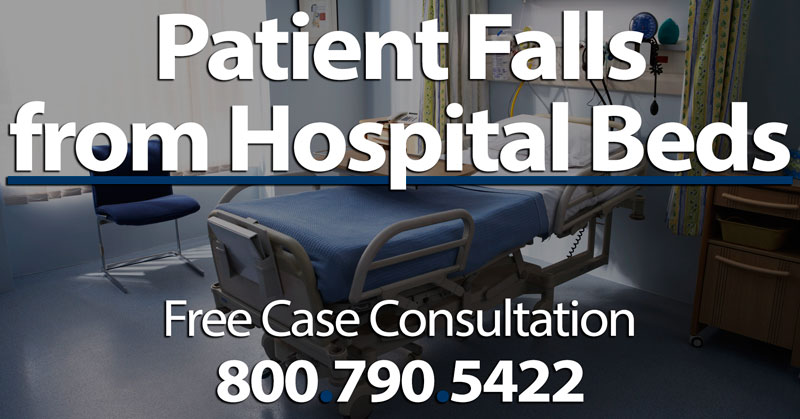 Every year, thousands of patients in medical hospitals, rehabilitation facilities, and nursing homes sustain severe injuries caused by falls from their hospital beds. In many cases, such falls can be attributed to the negligent actions of hospital staff and medical practitioners. Nurses in particular have a duty to establish and follow protocols designed to reduce the probability of falls. We at Normandie Law Firm want our clients and our clients' family members to be safe while under medical care, and any instances of negligence or fault should be corrected with fair compensation.
Overview of Falls
Common causes of falls from hospital beds include the following:
Failure of the nurse to raise the protective guardrail.
Failure of hospital staff to properly assess a patient's risk of falls.
Postponement in the time to respond to a patient's calls.
Administration of medication that altered a patient's state of being.
Hospital beds are not overly large and they are designed to keep patients relatively immobilized; if a patient can roll around and toss and turn while in bed, he may compromise recent surgical procedures, aggravate injuries like sprains and broken bones, remove or dislodge tubes or IVs, or tear open sensitive wounds.
It is crucial to keep patients as safe as possible, and measures must be taken to preserve a patient's health. Although the bed is designed to keep the patient safe, guardrail issues and nurse negligence play a part in causing further injuries. Nurse negligence can be as simple as prepping the patient's bed, but needing to respond to an emergency call, thus resulting in forgetting to raise the guardrail.
It should be noted that all types of patients can suffer falls from hospital beds. Most victims are elderly patients, but restless sleepers and heavily medicated individuals can also fall; the latter may not even be asleep, but merely groggy or disoriented. He may attempt to get out of the bed, even by climbing over the guardrails, but his mental and physical states are compromised due to the medication. In this case, he was not being paid enough attention by nursing staff, and negligence would be the primary basis of your claim.
Though a hospital bed is usually not very high off the ground, you can still sustain serious injuries from a fall, especially if you land at an awkward angle. Some common injuries in such falls include skull fractures, torn ligaments, damage to the shoulders, fractured sternums, facial fractures, broken noses, traumatic brain injuries, lacerations, and subdural hematomas. You may also dislodge drips and feeding tubes, leading to further internal damage, especially if you were left unattended for some time and not noticed by nursing staff until much later.
Establishing Liability in Hospital Negligence Claims
There are four factors which need to be proven in the court of law in order to establish a basis for medical negligence.
Duty of Care: Generally, every individual owes another individual a duty to act in a reasonable manner so as to prevent the risk of harm to each other. In the medical profession, however, the duty of care is established by the specific medical profession or specialty of the medical profession. For example, in the case of a patient who suffers from seizures, the nurse practitioners or medical assistants should raise the protective railing of the person's bed. The thrashing and shaking resulting from seizures should warrant this care.
Breach of the Duty of Care: In the context of medical malpractice, a breach of a duty of care takes place when the at-fault party fails to properly administer the proper course of treatment. The breach of a duty of care would occur when the employee of the hospital fails to raise the protective guardrails of the hospital bed of the aforementioned seizure patient.
Causation: Was the breach of the duty of care the cause of the harm? Here, would the patient have fallen out of the bed if there were not breach of the duty of care? The answer is no; or at least, it is very unlikely.
Substantiated Harm: If the patient sustained injuries due to the incident that took place, then all the boxes are ticked, and a claim can be filed. The patient with seizures may have fallen out of bed due to the negligent duty of a nurse, but if he was caught by a fellow nurse or did not damage his body or complicate his condition in any way, then there is no basis for a claim. No harm was done as a result of the negligence and breach of duty of care.
Difference between Medical Malpractice and Negligence
When dealing with falls from hospital beds, it is important to note the difference between a simple negligence case and a medical malpractice case.
Medical malpractice cases are bolstered by the opinion of an expert qualified medical witness who will explain the appropriate standard of care for the patient in that circumstance, causation (how the facility didn't provide adequate treatment), and damages (the harm the patient sustained or how the condition of the patient was worsened). For instance, if the doctor did not recognize symptoms of a brain tumor, the patient's spatial awareness and logical thought capabilities may have been compromised, resulting in the patient being unable to climb from the bed without falling. Other causes include mixing medication and improper risk diagnosis.
Most cases of falls from hospital beds are the result of negligence, however. Patients usually fall due to causes that are separate from their conditions and the result of a nurse's or assistant's negligence.
Compensation Available for Victims of Hospital Bed Falls
Victims of personal injury are able to receive recovery for all harms sustained from falling from hospital beds. The specific types of harm compensable in such cases include the following:
All medical and health care expenses.
Future medical and rehabilitation care.
Economic damages, including lost income and future loss of earning capacity.
Non-economic damages, including punitive damage assessments, pain and suffering, and emotional distress.
Importantly, it should be noted that California, as well as various other states, has a limit on how much compensation a victim can receive from non-economic damages stemming from medical malpractice. The maximum amount of restitution you can receive purely for non-economic damages is capped at $250,000.
Our Firm's Guarantee
All too often, potential clients hesitate contacting a law firm due to the costs associated with seeking out legal representation. Our law firm works on a no-win, zero fee contingency agreement, meaning that a client does not have to pay any legal fees or expenses until the case reaches a successful monetary resolution. Medical bills and treatment costs are already high enough, and we feel that you should not pay out-of-pocket expenses for assistance in recovering compensation from an incident at a hospital.
Contact us at Normandie Law Firm today to speak to an attorney and receive a free legal consultation on your case.
FURTHER INFORMATION: