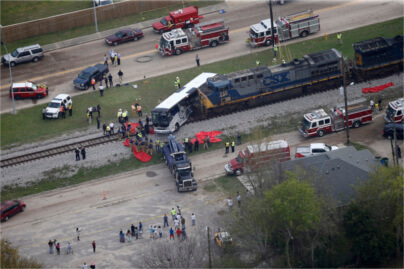 Bus Accidents can cause incredibly severe injuries to those who experience them. While typical auto accidents can cause their degree of damage, bus accidents can in certain cases cause even more damage to an individual due to their sure size and weight. One such injury that a victim can experience is an amputation injury. Amputations can be incredibly debilitating regardless of where they occur. If you or a loved one has endured an amputation injury as a result of a bus accident, you may be eligible to file a lawsuit against the bus driver or charter company responsible for the damages. At Normandie Law Firm, our skilled bus accident attorneys can assist you in filing a lawsuit for your amputation injury. If you have any questions after reading this article, please feel free to contact our top-rated Los Angeles law offices for a free consultation with an accomplished attorney who has experience handling bus accident claims.
Amputation Injuries
Amputations can also occur intentionally by way of a medical procedure. Physicians throughout the medical community perform amputations as a way to stave off infections and to treat diseases like gangrene, diabetes, and cancer. However, for the sake of this article, amputations can occur accidentally as well. Often, these injuries can inflict lifelong damage that can hinder everyday function and mobility. Amputations can inflict damage to the toe, finger, hand, arm, foot, leg, and other ligaments in the body. While this article is focused on amputations caused by bus accidents, listed below is a list of some common accidental amputation causes:
Automobile accidents
Agricultural Accidents
Firearm/Explosives/Firework Accidents
Electrocution Accidents
Ring Traction Accidents
Building and Car Door Accidents.
Bus accidents can be incredibly devastating due to their size and weight and can be caused by a variety of reasons. The range of these causes can affect the process and outcome of any litigation made against an at-fault party in a bus accident. Some of the common causes of bus accidents are listed below:
Bus company negligence
Bus driver negligence
Bus driver fatigue
Bad weather
Blind spots
Left Turns
Other drivers
Bus fires
To file a lawsuit against a bus driver or bus company, it is vital that you determine who was liable for the damages and that the responsible party was acting negligently. While the best way to go about doing this is through hiring a lawyer experienced in bus accident cases, it is still helpful to understand the details that surround liability and a claim of negligence.
Liability & Negligence
Determining liability in your bus accident lawsuit is vital to ensuring that you successfully claim compensation. One of the leading causes of bus accidents throughout the country is through the bus company's negligence. While bus companies transport more than 700 million passengers a year, they are not held to the same stringent record-keeping and inspection protocols that surround the other main transport industries. Bus companies will often times look the other way when it comes to federal regulations, training drivers or keeping their fleet of buses maintained. Buses require a lot of upkeep, repair, and inspection in order to keep them operating safely. When this is not upheld, the risk of injury or death (or amputation) from a bus accident increases. In cases, where the accident was caused by a lack of maintenance or inspection the bus company can be held liable for negligence.
Bus drivers can also be held liable for the damages of a bus accident. While many laws attempt to regulate bus drivers, they are, in most cases, disregarded, especially in the tour bus industry. Some of these laws determine how long a driver can be on the road for, while other laws regulate bus speed, turning and passing. Sometimes drivers will disregard these rules. In other instances, a driver may be considered negligent for texting or making a call while operating the bus. Or, an accident may simply occur because the driver was just inexperienced.
Regardless of whether the driver or the bus company was negligent, the key to a successful lawsuit is being able to prove the at-fault party's negligence. Proving negligence can be tricky without an attorney and it is highly recommended that you seek appropriate legal consultation before pursuing your case. However, listed below are some of the requirements for a negligence claim:
Duty: The bus company and the bus driver owe a legal duty to ensure the safety of their passengers. The injured party must be able to prove the existence of this duty.
Breach of Duty: The injured party must be able to show that the at-fault party breached this duty of ensured transport safety
Causation: The injured party must be able to show that this breach of duty caused the harm of what they are seeking compensation for
Damages: The injured party must be able to show that they endured actual damages. These damages can be shown through the presentation of medical bills, medical records, evidence of a loss of income, or evidence of a loss of future income.
Proving negligence can be especially difficult when you present your case against large bus or charter companies. These large companies more than likely have the resources to hire a team of legal professionals who will be committed to disputing your claims. For this reason, seeking appropriate legal assistance from an expert attorney with expertise in bus accident injury lawsuits before bringing your case to court is vital. Having an experienced attorney on your side can mean the difference between a successful claim for compensation, and having your case dismissed from court.
How Normandie Law Firm Can Help
If you or a loved one has suffered from a wrongful amputation injury, you may be entitled to monetary compensation for all the damages that you have suffered. If you file a claim with one of Los Angeles's top legal groups, Normandie Law Firm, you could find some, if not all, of these following expenses compensable:
Any and all medical expenses
Loss of Income
Loss of potential future income
Emotional Damages (anxiety, depression, PTSD, etc…)
Punitive Damages (which are given out in instances of gross negligence, but are very difficult to win; as a result, only an attorney who has experience in bus accident cases will be able to secure them for your settlement)
Free Consultation and Zero Upfront Fees
Victims of amputations caused by bus accidents can contact our law offices to learn more about how to receive compensation for their injuries. Our team of qualified attorneys with experienced in bus accident cases is committed to ensuring every one of our clients has the resources to put up a fair fight for their case. As a show this commitment to you and your case we offer our clients the benefits of a zero fee guarantee policy. Under our zero fee policy, all clients don't pay for our services until their case is won. If you feel in need of a second opinion, second opinion case reviews are also free under this policy. Call our law offices today for a free consultation by one of our experienced lawyers, and we can discuss the incident, your damages, and the path to receiving proper compensation for your damages.