Bridge Collapse 91 Freeway Corona California – Construction Site Injury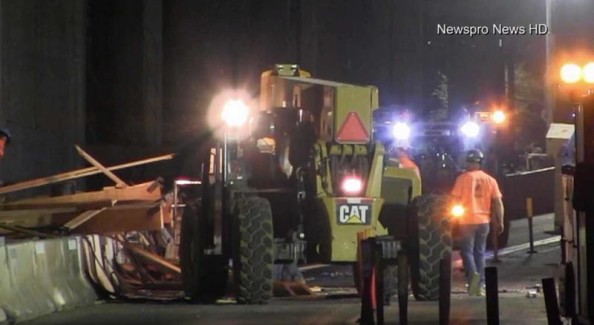 Update: According to the latest reports at lead 9 individuals have suffered injuries due to the collapse of a temporary bridge on the 91 freeway in the city of Corona California. According to witnesses and construction crew at the locations of the accident, the support beans of the temporary structure battered the workers resulting in their injuries. Of the nine injures three are in critical conditions. The exact magnitude and severity of their injuries has not been released by authorities. The construction workers were employed by the Riverside County Transportation Commission. Project officials have expressed their, "deepest  sympathies for the injured victims and their families".  The exact cause of the collapse has not been determined, however a thorough investigation by the California department of Occupational Safety and Health Administrations has begun. The 91 freeway project which was to add extra regular and tolled expresses lanes has been suspended pending the resolution of the investigation.
Common Injuries Associated with Bridge Collapse on the United States
Some of the most common injuries include the following.
Trauma sustained to the head – resulting in concussion, internal hemorrhaging or traumatic brain injury.
Injuries to the spinal cord – resulting in slipped discs, nerve damage, paraplegia or quadriplegia.
Injuries to the extremities, including the shoulders, fractures to the arms hands and wrists, or broken leg.
Facial injuries and lacerations to the face and body.
Physiological damage – including post traumatic stress.
Compensation Available for Victims – Workers-Compensation or Personal Injury Claims
Injured workers in the state of California have a right to compensation for the following damages incurred.
All medical and health related expenses.
Temporary and permanent disability benefits.
Monetary benefit for expenses incurred in re-training for a new occupation, or finding a new job.
Compensation Vial Personal Injury: In many instance the cause of the accident at a construction site may be attributed to a third parry (an entity other than your employers). Under those circumstances a victim is able to pursue recovery via the filing of a personal injury claim, thus affording them the right to receive additional compensation. In Personal injury claim a victim is entitled to recovery for the following.
All medical and health related costs.
All future medical and health related expenses.
Non-economic damages – including pain and suffering ,emotional distress and punitive damages.
Economic damages – including loss of income and future loss of income.
Free No Cost Attorney Consultation Available: If you or a loved one have any further legal questions feel free to contact our law offices. All legal consultations are provided by our attorneys free of charge.