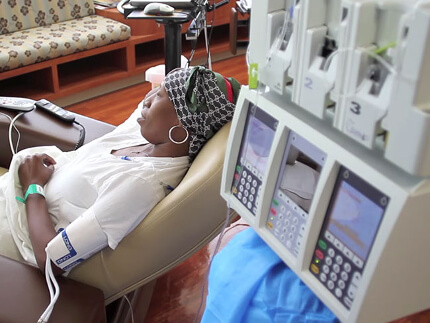 Breast cancer is one of the most common and deadliest forms of cancer. Although breast cancer's death toll has significantly decreased over the years, it continues to be one of the cancers with highest death rates. Approximately one in every eight women will be diagnosed with breast cancer at some point during their life. There are more than 260,000 breast cancer diagnoses expected every year. More than 40,000 of these women diagnosed with breast cancer are expected to lose their battle against the disease. Women diagnosed must constantly fight battles against time. If their cancer is in its early stages, treatment options have a higher chance of being successful, and they have a higher chance of survival. Being diagnosed at a later stage significantly decreases the possibilities of surviving.
Did you or a loved one seek medical assistance for symptoms related to breast cancer? Did doctors ignore symptoms and disregard your concerns? Was there a failure to detect breast cancer? Did the failure in detecting breast cancer lead to the condition worsening? If you answered yes to any of the questions above, you have been the victim of medical malpractice. Breast cancer, like all other forms of cancer, is fast-growing and fast-spreading. Because of this, diagnosing breast cancer in its early stages is essential to survival. If there was a delay in diagnosing breast cancer in your case, you have grounds to file a medical malpractice lawsuit for not detecting breast cancer. You can sue the doctor or hospital for medical negligence and receive compensation. You need to immediately contact a law firm experienced in breast cancer misdiagnosis lawsuits.
Normandie Law Firm is a law firm dedicated to helping those affected by a breast cancer misdiagnosis. Our law firm consists of some of the most experienced breast cancer misdiagnosis attorneys in California. Our attorneys practice in all of the following areas: Fresno, Bakersfield, Kern County, Modesto, Lancaster, Palmdale, Victorville, Riverside, Corona, San Bernardino, Fontana, and anywhere in Orange County. No matter where you are located or where you experienced the missed diagnosis of breast cancer, our team of expert attorneys can help you.
Our attorneys have successfully handled breast cancer medical negligence claims against all of the following hospitals: Sonoma developmental Center, Porterville Developmental Center, Lanterman Developmental Center, Fairview Developmental Center, Cedars Sinai Medical Center, Laguna Honda Hospital and Rehabilitation Center, Loma Linda University Medical Center, LAC/USC Medical Center, Sharp Memorial Hospital, Kaiser Foundation Hospital-Fontana, Community Regional Medical Center-Fresno, Huntington Memorial Hospital, University of California Davis Medical Center, Stanford Hospital, San Francisco General Hospital, Methodist Hospital of Southern California, UCSF Medical Center, Santa Clara Valley Medical Center, John Muir Medical Center, Children Hospital of Los Angeles, and many Kaiser Permanente hospitals. It does not matter what hospital was behind your misdiagnosis; our attorneys have the expertise to handle claims against all hospitals across California.
If you need to contact a lawyer to sue a doctor for failure to diagnose breast cancer or sue the doctor for wrongful death, you can be certain that you will be speaking to an expert breast cancer misdiagnosis lawyer at Normandie Law Firm.
Treatment Options for Breast Cancer
Being such a common form of cancer, breast cancer has many treatment options. Treatment options include surgery, chemotherapy, radiation therapy, hormonal therapy, targeted therapy, immunotherapy, and complementary/holistic medicine. The surgical treatment option includes lumpectomy, mastectomy, lymph node removal, sentinel lymph dissection, prophylactic mastectomy, prophylactic ovary removal, and cryotherapy. Chemotherapy and radiation therapy both target cancerous cells in the body and can help destroy cancer cells. In hormonal therapy, the goal is to reduce the presence of estrogen in patients' bodies and to reduce the risk of recurring cancers. Hormonal therapy can include aroma inhibitors, selective estrogen receptor modulators, and estrogen receptor down-regulators. In some cases, the ovaries and fallopian tubes must be removed. During targeted therapy, there is less risk of damaging healthy cells; rather, the therapy targets certain characteristics that make cancerous cells excel. Targeted therapy used for breast cancer includes Afinitor, Avastin, Kisqali, Ibrance, and Verzenio to name a few. In immunotherapy, medicines are designed to improve the patient's immune system to allow the immune system to stop, slow, and destroy cancerous cells. Complementary and holistic medicine is designed to relieve symptoms and side effects, as well as improve the patient's quality of life. This treatment is administered along with other treatments that might cause adverse effects.
Although these treatment options are available to those who are diagnosed with breast cancer, those who are undiagnosed cannot begin this vital treatment. With all cancer types, treatment is most effective in the primary stages. Because of that, it is essential for doctors and medical professionals to diagnose their patients as early as possible. The longer a patient is without treatment, the lower the chance of survival.
Medical Negligence
When you or your loved one sought medical attention, you wanted to understand the reason behind your symptoms. Some changes in your breasts might have led you to seek medical assistance. Your symptoms might have been misdiagnosed for non-cancerous changes in the breasts. Some examples include fibrocystic breast changes, cysts, fibroadenomas, intraductal papillomas, mastitis, fat necrosis, calcification, and blocked milk ducts. These conditions can be harmless and require only minimal medical care. Often, these benign conditions show symptoms similar to breast cancer—like lumps in the breast. Because of these similarities, it is likely that symptoms of breast cancer can be misdiagnosed for less serious conditions. If your breast cancer was misdiagnosed, you likely lived without valuable treatment. Your doctor should have run a series of tests to ensure that your symptoms were not related to breast cancer. If you were diagnosed with breast cancer at a later time, you might have a decreased chance of your treatment being successful. If your doctor did not perform the necessary tests, you were the victim of medical negligence. You must immediately contact our law firm to file a lawsuit against the doctor or hospital liable. In breast cancer, time is of utmost importance; doctors must be held accountable for negligently misdiagnosing your condition.
Compensation for Your Claim
Although a claim might not be able to recover your health or your loved one's health, it might result in recovering compensation. What compensation might you be eligible to recover? There are many types of compensation that might apply to your claim; the type and amount of compensation you might be eligible to receive depends on the specific details of your claim. You might be eligible to receive some of the forms of compensation listed below:
Medical expenses
Funeral and burial costs
Lost income
Pain and suffering
Loss of consortium
Punitive damages
Although there are many types of compensation that might apply to your claim, you should not assume that you will be eligible to receive every form of compensation. As mentioned above, the type and amount of compensation you can receive depends on the details of your claim. Therefore, you must immediately contact our law firm to speak to a lawyer with experience in wrongful breast cancer diagnosis.
Normandie Law Firm Can Helps
Normandie Law Firm is dedicated to helping all victims of breast cancer misdiagnosis fight for their rights and receive the compensation they deserve. Many people believe that they cannot file a claim for a misdiagnosis because doctors and hospitals are above the law. This misconception has left many misdiagnosis victims without justice. Our law firm encourages all victims and family of those affected by a breast cancer misdiagnosis to contact our law firm. Our attorneys will give you the confidence to sue the doctor or sue the doctor liable. Even if you or your loved one was affected at a prominent hospital like Kaiser Permanente or Cedar's Sinai, an experienced breast cancer attorney with our firm could file a lawsuit against Kaiser Permanente and any other hospital in which you might have been affected.
Our attorneys are ready to help you file a lawsuit—you simply have to contact our law firm. A helpful member of our legal team will assist in scheduling an appointment for you to visit our law firm and speak to our attorneys as soon as possible. Our law firm offers free consultations and free second opinions to make our legal assistance as simple as possible. During our free consultations and second opinions, our attorneys will answer all your questions and address all your concerns. We guarantee that you will receive all the information necessary to either start your lawsuit or get it back on the right track. Do not hesitate to contact our law firm; even if you already have an attorney with another law firm, our attorneys can fill any information gaps left by your incompetent attorney. Our experienced attorneys have handled many claims against different medical professionals; you can be sure that your lawsuit against a doctor or against an oncologist will be effectively handled.
Our free consultations and free second opinions are available through our firm's Zero-Fee guarantee. Our Zero-Fee guarantee ensures that our clients never have to worry about paying any legal fees throughout their legal process. Our law firm is also strictly based on contingency; therefore, our clients will not have to pay any legal fees until our attorneys win their lawsuits. What if our attorneys are unsuccessful with your claim? If you do not win your claim, you do not have to pay any legal fees. Do not hesitate to contact our law firm; you must exercise your rights and fight for the compensation you deserve.