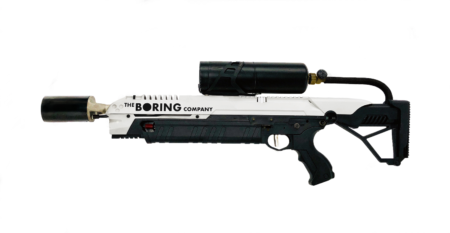 The Boring Company is a company dedicated to infrastructure and tunnel construction. In 2016, Elon Musk, recognized for his ties to SpaceX, Tesla Inc., Open AI, Neuralink, Solar City, and PayPal, founded The Boring Company in efforts of alleviating traffic in Los Angeles. The Boring Company has planned and started building tunnel systems in Los Angeles, working towards lessening the traffic in the area. However, the company has not stayed within the boundaries of infrastructure and tunnel construction. The company released a hat that was on sale to the public; an item that many would consider normal. In late 2017, Elon Musk revealed that after selling 50,000 Boring Company hats, they would start selling a flamethrower.
The Boring Company designed the "world's safest flamethrower" that, according to the company's claims, is "guaranteed to liven up any party." The company's product page raises some questions about the legitimacy of the release of the flamethrower. The company's product page states that the flamethrower "may not be used on Boring Company decorative lacquered hay bales or Boring Company dockside munitions warehouses." The product page also reveals that a Boring Company fire extinguisher is sold separately.
Although many might argue that making flamethrowers available to the public is a distasteful joke, the Boring Company seems to be serious about releasing this product. In fact, they appear to be making light of the risks that flamethrowers might pose to the general population. In early 2018, The Boring Company made their flamethrowers available for pre-order. The flamethrowers were priced at $500 per unit. In just 48 hours, the company sold 10,000 flamethrowers—that is more than 5 million dollars worth of flamethrowers.
Our law firm is concerned for the public's safety because, without a doubt, The Boring Company's flamethrower could cause horrific injuries. Normandie Law Firm is a law firm dedicated to helping all injured victims fight for their rights. If you are injured by a flamethrower, our attorneys can help you file a claim against the company that sold you the product. You must immediately contact our law firm to learn more about your rights after a flamethrower injury.
How Could a Flamethrower Cause Injury?
The Boring Company claims that its flamethrower is the safest flamethrower in the world. The company has not released any safety information about their product, and they claim that they will send the proper terms and conditions to everyone who purchased a flamethrower. Do they believe that sending these documents to everyone who purchased their flamethrowers is enough to prevent injuries? Elon Musk went as far as claiming that the public purchasing a flamethrower is a terrible idea unless consumers want to have fun. Below, you will find some of the not-so-fun outcomes that could result from The Boring Company's flamethrower:
The flamethrower could explode.
Malfunctioning flamethrowers could explode and cause severe injuries, or even death. If the flamethrower explodes while someone is using it, it could cause life-threatening burns, lost limbs, and even death. In fact, flamethrower explosions could cause injuries similar to injuries seen in the military, injuries that are not common outside military combat.
The flamethrower could cause serious burns.
The flamethrower could cause serious burns to those operating the flamethrower and innocent bystanders. Firework burns, for example, are often caused when fireworks are improperly handled or when bystanders are too close. Without a doubt, a flamethrower would gather the attention of many curious bystanders. These bystanders could be in dangerous proximity if the person operating the flamethrower makes a mistake or if the flamethrower explodes.
The flamethrower could cause fires.
The main purpose of flamethrowers is to emit a flame. Lighters are small yet capable of emitting a flame to like cigarettes, candles, fireworks, for example. Flamethrowers emit flames much larger than what the general population is accustomed to. Although the flamethrower emits a controlled flame, uncontrollable factors could affect the flame and cause fires. For example, a sudden wind gust could carry a spark to dry brush that could instantly catch fire and spread to nearby homes. If the flamethrower is put down somewhere flammable while the product is still hot, the heat could cause a fire inside or outside homes.
The flamethrower could be used as a weapon.
Although The Boring Company's flamethrowers are marketed for fun, there is no doubt that people with ill-intentions will have access to purchasing a flamethrower. Since the flamethrower is not considered an illegal weapon by state and federal governments, there is no regulation preventing those with criminal backgrounds from purchasing the product. Although the product is not intended to be a weapon, criminals can cause many injuries and many deaths if they get their hands on flamethrowers.
Does selling a flamethrower to the public still seem like a good idea? Why would The Boring Company sell a product that can cause so much harm to the public? Why would the company continue to make their product available for pre-sale even after acknowledging that the flamethrower could be dangerous?
If you were injured because of a flamethrower that you purchased from The Boring Company, you must immediately contact our law firm. The company might be liable for making a dangerous product knowingly available to the public. If you suffer an injury, you might be eligible to file a lawsuit and recover compensation. The attorneys at Normandie Law Firm have experience handling all sorts of personal injuries and can help you file a lawsuit against The Boring Company for selling you a dangerous product.
If you are interested in taking legal action against The Boring Company, you must contact our attorneys. Our law firm makes getting legal assistance simple—you simply have to call or email us. A helpful member of our legal staff will schedule an appointment so that you can visit our law firm and speak to our attorneys. Our law firm provides every victim with free consultations and free second opinions. Our attorneys will always answer all your questions and all your concerns. These services are available to you at no cost through our law firm's Zero-Fee guarantee. This guarantee ensures that our clients never have to worry about paying any upfront fees for any of our legal services. Our guarantee also ensures that clients do not have to pay anything until they recover the compensation they deserve. Our law firm is strictly based on contingency; therefore, you will not pay anything until our attorneys win your lawsuit. You have nothing to lose—contact our law firm as soon as possible.