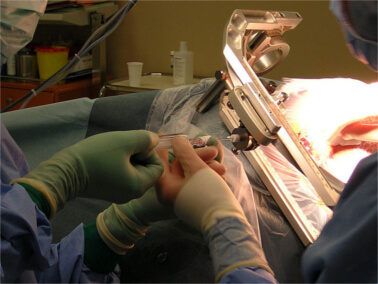 A biopsy is a common procedure that involves the removal of tissue from a person that is then examined to help discover the presence, cause, or extent of a disease. Biopsies are considered one of the most useful ways to diagnose conditions and can contribute to ruling out the existence of cancer, cirrhosis, and a wide variety of other conditions. Although with any medical procedure, mistakes happen, and in the event of these errors patients can experience a worsening of their condition due to the medical error of a surgeon. In the event of a medical mistake as the result of a poorly performed biopsy, it is best to seek out expert legal consultation so that you can sue the hospital or doctor responsible. At the top-rated Normandie Law Firm, our skilled attorneys with experience in biopsy medical malpractice claims can help you earn the compensation you deserve for your damages. While our law firm is based in Los Angeles, we represent people across the entire state of California. Contact our top law offices today to receive a free consultation from one of our experienced lawyers.
What Is A Biopsy
If a doctor requires a sample of your tissue or cells to diagnose an illness or identify cancer, he may call for a biopsy. This commonly used procedure involves the removal of tissue or cells which the doctor will then analyze for signs of any serious conditions. Biopsies can also be used to see the severity of a condition or how long that condition has progressed or spread. While biopsies sound like dangerous procedures, they are often pain-free and are considered to have a low operational risk. There are different forms of biopsies that a doctor may call for, and they range in nature and intensity. Below is a list of the kinds of biopsies your doctor may request:
CT-Guided Biopsy: This form of biopsy involves doctors using a CT scan to reveal images of the targeted tissue. Once they have identified the place of the tissue, the doctor will then insert a needle into the patient to recover the targeted cells.
Ultrasound-Guided Biopsy: This form of biopsy is similar to a CT-Guided Biopsy except it uses ultrasound to identify the targeted tissues.
Bone Biopsy: Bone biopsies involve an orthopedic surgeon removing bone cells to determine whether a patient has some form of bone cancer.
Breast Biopsy: Breast Biopsies are used to check for the presence of breast cancer. The procedure involves the removal of tissue or fluid from a suspicious area in the breast.
Bone Marrow Biopsy: This form of biopsy is often used to diagnose leukemia or lymphoma. Bone Marrow Biopsies involve inserting a long needle into the pelvis to retrieve bone marrow. This bone marrow sample will then be analyzed by a medical professional.
Prostate Biopsy: Prostate Biopsies are often used to determine evidence of cancer or disorders in the prostate. The procedure involves the insertion of a needle through the area of skin between the anus and the scrotum.
Liver Biopsy: Liver Biopsies involves inserting a needle into the liver through the abdomen and retrieving a sample. This sample is then analyzed by a doctor who will look for signs of diseases like liver cancer, cirrhosis, and hepatitis.
Needle Biopsy: This form of biopsy involves the collection of samples through the insertion of a needle into the suspicious area.
Kidney Biopsy: This type of biopsy involves the insertion of a needle through the back of the patient to recover kidney tissue. Kidney Biopsies are typically used to diagnose disorders in the kidneys.
Skin (Endoscopic) Biopsy: This form of biopsy is used to detect the presence of cancer cells or skin abnormalities. The procedure involves the use of a circular blade to take a sample of the skin for further testing and examination.
Most of these procedures are often seen as routine by medical professionals; however, mistakes happen, and a patient could experience a series of damages that the medical professional should be deemed responsible for. In these instances, you should seek the assistance of a lawyer experienced in handling biopsy malpractice claims.
The Medical Mistakes Involved In A Biopsy
Although biopsies are considered to be routine procedures, damages can occur when mistakes are made. Damages like a missed diagnosis, a failure to diagnose, or a misdiagnosis are some of the more common injuries that victims of a botched biopsy experience. Biopsies are meant to investigate and identify a condition, and when this purpose is failed as the result of the negligence of the doctor or surgeon, then they can be held liable. If you or a loved one undergoes a failed biopsy of the lung, bladder, colon, or any other vital part of your body, the consequences of that failed procedure could be life-threatening. Diseases like cancer are easier to treat and fight when diagnosed earlier along, and if a doctor misdiagnosis a tumor or growth as malignant, there is a likelihood that cancer could spread and worsen the condition.
If you or a loved one has undergone a failed biopsy, you may be able to hire a lawyer experienced in biopsy malpractice cases to sue the responsible party. Contact our qualified Los Angeles attorneys to learn more about the aspects of a possible lawsuit. We practice in the entire state of California, and can meet with you anywhere to discuss your case.
Pursuing Legal Action
Pursuing legal action against a doctor or hospital for the medical malpractice of your biopsy operation can be a complicated and often challenging endeavor. While it is within every person's right to represent themselves in court, it is in your best interest to consult experienced legal advice when presenting a lawsuit to a health care provider. Winning a case without the assistance of an experienced attorney is extremely difficult, and we do not recommend trying.
To sue for medical malpractice, you must be able to prove that the medical professional acted in negligence. Proving negligence can be best achieved through the consultation of the expert testimony of another medical professional in a similar field. Once you have shown that your doctor did not perform up to the expected standard, you must then prove that the doctor's actions caused your injury. If the physician's negligent actions did not directly inflict harm, your case may lose grounding in court. Lastly, you must be able to identify the damages that you or a loved one has sustained. By doing this, you can not only prove the extent of what you've had to endure, but also will help in determining proper compensation for your case.
As stated previously, it is highly recommended that you seek appropriate legal advice when pursuing legal compensation from a health care provider. Doctors and hospitals are more than likely to have substantial resources to hire an expert team of lawyers to refute any arguments you try to make. With the assistance of an attorney with expertise in biopsy malpractice injury lawsuits, earning compensation as the result of a doctor's negligence is a real possibility.
Our Law Firm
At Normandie Law Firm, our accomplished Los Angeles attorneys can help you through the process of filing a biopsy malpractice lawsuit and earning compensation for any damages you may have encountered during a botched biopsy procedure. Contact our experienced lawyers today and be one of our many clients who benefit from our zero fee guarantee policy. This policy is a further commitment to you and your case, as we believe that you should not have to pay for our services until we have won your case. If we do not manage to get you the compensation you deserve you don't owe us any money. You only pay once we win your case. Under this zero fee policy, second opinion case reviews are also free of charge. An attorney who has experience in biopsy malpractice cases can answer all of your questions.