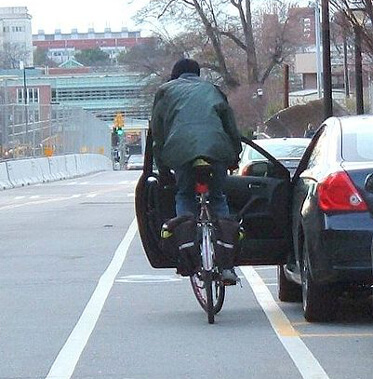 Accidents on the road can occur to any vehicle, whether it's a car, truck, motorcycle, or bicycle. Our top-rated law firm often hears from clients who were riding their bicycles and sustained injuries in an accident. These cyclists were often riding in their designated bike lanes, paying attention to traffic patterns and other drivers, when a parked or stopped vehicle's door would open, leading to a crash. "Dooring," as it's called, is not as amusing of an injury as the movies make it out to be; bicycle riders can suffer serious injuries upon coming into contact with car doors. As a cyclist, you have just as many rights as an automobile driver despite having much less protection and greater leeway in laws applying to your traveling. Our clients often come to us in need of information about how they are protected under the law and what they can receive as compensation in the event of an accident. They ask us such questions as:
Can I sue a driver for opening his car door while riding my bike?
I hit a car door while riding my bike. Can I file a claim?
I was hit by a car door while in a bike line. What should I do?
Background Information on Car Door Laws
There are laws in place that aim to prevent drivers of automobiles from risking serious injury to themselves or others by opening their car doors into oncoming traffic or opening them without proper evaluation of the surrounding environment. Further, car doors cannot remain open for prolonged periods of time; if you are loading and unloading passengers and belongings, it is acceptable to keep the doors open. However, if you are relocating and going in and out of your apartment to load boxes, you cannot leave your car doors open while the car is on the street below. You must close the doors if your loading time is too long.
However, it is often wishful thinking to expect drivers to adhere to all laws of the road at all times. Many people fall into bad habits and do not follow every law due to how time-consuming it would be, or because they do not suffer consequences for ignoring the rules. For this reason, cyclists should be sufficiently aware of their own environments and practice defensive cycling whenever possible. If you need to learn more about laws of the road, you can reach out to one of our experienced lawyers.
Common Injuries You Can Sustain
Although bicycles do not travel as fast as automobiles, you still risk serious injury if you fall from one, are involved in a crash, or are flung from one with excessive force or velocity. These injuries may allow you to sue for damages with the help of a lawyer experienced in bicycle accident cases.
The reason is simple: bicycles simply do not afford you the same type of protection that automobiles do. Cars are a few thousand pounds and have a lot of extra space inside of them; they also have cushioned seats, airbags, seatbelts, roll bars, headrests. It is much easier to be severely injured on a bicycle than it is in a car; bicycles only have hand-operated brakes and are less stable when traveling – a sudden turn to avoid a car can still result in you falling from the bike as you lose your balance and it slips from under you. Further, you are only able to protect yourself in minimal ways with the help of a helmet, pads, and special bicycling gear.
For example, you may strike the door just as it is opening; in this position, the door is very sharp due to less surface area and a more angular shape. You can quite easily suffer puncture wounds or jagged slashes or lacerations from hitting the edge of a car door.
If you hit the door as it's fully open, you may suffer blunt force trauma and collapse under the bike, or even go through the car window, resulting in broken bones and deep cuts. Or, worse, you may flip over the top of the car door entirely, and the disorientation from the crash itself and being suddenly airborne can prevent you from intelligently protecting yourself when you land; even still, you cannot protect your whole body. You may suffer scrapes, bruises, sprains, broken bones, and internal organ damage from such an event.
Keep in mind that these are not the only ways you can get hurt from crashing into a car when riding a bike. You may also hit the trunk, hood, or side of the car, as well as be clipped while the vehicle is turning or reversing. In almost all cases, the driver of the vehicle was unable to see you on your bicycle. This can easily point to the driver as being negligent, which can be used as grounds for a lawsuit; an accomplished attorney with experience handling bicycle accident claims can help with the legal process.
Filing a Personal Injury Claim
In the case of bicycle accidents stemming from hitting an open car door, you are likely able to sue the driver of the vehicle for negligence. While on the road, all drivers are expected to give other drivers, motorists, cyclists, and even pedestrians a duty of care.
A personal injury claim can be filed if the duty of care that was given to the defendant was breached, an incident occurred from that breach of duty, and, lastly, actual physical harm occurred to the defendant that otherwise would not have happened if the duty were not breached.
To put it in an example: as a bicyclist, you are to be given a duty of care by other drivers on the road. If a driver is in a parked car and is distracted by his cell phone, he will not pay attention when he opens the door (breach of care resulting from negligence); you then crash into the door (the incident) and are flung over the top, resulting broken teeth, a sprained wrist, and numerous cuts and bruises on your face and body (physical harm from the incident). The driver is entirely liable to cover your damages.
A qualified attorney with expertise in bicycle accident injury lawsuits can help you file your claim. You can receive restitution for a bicycle accident in the form of:
Medical costs, including surgery fees, facial reconstruction, hospitalization, medication, physical therapy, and future treatments.
Lost wages stemming from the accident, both past time lost and future time lost.
Pain and suffering, which includes mental anguish, emotional distress, fear, anxiety, and psychological disorders that arise from the accident (for example, a constant paranoia about being in the street).
Punitive damages, which are meant to punish the defendant if he acted with intention of harm or gross negligence. If a driver opened the car door on purpose in order to hurt you, he may be hit with additional punitive damages for his actions. Keep in mind that these damages are difficult to win, and only an expert attorney who has experience in bicycle accident cases will be able to win them for your settlement.
About Our Law Firm
Normandie Law Firm is one of the top firms in Los Angeles. Our skilled team has been practicing law for years, and we have a proven track record with bicycle accident claims. We strive to make sure our clients are happy, healthy, and stress-free; we do not want you to feel like you must dedicate all of your time and energy to a personal injury claim. We will take care of it for you with our expert legal representation.
Call us today to receive a free consultation on your case. We will be able to give you a rundown on the legal process, the types of compensation you can expect to receive, and what our plan is to help bring you a fair settlement. Our team of attorneys with experience in bicycle accident cases will fight for your rights as a cyclist and will make sure you are covered for your damages.
Finally, our firm operates under a zero fee policy, which guarantees that you do not pay any out of pocket expenses for choosing us to represent you. If we do not win your case, you do not owe us a dime. Our fees are only paid in the event we win your case and garner you a settlement.
If you have been injured in a bicycle accident involving a car door, contact Normandie Law Firm today to speak with an experienced attorney.