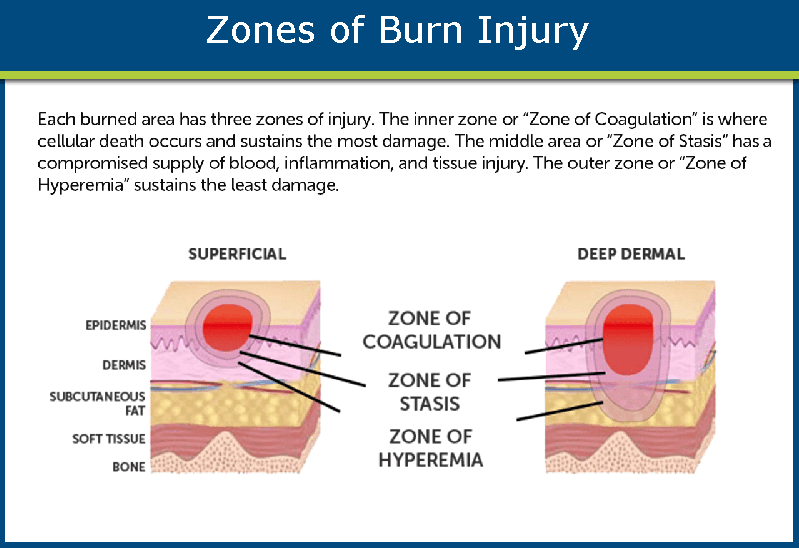 Burn injuries can be truly debilitating to endure and can result in devastating physical pain as well as extensive medical expenses for the treatment needed to recover from them. A burn injury can occur anywhere, and if the endured damages are at the fault of another party, the responsible party should be held liable for the damages. If you or a loved one has suffered a burn due to the misconduct of another, you may be eligible for significant monetary compensation that can cover medical expenses, a loss of wages and a loss of future income. At the top-rated Normandie Law Firm, our team of accomplished Bakersfield attorneys with experience in burn injury cases can walk you through the process of suing the company, employer, school, doctor, daycare, hospital, or manufacturer responsible for the damages you have endured. Contact our top law offices today and receive a free consultation.
Burn Injuries & Their Degrees
A burn injury is considered to be damage to the skin or deeper tissues caused by the sun, hot liquids, fire, electricity or exposure to harsh alkaline or acidic chemicals. These burns vary in their severity. The severity of every burn is based on the size and depth of said burn. While most burns are relatively easy to diagnose visibly, injuries like electrical burns and chemical burns can be difficult to discern the severity of without seeking out the assistance of a trained medical professional. Burns of all kinds come in four different degrees:
First-Degree: First-degree burns are the most common form of burns. Often referred to as 'superficial burns' first-degree burns affect the outer layer of skin. A first-degree burn is characterized by redness, minor inflammation, pain, or dry peeling skin as the burn heals. First-Degree burns typically heal within 7-10 days.
Second-Degree: Second-Degree burns tend to be more serious as the damage inflicted by them extends beneath the top layer of skin. Usually, second-degree burns cause the skin to blister and become extremely sore. Treatment of second-degree burns includes: running the area under cold water, taking over the counter pain medication, or applying antibiotic creams. However, it is recommended that you seek medical treatment if the burn covers a large region or extends to sensitive areas.
Third-Degree: Third-Degree burns are incredibly severe as they cause damage through every layer of skin. Victims of third-degree burns should seek immediate medical attention. Third-Degree burns are often characterized by their smooth white color, char, raised leather texture, and blisters that do not develop.
Fourth-Degree: Fourth-Degree Burns are the most severe kind of burn, as they often involve damage to deep tissues like muscles, tendons or bone. Fourth-Degree burns are often characterized by a blackening of the skin and frequently result in the loss of the burned region. While treatments of fourth-degree burns vary on the severity, victims should seek immediate medical assistance.
Regardless of the degree of burn, severe burns should not be treated with home-remedy alone. Burn injuries can be incredibly damaging if not given the proper medical treatment. The medical expenses that come with this treatment should not be burdened without some form of financial assistance, especially when said damage is at the fault of another. If your burn injury was caused by the fault of another, you might be able to sue that party for compensation of your damages. If you contact our Bakersfield law offices, we can place you with a qualified attorney who has experience with bodily burns, and he can walk you through the often complex process of pursuing legal action and claiming appropriate compensation.
Workplace Burn Injuries
If you experienced a burn injury at the workplace, you are entitled to compensation. In most cases, workplace injuries are covered by workers' compensation insurance offered by the employer. However, workers' compensation claims are typically lower than a traditional personal injury lawsuit. While the amount an individual can claim from workers' compensation varies from state to state, sometimes the amount a worker can claim isn't enough to cover the damages endured. Even still, you can only file a lawsuit against an employer in one of the following particular circumstances:
If your employer intended to cause harm to you
If your employer does not have workers' compensation insurance
If you wish to pursue a personal injury lawsuit against an employer for a sustained burn injury, it is recommended that you seek a skilled lawyer experienced in workers' compensation or burn injury cases to assist you in the filing said lawsuit.
Home & Apartment Building Burn Injuries
If you endured a burn injury as the result of the misconduct or neglect of real estate property management you may be able to sue the management for compensation. The rules that surround lawsuits filed against real estate management are relatively similar to lawsuits that you can file against any other business owner. However, determining liability can be difficult in claims held against real estate property management, as in some cases the management company can withhold the identity of the actual owners of the property, giving the company only limited liability. Regardless, property managers are expected to uphold a standard of safety for all of their tenants. To pursue a successful lawsuit against a property manager, you must be able to prove the negligence which caused your injuries. To prove negligence you must show the following four factors were at play in your circumstance:
Duty: The defendant owed a legal duty to you and their tenants
Breach: The duty was breached by the defendant, through specific actions or inactions
Causation: The defendant's actions, or lack thereof, caused the damages endured
Damages: Proof of specific damages (usually shown through medical bills and records)
In situations where management companies can only claim liability, you may wish to seek expert legal counsel as they can root up information that proves particular property owners.  At Normandie Law Firm, our Bakersfield attorneys with experience handling real estate injury claims can assist you through this process.
School or Day Care Injury
Schools and Day Cares are expected to uphold a standard of care for their students. While accidents do happen, every place of education is required to provide 'Due Care' for all of their students. Due Care is the degree of care that any reasonable school or daycare is expected to exercise to prevent or treat harm. If you intend to sue a school or daycare for damages, you must prove that there was a breach of this Due Care. Two major elements must be shown to prove a breach of Due Care:
The Cause of The Injury: The plaintiff must be able to show that a lack of supervision caused the injury. If the plaintiff can successful show this, then the school or daycare can be held liable for the damages.
The Nature and Prevention of Injury: The plaintiff must be able to show that the injury could have been prevented by another school or daycare. If so, then the school or daycare can be held liable.
Proof of a breach of Due Care is essential to any personal injury lawsuit filed against a school or daycare. If you or a loved one has experienced injury due to the negligence of school or daycare staff, a Bakersfield attorney with expertise in burn injury lawsuits can assist you in proving there was a breach of Due Care.
Medical Malpractice & Improper Care
If a burn isn't treated properly, a victim could find themselves with a worsened condition than what they originally went into the hospital for. If you or a loved one has experienced improper care for a burn injury by a healthcare professional, you may be eligible for significant financial compensation that can cover medical expenses, loss of wages, and any additional damages you may have endured. A lawsuit made against the misconduct or negligence of a medical professional is considered a medical malpractice lawsuit. To build a successful medical malpractice suit, you must be able to prove that a medical professional acted negligently. Below is a list of factors that need to be proven to show a medical professional's negligence:
The Existence of a Doctor-Patient Relationship
The Negligent Actions of the Physician
The Injury that was Caused
The Specific Damages that Resulted from the Injuries
Once these elements are shown, a successful medical malpractice lawsuit can be filed against the nurse, hospital, surgeon, or any other medical practitioner responsible.
Defective Products
Defective products can also be the source of a severe burn injury. If a burn injury is inflicted due to a faulty product that product's manufacturer, assembler, or retailer may be held responsible for the damages under Product Liability Laws. Product Liability Laws attempt to protect customers from receiving a defective product, and if they do, the manufacturer or seller can be held liable for said defective product. The purpose of these laws is to make it easier for the victim of a defective product to pursue appropriate legal action. Listed below are the three forms of defects that can occur during the stages that separate the design floor and the store shelf:
Design Defects: design defects occur during the design process of the product. These flaws are inherent to the product and make it unsafe for customer use
Manufacturing Defects: these defects occur on the assembly line, and as such liability can be traced back to the assembling company.
Marketing Defects: marketing defects occur when a product is left with insufficient instructions, improper labeling, or has inadequate safety warnings.
When seeking compensation for a manufacturer or retail, it is best to retain proper legal counsel, as many companies have the resources to employ a whole host of legal professionals. Our legal team at Normandie Law Firm can place you with a skilled Bakersfield personal burn injury attorney that can help you fight your case.
Construction Site Burn Injuries
When a construction worker suffers a burn injury working on a site, that worker is entitled to a worker's compensation claim like any other worker. However, construction site workers have the right to file a lawsuit against any third party that may have been involved in the incident. These third-parties can include the construction site owner, the general contractor, a sub-contractor, the manufacturer of construction equipment, or any other third-party that may have contributed to the damages suffered. Construction workers who file a lawsuit against a third-party can receive workers' compensation as well as any amount garnered from a lawsuit settlement.
The key to filing a third-party construction injury lawsuit is to discern the degree of control that the site owner or contractor had in the environment. Determining this degree of control can help your attorney in discerning the level of responsibility the site owner may have had at the time. If you or a loved one has suffered from a construction site burn injury, contact one of our experienced lawyers at our Bakersfield law firm, and we can help you navigate through the process of determining the degree of control and filing your claim.
About Normandie Law Firm
Burn injuries can be incredibly devastating to those who suffer from them. If they occur at the fault or misconduct of another, the victim should not have to pay out of pocket for the exuberant medical expenses that come with burn injury treatment.  At Normandie Law Firm our well-versed team of personal injury attorneys can assist you in filing a claim, and earn the compensation you deserve. Our Law Firm operates in the city of Bakersfield, Los Angeles, Riverside, San Diego, and throughout the state of California. Our firm is committed to ensuring that every one of our clients has the resources to put up a fair fight for their burn injury case. As a show this commitment to you and your case we offer our clients the benefits of a zero fee guarantee policy. Under our zero fee policy, all clients don't pay for our services until their case is won. If you feel in need of a second opinion, second opinion case reviews are also 100% free of charge under this policy. Call now for a free consultation with an experienced attorney, and we can guide you down the path of receiving proper compensation for your damages.