Back Neck Surgery Malpractice Attorney – Botched Spinal Fusion

A large percentage of Americans suffer from chronic back and neck pain due to a prior sports injury, auto accident, slip and fall or workplace injury. In many instances after many attempts to resolve their back pain via less invasive measures patients elect to undergo back or neck surgery. In most cases back and or neck surgery will successfully resolve a patient's medical issues with no complications. However, in some cases patients who undergo such procedures will suffer severe injuries due to the surgical errors of surgeons and or other medical providers. Below you will find important information regarding the back and neck operation malpractice and the availability of financial recovery for victims. If you have any further legal questions after reading this article feel free to contact our law offices. All legal consultations and case reviews are provided by our attorneys free of charge.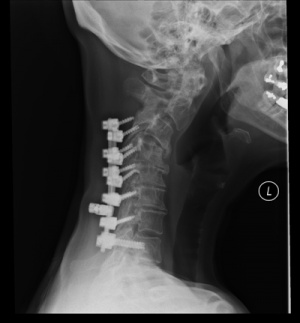 Some of the most common risks associated with back and neck surgery include the contraction  of severe life threatening infections, nerve damage resulting in foot drop, complete or partial paralysis of the limbs, paraplegia, chronic back pain or increase in pain, blood clots resulting in DVT and pulmonary embolism, CRPS Complex Regional Pain Syndrome, nerve injury, and unnecessary scarring of the skin and tissue.
Common Types of Back Surgery Where Surgical Errors are Common: Below is a list of some of the most common back surgeries where there is a high possibility of severe complications resulting from a medical error.
Spinal decompression surgery for pinched nerves.
Laminotomy or foraminotomy
Discectomy or Discectomy – partial or complete removal of a disc due to a herniation.
Disc replacement surgery
Cervical fusion surgery – single or multilevel fusion
Lumbar fusion surgery
Bone graft fusion surgery
Epidural and steroid injections
Procedures using the laparoscopic method – laser surgery
Electing to File a Lawsuit – Winning Your Case in the Court of Law
Medical malpractice can be established if the practicing surgeons failed to follow specific criteria for the procedure established by the specialty he is a member of. The majority of medical error cases are predicated on the negligence theory cause of action. There are four basic elements with need to be proven in order to establish a basis for medical malpractice in the court of law.
Duty: A medical physician has a duty to follow specific guidelines established by his or her medical profession at large with respect to any procedure or operation conducted on a patient.
Breach of duty: A breach of a duty of care takes place if there was a failure to follow the guidelines.
Causation: The breach of a duty of care needs to be the cause of the damages suffered by the patient.
Damages: The victim needs to have suffered identifiable and diagnosable injuries.
Other Causes of Malpractice: Other than mistakes or errors during a procedure, other avenues for establishing medical negligence in these cases include the following…
Surgeons Failure to utilize other alternatives with a reduced probability of harm in comparison to the procedure which caused the harm.
Failure to receive proper informed consent from the patient.
Financial Recovery Available for Victims
Victims of personal injury resulting from the improper actions of others have the right to receive financial recovery for all damages sustained. Recovery is available in the following categories.
Recovery for all medical expenses and rehabilitation care.
All future medical care expenses including rehabilitation and nursing care, if needed.
Loss of earning and future loss of income potential due to ling term chronic pain and disability.
Pain and suffering recovery – victims have the right to receive recovery for the physical pain and emotional distress they have had to endure.
Punitive Damage Compensation: Many courts will awards victims of personal injury punitive damage recovery. Punitive damages are awarded when the at fault party acted with the intent to cause harm or acted in gross negligence / recklessness towards the health and well being of others.
Loss of Consortium: Married spouses of victims have a right to financial recovery on behalf of the loss of physical and emotional intimacy they have had to endure due to the physical injuries suffered by their husband or wife.
Cost of Hiring an Attorney:  One of the most frequent rationales as to why many victims of medical malpractice choose not to pursue a claim against their doctor is the seemingly high costs of legal representation. Many law firms will initially ask victims for thousands of dollars in a retainer fee; while others will ask for many thousands more just to review potential client's medical records.  Our law firm will never ask you to provide us any money. We work strictly on a contingency fee basis. This means that our fees and our costs will be applied only if there is a successful resolution of your case. If we are not successful you will not have to pay us a single penny. To learn more about our ZERO FEE Guarantee see here…
Attorney Case Review Free of Charge: If you have any further questions and would like to speak with an attorney regarding your case contact our law offices. All consultations and case reviews are provided by our legal team free of charge.
Further Information:
CRPS Caused by Surgical Mishaps