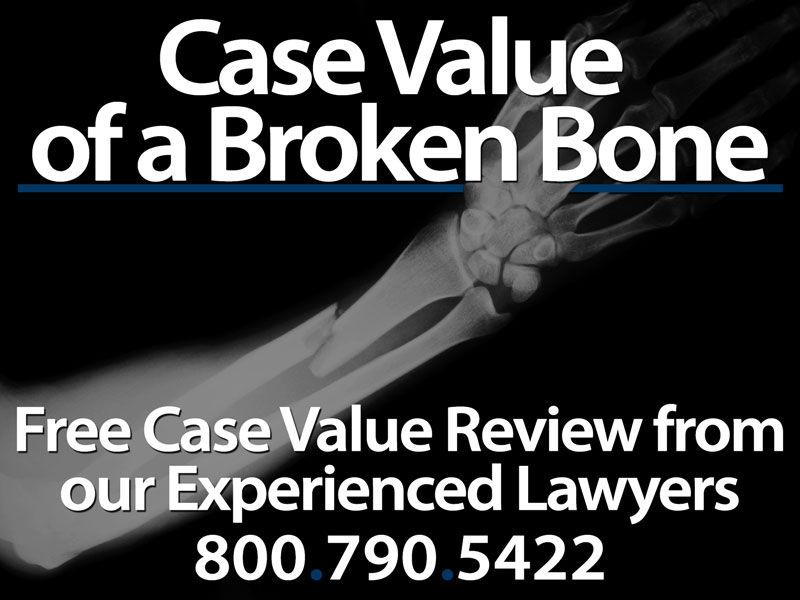 Have you suffered a broken bone or fracture, but are unsure of whether you have a claim or not? Our skilled attorneys at the top-rated Normandie Law Firm are here to help. Broken bones and fractures can be debilitating and can often take months of down time to properly recover. Clients who have suffered from these injuries are often left wondering how much their claim is worth. While the claim value of broken bones and fractures tends to vary on the severity of each case, almost all accidents that result in these injuries require serious medical attention. When these accidents occur, they often leave individuals with all kinds of questions as well. Examples of frequently asked questions include:
What is the average value of a broken bone case lawsuit?
What is the average settlement for a broken arm in a car accident?
What is the average settlement for a broken leg?
What is the average case value for a broken bone?
How much is a broken nose case worth?
Our expert attorneys at the Normandie Law Firm are here to assist you in determining the potential value of your claim. Why should you be left paying the medical bill of a broken bone or fracture that you are not responsible for?
WHAT IS THE AVERAGE VALUE OF A BROKEN BONE CASE LAWSUIT
Often, determining the value of a personal injury case can be tricky, as every case is different, just as is every personal injury.  There are different factors that go into determining the value of a bone injury case. For one, your claim value depends on the severity of the injury, and where the injury is located. Insurance companies value injuries differently, for instance, a broken pelvic bone is not valued the same as a broken arm, or a broken leg. On top of the severity and location of the injury, the value of your claim will also depend on the symptoms the injury has caused you to experience, and the circumstances of how you received said injury. A qualified lawyer who has experience handling broken bone claims can give you all the information you need.
WHAT IS THE AVERAGE VALUE FOR A BROKEN ARM CASE IN A CAR ACCIDENT
After car accidents, an extreme amount of stress is applied to those involved. Even the casual 'fender bender' can result in serious injuries and, in some cases, broken bones. Clients often ask the average value for a broken arm case suffered by as a result of a car accident. Much like any other broken bone injury, the value of the case depends on the location and severity of said injury. Regarding finding an average, the value swings dramatically based on the severity and location of the injury. Usually, when doctors refer to your arm, they are referring to the upper part of your arm. The upper arm is made up of one major bone called the humerus. Typically, this is the bone you are more likely to break as the result of a car accident. A broken arm can occur even in the smallest of accidents, as one person's bones may be more susceptible to injury than others because of diminished bone density or age.
Reaching out to a medical professional after your accident can help you determine the severity of your injury so we can determine the value of your possible case. Further, you can enlist the assistance of an attorney who has experience in broken arm cases to recommend you to an adequate doctor.
WHAT IS THE AVERAGE SETTLEMENT FOR A BROKEN LEG
Determining the average settlement for a broken leg can vary wildly depending on how the injury occurred, and the severity of said injury.  There are four different bones within any single person's leg, and each bone carries a different value. For instance, the average for a fibula or tibia fracture settlement tends to be less than that of a femur fracture case. The reason for the dramatic value difference between femur, tibia, and tibia fractures is because the femur is the most critical bone in the leg, and is crucial for an individual's mobility. That is not to say that tibia and fibula fracture cases can't be equally as severe. In some cases, fractures to the tibia can be especially troubling for adults, as in older age blood supply to the tibia bone decreases, which makes healing difficult and can increase the value of your particular case.
An accomplished attorney with expertise in broken bone injury lawsuits can give you a fair estimate for the value of your case.
WHAT IS THE AVERAGE CASE VALUE FOR A BROKEN BONE
In general terms of broken bones cases, the value can vary dramatically. When asked this question, it is better to refine the problem down to a couple of factors. Firstly, where is the injury located? A broken femur bone can accrue a far higher case value than a broken arm might. Determining the location of the injury is vital in estimating a value for your case.
Secondly, what is the severity of the injury? While slip and fall accidents and traffic collision injuries are all looked at equally, the severity of the pain you received is important in determining the value of your claim. There are a variety of breaks that a bone can suffer. Hairline Fractures, also known as stress fractures, can cause severe pain and in many instances, individuals suffer from hairline fractures without even realizing it. Compound fractures occur when the bone is cracked and can take months to heal properly. Displaced Fractures can occur when a fragment of the bone has torn away. Avulsion Fractures occur when a tendon or ligament is pulled away with a piece of bone. Spiral Fractures often occur when the bone breaks because of a twisting of the limbs. Transverse Fractures are caused by direct force to a limb that injures the bone beneath. All of these different forms of bone injuries require different treatments that have different costs, and as such cannot be easily averaged.
Thirdly, how long will it take for your injury to heal, and whether there is a loss of employment or a loss of future income? Sometimes a broken bone can result in a chronic pain which can result in permanent disabilities that may require further medical attention and add to the already lofty expense of the original injury. Even after minuscule injuries, a doctor may recommend you take time off from work. This can result in a loss of income, which can be paid to you via the value of your claim. For instance, a client who usually receives $400 a day in income, but has missed two weeks of work is entitled to $5,600 in lost wages. Regarding a loss of future income, we will consider a wide variety of factors such as age, earning capacity, and social status to develop an estimate of the possible future wages lost.
For more information and a more in depth conversation, reach out to a lawyer experienced in broken bone cases.
HOW MUCH IS A BROKEN NOSE CASE WORTH?
A broken nose can be extremely painful and can result in uncomfortable bleeding and swelling. If you happened to suffer a broken from an accident by someone else and could be considered legally at fault, you are possibly entitled to claim compensation. You are also entitled to compensation if you suffered a nose fracture as the result of a car accident, work accident, clinical negligence or as a result of a criminal act of violence The nose is a highly sensitive area, made up of the septum, nerves, and the nasal airway. The value of a broken nose case depends on which part of your nose has been injured, and the extent of said injuries. Factors such as the need for surgical manipulation, residual facial deformities, and a permanent reduction or complete loss of sense of smell, all affect the value of your case.
OUR TEAM AND YOU
Determining the value of a broken bone lawsuit is a complicated process that you shouldn't have to do alone. You should not have to worry about how you will continue to create an income while at the same time deal with the medical expense and trauma associated with a broken bone or fracture. When you select Normandie Law Firm, you will get a team made up of passionate and loyal people who are willing to fight for your case. Our experienced lawyers negotiate the fairest terms while keeping you well informed in the process.
If you have suffered a broken bone or fracture and are in need of answers, contact us today. We offer you a free consultation to determine the most efficient and worthwhile manner to go about resolving your case and getting you the compensation you deserve. We will discuss the accident, the aftermath, your injuries, the possible restitution, and what you can expect by filing a claim.
Our entire team of attorneys with experience in broken bone cases is passionate about being helpful and transparent to our clients, as we believe that building a trusting relationship with our client bases is the key to successful business.
As a further display of our commitment to you, our firm operates under a zero fee guarantee. We believe that you should not have to pay any fees for our services before we make good on our promise to represent you and win your case. In the event that we do not manage to get you the restitution and benefits you deserve, you do not owe us any money. You only pay when we win your case.
FREE SECOND OPINION AND FREE CONSULTATION
Our law firm offers second opinions on the value of your case. If you would like an experienced attorney to review your case, you can call us at any time.
If you have further questions or want to file a claim, contact our Los Angeles office today to speak with a specialized personal injury attorney.