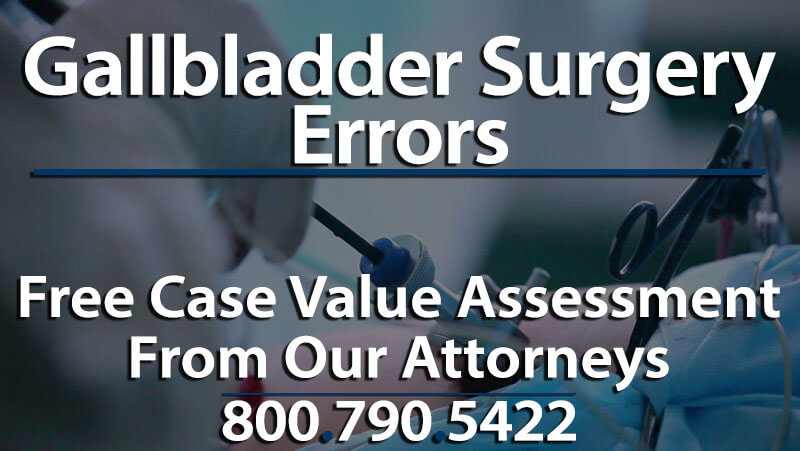 Gallbladder Removal Medical Malpractice Average Case Value
If you have suffered from a gallbladder surgery error, you may be entitled to compensation for medical expenses, loss of income, pain and suffering and other possible losses. Gallbladder surgeries like all other surgical procedures are subject to mistakes. Typically, the procedure to remove a gallbladder involves the removal of the gallbladder through incisions in the abdomen. The gallbladder is located directly below the liver and plays a major role in the digestive system. Usually, patients opt to have their gallbladders removed as they begin to develop painful and reoccurring gallstones. While performed quite regularly in the US, gallbladder removal is a complicated procedure that requires the utmost delicacy when being performed. When victims of medical errors reach out to an expert lawyer with experience handling gallbladder injury claims, often they wonder how much is the value of their case or how much their case is worth. Below we will outline some information on this topic. If you have any questions after reading this article, please feel free to contact our law offices.
The Procedure
Gallbladder removal surgery is considered a laparoscopic procedure, meaning a procedure performed far from the target location through small incisions in the body. During gallbladder removal surgery a thin tube equipped with a video camera is inserted into the abdomen through said incision points. The doctor then inflates the patient's abdomen using carbon dioxide to provide optimal mobility for the surgery. In most cases, two needle-like instruments, known as laparoscopic scopes, are inserted. Once these laparoscopic instruments have entered the patient, the surgeon clips the gallbladder artery and bile duct, and then the gallbladder is removed from the body so that it can be dissected and the gallstones removed. More often than not the entire procedure takes less than an hour.
In the past, gallbladder removal was an open procedure. This means that surgeons would make a larger incision and open up the patient to remove the gallbladder so it can be dissected. While more invasive and time consuming, the more technical laparoscopic method requires far more expertise. Today, the surgery is done through smaller incisions, and the gallbladder is removed via scoped instruments that must be handled with the utmost delicacy. For this reason, many doctors who lack the proper training for this procedure on a regular basis eventually find their weak skills catch up to them, causing surgical malpractice. Thus, a skilled lawyer experienced in gallbladder malpractice cases can help you win compensation.
Surgery Malpractice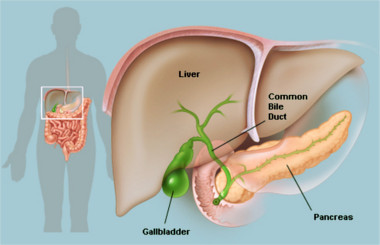 The most commonly occurring error in the surgical removal of a gallbladder is the cutting of the bile duct. If a surgeon cuts or nicks the common bile duct, bile begins to form in the bloodstream, causing jaundice, and on some occasions can leak into the abdominal cavity. While there are corrective procedures for this error, a patient can suffer permanent pain or digestive problems. Those who have suffered from a damaged common bile duct might also be diagnosed with cholangitis, which is an infection or inflammation of the bile ducts. Patients diagnosed with cholangitis experience a reversed flow of the small intestine causing severe infection and if not treated could be life-threatening. Since patients are typically sent home hours after their procedure, surgical complications can go without detection until they have caused significant damage. In regards to bile duct injury, a patient may feel mildly ill at first, but over time the symptoms can advance, and the bile leakage will cause pain and difficulty breathing. If left untreated and an infection occurs, this surgical error could lead to organ failure and even death. As a result, an accomplished attorney who has expertise in gallbladder surgery malpractice cases is an invaluable asset to have.
The Value Of A Lawsuit
Our law firm often receives questions like, "How much is the settlement value of a gallbladder surgery lawsuit?" or "How much is a gallbladder operation medical malpractice case worth?"
Just like any other personal injury lawsuit, there is no definite average case settlement for gallbladder surgery error. A qualified attorney with expertise in gallbladder injury lawsuits can give you an estimate. The best way to determine a value of a gallbladder surgery malpractice lawsuit is to account for the variety of factors that go into the case itself:
The medical expenses spent for the surgery
The long term care required
The impairment of a victim
Was permanent disability a result of the surgery?
Was there a loss of future income capacity?
Was there a loss of wages?
The pain and suffering involved.
All of these factors affect the worth of a gallbladder removal surgery lawsuit. Here is a hypothetical example:
Tina is a married 39-year-old woman who undergoes gallbladder removal surgery, to remove the gallstones that she has developed over time. While on the operating table, surgeons accidentally cut into her common bile duct, and do not let her know immediately. She later is diagnosed with jaundice and has spent the last two weeks out of work recovering from her condition caused by surgical negligence. When she was working, she earned roughly 350 dollars a day. Fortunately, Tina reached out to the passionate attorneys at Normandie Law and with their help received significant compensation that has covered all of her lost wages, which added $4900 to her claim. On top of the compensation for lost wages, Tina had her medical expenses covered, and was paid significantly for the possible loss of future income. The terms of Tina's case, such as loss of wages, pain, and suffering, and long-term care, all played into the ending settlement amount. But every case is different, which is why determining the average case value for gallbladder operation lawsuit depends on the factors of each differing case.
Our Team And You
Gallbladder surgery error is a serious issue and can result in severe pain, repeated surgeries, and irreversible health problems and most important situations can result in death. If you or a loved one has suffered because of an improperly conducted gallbladder surgery, you may be subject to compensation for your pain and suffering. Every case is different, and you need a top team of attorneys with experience in gallbladder malpractice cases on your side to ensure you are treated fairly and are given significant remuneration for your loss. If you choose Normandie Law Firm, we will put a team of well versed legal professionals behind your back to make sure you are repaid for the suffering you have endured. We are a team of passionate attorneys who are willing to go to the ends of the earth for our clients. We negotiate the fairest terms and keep you up to date along with the way, so you can see how our process works.
Free Consultation
For every possible client, we offer a free consultation and help you determine the most efficient path to resolving your case and making sure you get the compensation you deserve.  Give our experienced lawyers a call now, and we will discuss the accident, the aftermath, your injuries, and all of your possible options. Our team is made up of attorneys passionate about being helpful and transparent to our clients. We believe that building a trusting relationship with our clientele is the key to any successful business.
Zero Fee Guarantee
As a service to you, the top-rated Normandie Law Firm operates under a zero fee guarantee policy. We believe that you should not have to pay any fees for our services until we stay good on our promise to represent you and help you win your case. If we do not manage to get you the compensation and benefits you deserve, you do not owe us any money after the fact. You only pay once we win.
If you feel like you need an opinion as to the value of your case, please do not hesitate to contact our law offices now. Our zero fee guarantee policy ensures that all second opinion case reviews are 100% free of charge, so please, feel free to give an experienced attorney at our law firm a call.
FURTHER INFORMATION: