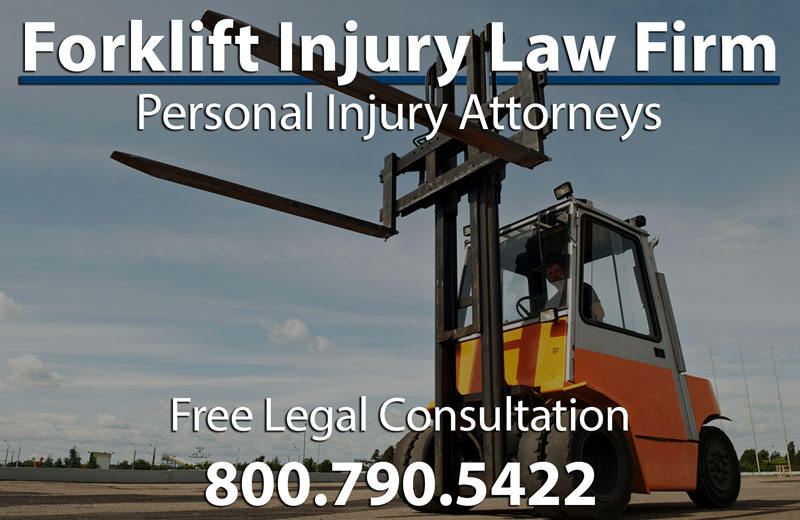 Have you experienced a forklift accident and have suffered the damages? Are you unsure of the value of a potential forklift injury lawsuit? With the help of a skilled forklift injury and work injury attorney you could not only determine the average payout of your forklift accident injury case, but you can also have your case represented fairly in court. Forklift accidents can inflict some pretty severe damages, and as a result, victims should receive all of the compensation they require to cover these damages. Fortunately, our attorneys at Normandie Law Firm have a wealth of experience in representing forklift accident injury victims and are committed to ensuring our clients receive all the resources they require to earn the compensation they deserve. If you have any questions after reading this article, please feel free to reach out to our law offices near Los Angeles, California, for a free consultation from one of our many well-versed legal advisors.
Forklift Accidents and The Damages They Can Cause
Forklift accidents can be just as damaging as any other automobile accident. While forklifts travel at far lower speeds and aren't as commonly used, they are often tasked with carrying heavy loads from one place to another. When a load is properly secure on a forklift's arms, or if the forklift is defective, the driver and others nearby may be subject to severe injury. Forklift accidents often happen in the workplace more often than they do anywhere else. As a result, victims may only be able to file a claim for workers compensation benefits. Workers compensation is a form of workers insurance provided by an employer. These benefits are intended to cover damages like medical expenses, a loss of wages, and a potential loss of future wages.     However, if you work in a construction yard or construction site and you suffered a forklift accident injury, you may be able to sue your employer and make a claim for workers compensation benefits. A forklift accident can also be caused by a defective component within a forklift. As a result, victims can then file a lawsuit with the product's manufacturer, as under product liability legal theory, manufacturers are expected to keep defective products out of the hands of consumers. If a consumer is injured by a defective product, that consumer has every right to sue the manufacturer for their negligence.
Regardless of the specific details surrounding your case, it is crucial that you can identify the cause of your accident, as well as the damages that the forklift accident caused. For your reference we've included a list of some of the common forklift accidents that can occur:
Overturning of a Forklift: Forklifts are intended to be piloted slowly and cautiously. When used carelessly, these machines tend to tip over due to their top-heavy design. When this machinery falls over, victims can suffer fairly severe crush injuries, including things like broken bones, spinal cord damage, and traumatic brain damage.
Being Struck by a Forklift: If a forklift is piloted recklessly, they can strike others in the general vicinity. These machines have long pointed arms which can inflict devastating injury in certain circumstances. They also can travel at relatively high speeds, which can cause further injury to individuals and objects caught in their path.
Falling from a Forklift: Forklifts often don't have doors to keep passengers and drivers inside. As a result, people can fall from the forklift and be run over by it. These accidents can cause any number of injuries including death.
As mentioned prior, the damages caused by forklift accidents can be incredibly devastating to victims. Beyond just the physical injury, there are financial and emotional damages that are at play as well. Victims of forklift accidents often require extensive medical treatment which can be incredibly expensive. Forklift accidents can also keep victims from work for an extended period, resulting in a further loss of wages. Fortunately, victims of forklift accidents can receive compensation through a forklift accident injury lawsuit. However, when filing these lawsuits, it is crucial that you seek legal representation from a skilled personal injury attorney to get the forklift injury settlement amount that you deserve.
Average Compensation For A Forklift Accident Lawsuit
When clients come into our law firm seeking assistance for their forklift accident injury lawsuit, they often ask our attorneys how much their forklift injury case is worth. From our experience, usually, when a client asks how much their case is worth they already have an attorney, however, are unsatisfied with the service they have been given thus far. Fortunately, our attorneys at Normandie  Law Firm are committed to all of our clients, whether they already have an attorney or not.
Determining how much a forklift accident case is worth can be somewhat complicated, as there are often some factors involved in finding the value of any one case. This makes finding average forklift injury accident settlement amounts all the more complicated as the value for these cases can vary immensely. While our attorneys could come up with a rough estimate for an average forklift injury settlement amount, there is no guarantee that this average will apply to you or your case.
However, that is not to say that finding the value of your forklift accident injury case is impossible. The best way to determine the value of your case is to sit down with a skilled attorney to calculate an accurate estimate of your case. Usually, an attorney will add the damages that make up your case. These damages are divided into three categories: monetary damages, nonmonetary damages, and punitive damages.
Monetary damages usually make up a vast majority of any case's value, as monetary damages typically include things with a clear and discernable monetary value. Some of the factors involved in calculating monetary damages are listed below for your reference:
Medical Expenses: These are the costs that a victim must endure for the hospitalization of the initial injury and any further treatment needed in the future because of this injury. These expenses often make up a significant portion of a settlement value.
Loss of Wages: These compensatory damages meant to reimburse the victim for any wages lost from the injuries. This amount can be determined through a thorough examination of the victim's salary history and often includes sick and vacation time.
Loss of Potential Future Wages: Sometimes injuries can be so severe that the victim may lose the ability to perform at the same level they had before their injuries. To determine this amount, a complicated formula is used that involves the examination of the victim's projected earnings and the impact that the damages may have had on the victim's ability to find and perform future work.
Nonmonetary damages often require the assistance of a skilled attorney to calculate. Nonmonetary damages don't have discernable values, and as a result, can vary dramatically throughout your case. Some of the nonmonetary damages that can be added to the value of your case include the following:
Pain and Suffering: This damage is compensated to a victim based on the pain and suffering they endured from their injuries. This amount is often calculated by the use of a pain multiplier that has the victim identify their level of pain on a scale of one to ten.
Emotional Distress: This form of compensation is offered to victims that have experienced any emotional trauma suffered due to the injuries. The compensable amount of emotional distress often varies from state to state.
Loss of Consortium: Loss of consortium is often added to the value of your case when the injuries are so severe that the victim's loved ones are deprived of a normal loving relationship and companionship
As well as nonmonetary damages and monetary damages, there are also punitive damages that can affect the value of your case. Punitive damages are added to the value of a case to punish the defendant for their actions, and to deter them from engaging in similar conduct in the future. Regarding forklift accidents, if your accident was caused by a defective forklift, you may be able to sue the manufacturer for punitive damages if it is found that the defect is widespread and has caused significant damages to others as well. Often, other attorneys will settle a case without arguing for punitive damages as they are often seen as challenging to argue for. However, at Normandie Law Firm our injury attorneys are committed to fighting for all of the damages our clients require, including punitive damages.
Regardless, of the damages involved in your case, and how your forklift accident occurred it is always in your best interest to seek legal representation from an attorney with experience in handling cases of this nature. Having the right attorney by your side can make the difference between filing a successful claim for compensation to cover all of your damages, and having your case dismissed from court entirely.
How Normandie Law Firm Can Help
The settlement for a forklift accident lawsuit will typically cover for damages like medical expenses, a loss of wages, and a potential loss of future wages. Our attorneys will make sure that you receive the settlement amounts you deserve for your forklift accident injury case. At Normandie Law Firm our injury attorneys are committed to ensuring our clients receive the most out of their settlement payout. If you file a claim with our law firm, you may find some if not all of the following damages compensable to you:
All of you medical and hospitalization costs
All of your future medical care and treatment
A loss of income and loss of future earnings due to long-term recovery or permanent disability due to the accident
Compensable economic damages include loss of property or damaged property.
Compensable non-economic damages include emotional distress, trauma, PTSD resulting from the accident, pain and suffering and anxiety.
While our law firm is based near Los Angeles, our attorneys also practice in Oakland, San Francisco, San Diego, Sacramento, Orange County, Riverside, Fresno, and throughout the state of California.
Free Second Opinions
Other attorneys will sign you up for their firm but will disappear once your name is on the paper as they are busy signing up more cases. In these instances, their business is based more on volume and will attempt to sign up as many cases as possible. In turn, they will spend less time on cases resulting in severely reduced settlements. Our firm will not treat you like a number. We will be in communication with you throughout our lawsuit and will treat you like family. So if you already have an attorney don't worry, we'll give you a second review of your case 100% free of charge.
Zero Fee Guarantee-No Upfront Fees Ever
If you contact our law offices today, we can walk you through the complicated process of filing your claim completely free of charge. As a show this commitment to you and your case we offer our clients the benefits of a zero fee guarantee policy. Under our zero fee policy, all clients don't pay for our services until their case is won. If you feel in need of a second opinion, second opinion case reviews are also free under this policy. Please, feel free to give us a call, and we can guide you down the path of receiving proper compensation for your damages.