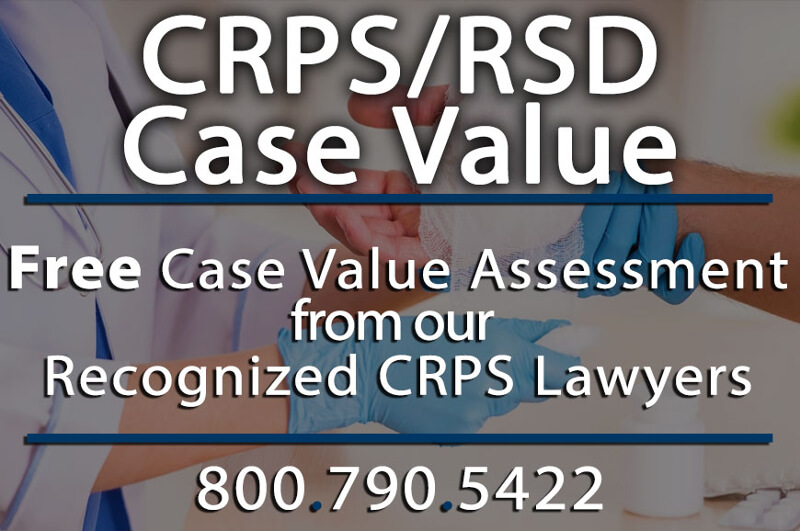 CRPS, or Complex Regional Pain Syndrome, or RSD (Reflex Sympathetic Dystrophy), causes a chronic pain that is incredibly intense, constant, and much more severe than the original injury. CRPS is a debilitating syndrome that can cause not just physical pain, but emotional stress, and become a financial burden. If you or a loved one has endured a CRPS injury because of the malpractice or negligence of a medical professional or by the misconduct of another individual, then you may be eligible for compensation. Contact our top-rated law offices at Normandie Law Firm today, and an expert attorney who has experience in CRPS claims can guide you through filing a lawsuit against the responsible party and get the compensation that you deserve.
What is CRPS?
Complex Regional Pain Syndrome (CRPS) is a severe neuro-inflammatory disorder pain that is often triggered by an injury. The pain caused by CRPS is in most cases far more severe than the original injury and often leads to extensive medical care and debilitating pain that can be difficult to recover from completely. There are four main symptoms of CRPS, and can be recognized as follows:
Constant chronic burning pain: This is a pain that is significantly more severe than the original injury. While to a caretaker the area may feel cold, to a victim of CRPS the area seems as though it is on fire. In some cases this pain is considered sensitive to touch, sound, temperature, and vibration.
Inflammation: In some cases of CRPS there is an inflammation of the skin that can cause bruising, mottling, red spotting, a shimmering of the skin, or discoloration of the afflicted area. This inflammation can also alter the skin temperature of the area and can cause excessive sweating.
Spasms: Spasms of the blood vessels and the muscles can occur. This can also lead to spasms in the extremities as well.
Insomnia/Emotional Stress: This extreme pain and stress to the limbic system can create short-term memory problems, difficulties concentrating; sleep disturbances, confusion, and so many more emotional/mental stresses.
While these are the primary symptoms of CRPS, there are a large number of additional symptoms that can occur throughout the disease. Every victim's symptoms are not the same, nor will every victim experience these symptoms at any average rate. Early Diagnosis of CRPS can usually lead to better outcomes of the disorder, however, diagnosing it can be difficult, and a time frame for diagnosis tends to vary.
The causes of CRPS typically come in two varieties. Type 1, is also referred to as reflex sympathetic dystrophy syndrome and occurs after an illness or injury that indirectly damages the nerves in the affected limb. This is the most common form of CRPS. Type 2, once called causalgia and is caused by a definitive nerve injury.
CRPS injuries often occur after the victim experiences some forceful trauma to an extremity, like a car accident or bone fracture. CRPS can also occur as a result of surgical malpractice of a medical professional. If you are unsure if your injuries came about from the error of another party, call one of our accomplished attorneys with experience in CRPS cases.
Your Case
Individuals who suffer from CRPS experience a debilitating pain that can alter their entire lives and the lives of those close to them. A patient of CRPS requires regular medical treatment, which in turn leads to rising hospital expenses. CRPS can also affect the income of a victim as the severe pain can create a loss of wages and a loss of future revenue. For these reasons, an individual and that individual's family who suffer from CRPS as a result of the negligence of another, the affected party can receive significant compensation for their damages.
If your injury were caused by an accident in which another person is at fault, compensation could be claimed for the damaged party with the help of a skilled attorney with expertise in CRPS injury lawsuits. In regards to medical malpractice or misconduct a case for medical negligence can be made, however, is far more challenging. While CRPS caused by medical practice certainly occurs, proving negligence and proving this negligence caused a victim CRPS is another matter entirely. This is due to the unanswered questions that surround CRPS, and it causes. These unknowns make medical negligence lawsuits extremely complicated. This is particularly the case for type 2 CRPS sufferers, as causalgia is even harder to prove as a routine surgery can not typically cause the injury that causes RSD or causalgia.
What Is The Average Settlement for a CRPS Injury?
One question frequently asked by victims hoping to file a CRPS lawsuit is, 'How much is my CRPS case worth?' Determining the value of any particular CRPS case relies on some factors. For instance, how was your CRPS caused? Were you a victim of Type 1 or Type 2? Secondly, how did your injury occur? Was it the result of a car accident caused by negligence behind the wheel, or was it due to the misconduct of a surgeon causing medical malpractice? Lastly, what are the damages you or your loved one has sustained? If there was a loss of income or wages, those need to be documented and estimated. A possible loss of future income needs to be calculated as well to determine a total value for your case. For this reason, the average value of any CRPS settlement cannot be so easily reached upon. A qualified lawyer with experience handling CRPS injury claims can give you an estimate, but it may not be wholly accurate. The value of any one CRPS lawsuit depends on all of these factors and extrapolating outwards to determine an average would depend on the factors of other cases as well.
However, that should not discourage you or a loved one from filing a case against the party responsible for your CRPS injuries. Below are elements of your case that a plaintiff should be able to prove in a CRPS injury case.
In regards to medical malpractice, the expertise of the doctor or medical professional
In cases wherein the damage was caused by more than one party a comparative or sole responsibility must be proven.
A plaintiff must also show that their injuries were caused as a direct result of the defendant's actions
The location of where the injury occurred, and how the incident happened.
Hiring a lawyer experienced in CRPS injury cases should help you or a loved one in being able to determine whether or not there is a case of CRSPS injury due to negligence. A CRPS or RSD victim should not attempt to represent themselves in a possible lawsuit due to the complexities involved in filing said lawsuit. At Normandie Law Firm, we can walk you through the process of filing a CRPS or RSD lawsuit, and earn you the compensation you so rightfully deserve.
Our Team And You
If you or a loved one has been diagnosed with CRPS as a result of medical malpractice or the misconduct of another party you may be eligible to earn compensation for your endured damages. You shouldn't be left alone to deal with the severe and chronic pain that CRPS causes, nor the exuberant medical expenses that are bound to follow in the diagnoses. At Normandie Law Firm, we have some of the top personal injury attorneys who will do whatever it takes to win your case. We make sure to negotiate the fairest terms and keep you up to date along with the way, so you know exactly what is happening and when.
Free Consultation
We offer each one of our clients' free consultation and the proper assistance determining the most efficient path to resolving your case and making sure you get the proper compensation you deserve.  Give us a call today, and we will discuss the incident, the pain you have suffered, your damages, all of your possible options moving forward, and what you can expect by filing your claim with us.
Our team of experienced lawyers is passionate about being helpful and transparent to our clients. Our driving belief is that the key to any successful business is a trusting relationship with our clientele.
Zero Fee Guarantee
As a further display of commitment to you and your case, our firm operates under a zero fee guarantee policy. At Normandie Law Firm, we believe that you should not have to pay any fees for our services until we follow through on our promise to help you win your case. In the unlikely event that we do not manage to get you the compensation and benefits you deserve, you do not owe us any money. You only pay once we win your case.
If you feel like you need a second opinion as to the value of your case, please feel free to contact our law offices. Per our zero fee guarantee policy all second opinion case reviews are 100% free of charge, so please, don't hesitate to give us a call. An experienced attorney will be able to discuss your case.
FURTHER INFORMATION:
Complex Regional Pain Syndrome: What Is It?