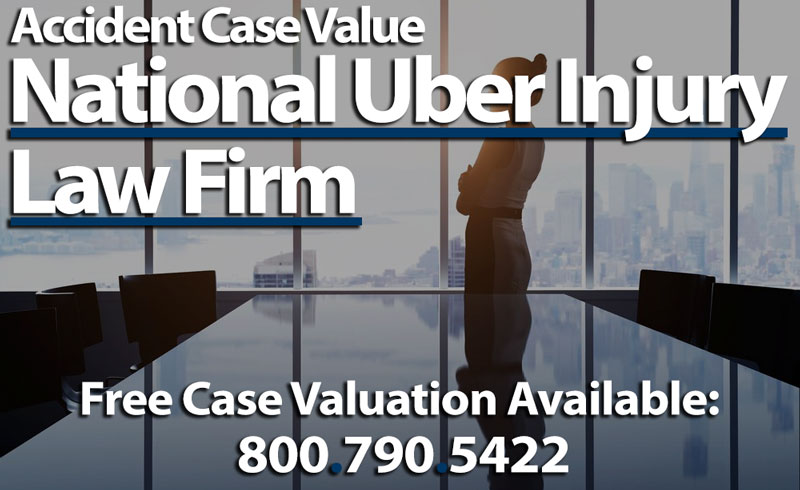 Our law firm always advises clients to not speak with insurance adjusters when they are pursuing compensation. These agents will strive to save their companies money however they can, and they are not above twisting your words and bullying you until you give up your claim. If that doesn't work, they will at times outright deny your claim, or pay it no attention altogether. Uber insurance has a tendency to do this, just like many insurance companies do. The goal, after all, is to preserve profits, and even though Uber is flourishing in the current economy, it has also come under public scrutiny from the various lawsuits against it. Normandie Law Firm, one of the top legal groups in Los Angeles, wants you to earn your fair compensation if you have been injured in an Uber accident, but we know fighting for that settlement can be a drawn-out process that will drain you. For this reason, legal representation is a valuable asset when it comes to filing claims with insurance companies. Clients often call our qualified Los Angeles attorneys in California and ask questions about Uber's insurance policy information and what they stand to gain from winning a settlement. Examples of other such questions include:
How much does Uber's Insurance offer for a car accident?
What are some average Uber Insurance settlements for a car accident?
What is the average Uber settlement offer for an auto accident?
How long does it take to earn a settlement from Uber?
Uber Insurance Information
When Uber first started in 2009, its drivers were effectively independent contractors. They passed simple background checks, had their vehicles approved, downloaded the apps onto their phones, and started to drive as soon as everything was cleared. Because they were labeled as independent contractors, they were not technically Uber employees – thus, Uber was not liable for their actions. This absolved the company of any responsibility until a ruling came into effect a few years later that declared that drivers for rideshare companies must be counted as employees during their driving hours, and they must have insurance through the company itself.
As a result, Uber enacted an insurance policy for its drivers and passengers through James River Insurance. Every Uber driver and Uber passenger is afforded some type of coverage in the event of an accident.
If the Uber driver is not on the job, he is covered by his personal auto insurance company; any car accident he gets into will be taken care of by his provider. If he is on the job – as in, the app is turned on and he is waiting to pick up a passenger – he is able to be covered for up to $50,000. This liability insurance makes sure that the driver is compensated if he is involved in an accident of some sort because he otherwise would not be on that route if he were not waiting for a passenger.
One the driver accepts a trip and is en route to the Uber passengers, he is considered to be in the second period. During this period, and during the ensuing period of actually transporting the passengers to their destination, the policy is upped to $1,000,000 for liability, underinsured and uninsured motorist injuries, and collision. After dropping the passengers off, the period reverts back to the initial liability coverage. Once he turns the app off, he is once again a regular driver with personal auto insurance.
Thus, a large determining factor of how much money you can earn in an Uber accident is largely dependent on when the accident takes place. If you are a driver without passengers in your car, you may be severely injured in an auto accident but receive less compensation from the insurance company, whereas if you had passengers and suffered a minor injury in a rear-end collision, you could receive much more. It fits, of course; the safety of other passengers who are willing to allow someone else to drive them around must be placed at the highest priority level, and the amount of coverage should reflect that.
If you want to pursue further action against Uber's insurance company, we recommend doing so with the assistance of an experienced attorney.
James River Settlement Amounts
James River Insurance covers Uber's policies, but many people don't know how to determine the amount of the offer from Uber in the event of an accident. This is just as well, as an injury settlement is not readily determined; the value can fluctuate with each passing day, while the estimates can change with each person you speak to.
It is important to note that there is no Uber settlement calculator. You cannot plug in a bunch of numbers, write your projected damages, and expect a settlement value to be printed for you to take to the insurance company. James River insurance agents are going to scrutinize every part of your claim and pick and choose what deserves compensation and what doesn't. In an ideal world for these adjusters, they would not pay anything. If they continually deny your claim, contact an attorney who can help you sue James River for bad faith.
Uber Insurance settlement offers differ from case to case. No two injuries and accidents have the same circumstances behind them, even if the damage seems similar. Those responsible for handing out settlements – insurance companies and juries, for instance – will look at much more than just the blanket fact of injury. They will consider the extensiveness of the injury, how much of an effect it has on your career and life, your age, your liability in the event, and more.
There is also no concrete answer as to how long it takes for a settlement to be agreed upon or how much money you can get in total. Consult with a skilled attorney with expertise in Uber injury lawsuits for a more accurate estimate.
Potential Earnings
There is, however, a list of some types of compensation you can earn in filing a claim with Uber's insurance company. You can collect these damages from nearly any personal injury case.
Medical Bills: Hospitalization, surgery, medication, physical therapy, and more can be covered in the wake of an accident. You can also be covered if you have future medical procedures that need to be done.
Lost Income: You may need to take time off work due to your injury, whether it's because of the pain and incapacitation or due to recovery. Your lost wages during this time can be reimbursed, and if future medical treatment or additional days of recovery will also keep you from working, you can collect those wages as well.
Property Damage: Your car may have been greatly damaged in the accident, as well as various other personal belongings. These repairs or replacements can be covered by James River.
Pain and Suffering: Many car accidents that lead to injuries also cause mental damages that cannot be measured with bills. These non-economic damages are generally the hardest to overcome, and because of their mental-based nature, they are also often disputed by the insurance agents. Some of these damages include fear, PTSD, anxiety, mental stress, and psychological scarring.
An expert attorney who has experience in Uber accident cases can help you receive a fair settlement from Uber's insurance company.
Free Second Opinion on Your Claim
If you are asking about the average settlement value of an Uber accident claim, you may very well already have an attorney. We have learned that many clients who ask questions about average rewards are weighing other options. They may feel that their current attorneys are shortchanging them or not giving them enough dedication; this is a bad practice, and bad faith practices like this should be outlawed. Many lawyers try to negotiate a quick, small settlement with Uber so that they can get their paychecks and move on to the next case. They often accept the first offer from an insurance company and claim they can't negotiate anything higher. They don't readily care about their clients and would rather sign more up than they can handle because it means more money.
Call us today to receive a free second opinion on your case. We will tell you what we believe you can earn in a settlement and whether or not your attorney is acting in bad faith. If you feel you would be better off with different representation, our doors are open to you. An accomplished lawyer experienced in Uber accident cases will be available to take your call.
Normandie's Role in Your Case
Our experienced lawyers at the top-rated Normandie Law Firm are here to help you receive a fair settlement from Uber in the event of an accident. Our goal is to keep our clients healthy and safe, and we feel that a stress-free atmosphere after an accident is a good way to achieve that. You should not be worried about medical bills and other expenses if you were involved in accident that was not your fault. Our attorneys are aggressive with insurance companies and we promise to do our utmost to bring you a settlement you are satisfied with.
FREE LEGAL CONSULTATION: Call us today to receive a free legal consultation on your case. You can ask one of our lawyers with experience handling Uber accident claims any questions you want, and we will be more than happy to answer them. You can receive all the relevant information about the legal process so you can make an informed decision about which path you wish to take. We believe all of our clients should be knowledgeable, and transparency is one of our core values.
We also offer you a zero fee guarantee with your claim. We promise that you do not pay any out of pocket expenses for our services – our fees are paid if we win your case, and the money comes out of the settlement we earn. In this manner, Uber and James River are paying your legal bills. Further, if we do not win your case, you do not owe us anything at all, and we pay for all consequences ourselves.
Contact one of our attorneys with experience in Uber Insurance cases at Normandie Law Firm if you have been injured due to a car accident involving an Uber driver.