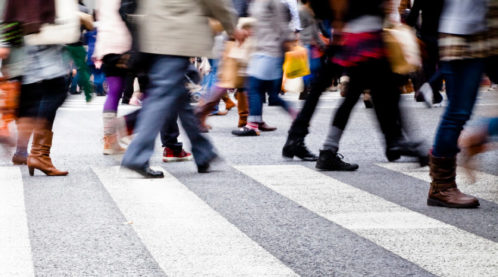 Over the past fifteen years, 270 pedestrians have died on San Diego streets and countless others have been injured. In 2016 alone there were 23 pedestrian deaths. In 2014, 2015, and 2016, there were 38, 54, and 55 injuries—respectively. Many of these deaths and injuries occur at the same intersections. A total of 15 intersections have been identified as the most dangerous intersections for pedestrians in the city. These intersections are called the Fatal Fifteen and have prompted the increased presence of law enforcement to try and prevent further incidents.
Victims of pedestrian accidents can take legal action against the party or parties responsible for their injuries. Drivers have a duty to drive in a manner that does not pose a threat to pedestrians. When pedestrians are injured, victims can contact law firms with experience in pedestrian accidents and file a claim against the driver responsible. Many victims of pedestrian accidents, however, do not pursue legal action for their injuries. Unfortunately, many members of the San Diego community do not have access to legal representation. Legal representation should be accessible to all; however, many people shy away from seeking legal advice because most law firms do not work any language besides English.
In San Diego, more than 40% of the population natively speaks a language other than English. Of its population of 1.39 million, about 426,000 people are Hispanics. Based on these numbers, it is not a surprise that more than 20% of the San Diego community speaks Spanish. Rather, it makes sense that Spanish has become the second most prominent language in the city. The Spanish speaking community, although it accounts for a sizeable chunk of the population, largely lacks access to legal assistance. Spanish speaking lawyers in San Diego can be difficult to come across. Therefore, many people who have suffered injuries as pedestrians do not seek legal counsel. Victims might hesitate due to the language barrier. Legal terminology is difficult to comprehend even for English speakers, but if they speak the language, they will eventually understand everything. That is why it is important for Spanish speaking victims of pedestrian accidents to find a law firm where the attorneys and entire legal staff speak Spanish.
Normandie Law Firm is a Spanish law firm experienced in personal injury claims that arise from pedestrian accidents. Our attorneys speaking Spanish in San Diego are available to relay all the legal information necessary in the client's preferred language—Spanish. It is important for victims of pedestrian accidents to be helped by someone that speaks Spanish. Normandie Law Firm, along with our Spanish speaking attorneys, is doing everything possible to ensure that the Spanish speaking community in San Diego has the same access to legal representation as the rest of the population.
The following information is not designed to substitute a consultation with a Spanish speaking pedestrian accident lawyer in San Diego. Below, you will find generalized information about pedestrian accidents and the rights of the victims. You should contact Normandie Law Firm as soon as possible for a consultation; you will receive information specific to your case in Spanish.
Common Injuries
If a pedestrian was injured in an accident, it is likely that he or she experienced injuries. Pedestrians risk being severely injured by vehicles; in most cases, injuries are critical and can even cause death. Below are a few of the most common injuries caused by a pedestrian accident:
Fractures and sprains
Head injuries
Internal bleeding
Other internal injuries
Spinal cord injuries
Traumatic brain injuries
The seriousness of the injuries sustained after a pedestrian accident will vary from case to case. As you can see, some of the injuries listed above are more severe than others. With some injuries, victims might require extensive medical treatment and multiple surgical procedures. Some victims might be left with life-long issues. Without a doubt, this can create expensive medical bills. Filing a lawsuit can help alleviate the costs of medical bills through compensation. Compensation will be further discussed in a later section.
Duty of Care
If someone was injured as a pedestrian, it is likely that a driver breached their duty of care. All drivers have a duty of care to other drivers and pedestrians. This duty requires drivers to exercise reasonable care when driving to prevent injury to others. Drivers who do not follow the rules of the road, who speed, who are distracted by their phones, are breaching their duty. Pedestrians also have to exercise a duty of care to ensure that they do not put themselves at risk for injury. That is, they must follow traffic signals, use crosswalks, and stay on sidewalks.
In the case of an incident, both parties can be found negligent. Negligence is comprised of four elements: duty, breach, cause, and harm. In essence, the harm suffered must have been caused directly by a breach of duty. For example, a driver running a red light and a pedestrian crossing the street anywhere other than at a crosswalk are both breaches of duty and can both lead to claims of negligence. Negligence can play a major role in determining whether the victim is eligible for compensation.
Compensation
The compensation that a victim is eligible to receive will depend on the severity of the injuries, the likelihood of recovery, the way the injuries affect the victim's ability to work, and the fault of the accident. A victim might be compensated for medical expenses, pain and suffering, loss of wages, loss of consortium, and punitive damages. As previously mentioned, negligence can affect the ultimate amount a victim is compensated. If the victim is found to have some fault in the accident because of his or her own negligence, then the total amount of compensation that he or she is eligible to receive is likely to be reduced.
To get more information about compensation for your specific case, contact a San Diego attorney that speaks Spanish.
Normandie Law Firm
Normandie Law Firm is a Spanish law firm with experience in pedestrian accidents. We are dedicated to providing exceptional legal service for clients who speak Spanish. A San Diego traffic accident attorney that speaks Spanish will be able to handle your case and communicate with you in your preferred language every step of the way. Normandie Law Firm is aware of the lack of accessibility to legal services that the Spanish speaking community has dealt with for so many years. We are ready to change that.
Besides offering legal services completely in Spanish, our law firm does other things to increase client satisfaction. Our law firm offers clients free consultations and free second opinions. A Spanish speaking pedestrian accident attorney is just a call away. During your free consultation, our Spanish attorneys will go over every aspect of your case. We will explain everything to you to ensure that you have all the information necessary to pursue a lawsuit. You are welcome to bring in any questions. Our skilled Spanish speaking attorneys will answer all your questions and address all of your concerns. If you already have an attorney with another law firm, you might be in need of a second opinion. Ask yourself the following questions. Am I looking for additional information even after meeting with my attorney? Does my attorney speak Spanish? If you are looking for additional information, your attorney must have missed something. Many attorneys rush through cases because they are only interested in increasing the number of cases they take. This leads to attorneys overlooking and neglecting information that is essential for the outcome of your case. If your attorney does not speak Spanish, he or she might have needed to use an interpreter to communicate with you. Interpreters are trained professionals, but important information always runs the risk of being lost in translation. Do not let this affect the outcome of your case. You need a Spanish lawyer who can speak Spanish and who can sue for your injuries. Contact Normandie Law firm to schedule a free consultation or free second opinion.
Normandie Law Firm extends a Zero-Fee guarantee to all clients. You will never have to worry about paying any upfront fees. Plus, our law firm is strictly based on contingency; therefore, you will not have to pay anything until our Spanish speaking lawyers win your case. Contact Normandie Law Firm as soon as possible.