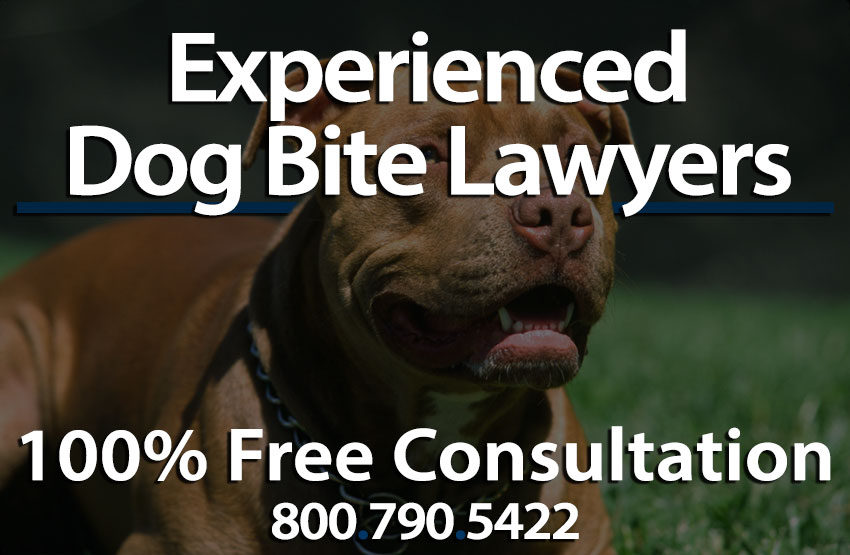 Dogs are one of the most common family pets. Dogs are family favorites because of their loyalty, intelligence, devotion, and affection. In fact, dogs' characteristics are so positive that they are service animals and emotional support animals. But like with almost every living thing, dogs have natural instincts, and no amount of training can eliminate these instincts. If dogs can have positive attributes like those mentioned above, they can also have negative characteristics like fear and anger. Dogs might react negatively to strangers or whenever they sense danger. Whatever the case, dogs can bite.
Where might you see a dog? If you have ever gone to visit a friend or a relative, you might have been greeted by a curious dog. However, you might not always encounter a dog in someone else's home. More and more, it has become popular to take dogs everywhere. If you are out walking in an outdoor shopping center, you might see a few people with their dogs on leashes. There are dog parks and dog beaches where dog owners can socialize their dogs with other dogs while they socialize with other dog lovers. No matter how many times a dog owner claims their dog does not bite, dogs are dogs and they have instincts that include biting. How many times have you come across a dog that was not on a leash and that was not with a dog owner nearby? Unfortunately, some dog owners do not properly secure their dogs inside their home. If a gate or a fence is left open, dogs can wander out and pose a threat to people. If pedestrians are walking near the gate or fence, dogs instinctively bark. With an open gate or fence, dogs can get out and possibly bite the pedestrians. You might be bitten in your own home. If your neighbor's dog enters your property, it might bite you.
So if a dog bites you, who is liable? Who can you sue? It makes sense to sue the dog owner for the dog bite—since the dog owner should be responsible for their pet. In some cases, dog owners might try to claim that they were unaware that their dog posed a threat to others, or that they did everything necessary to prevent the dog from harming others. In California, dog bite laws are one of the strictest in the nation. California law makes pet owners responsible for most dog bite injuries. If someone was bitten by a dog and files a claim against the dog owner, the dog owner will not be able to give any excuses. Essentially, if the injured person was bitten while in a public place or while lawfully in a private place, the dog owner will be held liable. Essentially, dog owners are held responsible for their dog's actions. If you were bitten by a dog, you will not only need medical assistance. You will also need legal assistance.
In Los Angeles County, about 20,000 people are bitten by a dog every year. In fact, most dog bite victims are children. Many dog bite injury victims do not report the incident. Many times, they do not even seek medical attention. Even worse, victims do not take legal action against the dog owner responsible for their injuries. Why does a dog bite victim choose not to take legal action against dog owners?
In the city of Los Angles, the main problem seems to be a lack of information that the community has about the law. Yes, the internet holds everything anyone can possibly want to know about the law; however, it does not provide specific information catered to each case. Let us consider the population in Los Angeles. Los Angeles is the home to people from all over the world. English, without a doubt, is the primary language However, there are over two-hundred different languages spoken in homes throughout the city. In fact, the second most prominent language spoken by the community is Spanish. What does language have to do with dog bite victims filing lawsuits against dog owners? Regrettably, language and language barriers between communities and law firms affect whether a victim decides to file a lawsuit. A dog bite injury victim who only speaks Spanish, or whose preferred language is Spanish, needs to get all their legal information from someone else who speaks Spanish.  However, there seems to be a lack of Spanish law firms for Los Angeles' Spanish speaking community. Because of this, Spanish speakers are unlikely to file lawsuits for their dog bite injuries.
Normandie Law Firm is a Spanish speaking law firm. Our Los Angeles attorneys will help you will while speaking Spanish. Finding a Spanish speaking Los Angeles attorney can be difficult; Normandie Law Firm is dedicated to facilitating the legal process for the Spanish speaking community. A lawyer who can speak Spanish and relay important information in your preferred language is vital to the success of your lawsuit. Only a Los Angeles dog bite attorney that speaks Spanish will be able to provide the information you need.
In the following sections, you will find general information about dog bite accidents and claims. This information is supplemental and is not meant to substitute a consultation with a Spanish attorney experienced in dog bites.
Who is Liable?
As previously mentioned, dog owners are almost always liable for their dog's bites. However, there are some exceptions that can be applied. The most obvious exception is military and police dogs; these dogs are working and one of their primary purposes is to bite when ordered to.  Another exception for dog owner liability is trespassing. In California, a dog owner will be held liable is a victim was bitten while either in a public place or lawfully in a private place. When is someone lawfully on private property? Mail carriers are the clearest example of people who lawfully enter private property. An invited guest can also lawfully enter private property. If a dog bites a trespasser, the trespasser might not have a valid claim to file against the dog owner.
For additional information about liability in dog bite cases, contact a Spanish speaking attorney.
Negligence
Dog owners who have dogs that have previously bitten someone are required to take reasonable steps to remove any danger and prevent future attacks. If a dog has bitten a human more than twice, the court might order that the dog owner takes steps to prevent further harm. Such steps might include keeping the dog on a leash, fencing a yard to secure dog inside, or even putting the dog down. For a dog to be considered a potential danger, the dog must have shown aggressive behavior at least twice, bitten someone without provocation, and killed or injured a domestic animal twice. A dog is considered to be vicious if it injured or killed someone without being provoked, or if a court already determined that the dog was dangerous and the dog repeated dangerous behavior or the dog owner did not take the necessary steps to prevent further incidents. If dog owners were aware of their dog's threat level and took no measure to prevent further harm, a new incident could leave the dog owner facing criminal charges.
For more information of negligence in regards to dog attacks and dog incidents, contact a specialized Spanish speaking attorney.
We Speak Spanish at Normandie Law Firm
Normandie Law Firm's legal staff is aware of the lack of representation available to the Spanish speaking community. We show our support by speaking Spanish and welcoming victims of dog bite injuries to contact our law firm and meet with a dog attack lawyer that speaks Spanish. Our law firm is committed to providing clients with the best legal experience in Los Angeles, California. Our Spanish speaking staff is just one of the many aspects of your positive legal experience.
Normandie Law Firm goes beyond providing service in Spanish. Our lawyers with experience in dog bites are always available for free consultations and free second opinions. Call our law firm to schedule a free consultation. A Spanish speaking dog bite lawyer in Los Angeles will meet with you and answer all of your questions and address all of your concerns. Our attorneys will go through every detail of your case and explain how to begin the legal process against the dog owner responsible for your injuries. If you already have an attorney with another law firm, you can contact us to schedule a free second opinion. Why would you need a second opinion? If you are looking for additional information even after consulting with your attorney, your attorney might have missed some important details. Many attorneys rush through cases to increase the number of cases they sign on. This is irresponsible; rushing can cause attorneys to overlook essential pieces of information. Additionally, if your current attorney does not speak Spanish, he or she might be using interpreting services to communicate with you. Although interpreters are trained professionals, some things simply get lost in translation. Do not take this risk. Contact Normandie Law firm as soon as possible to get a free second opinion from a lawyer in Los Angeles who speaks Spanish. You need a Spanish lawyer who can sue the dog owner for your injuries.
Normandie Law Firm's free consultations and free second opinions are offered under a Zero-Fee guarantee. You will never have to worry about paying any upfront fees. Since our law firm is strictly based on contingency, you will not have to pay anything until our Spanish speaking lawyers win your case. Contact Normandie Law Firm as soon as possible to get exceptional Spanish legal service.