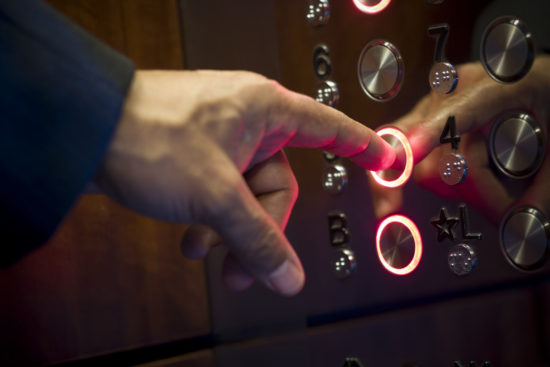 Every day, hundreds of thousands of individuals slip and fall somewhere, whether while out in public at the mall or at home on a loose piece of carpeting. The causes are varied, and there is no surefire way to prevent the accidents from happening except to advise being even more careful while walking. Slipping and falling in certain locations can yield more severe consequences than in others; for example, if you trip on a section of raised sidewalk, you may not be as injured as if you slipped near a stairwell and tumbled down it. People who have been injured in slip and fall accidents in elevators should be aware of the laws regarding premises liability and know that they can pursue compensation for their damages. Our Los Angeles law firm, Normandie Law Firm, is one of the top-rated legal groups in the city. Our lawyers have handled slip and fall cases for years, and we are no strangers to elevator accidents. Clients often call us with questions about how to proceed after sustaining injuries in accidents in elevators. Some examples of these questions include:
Can I sue for a slip and fall injury because of wet floors in an elevator?
Where can I find elevator injury lawyers to sue the building if I got hurt in an accident?
If I fell in the lift at a company, can I sue?
How do I file a lawsuit against the elevator company for slippery floors?
Elevator Accident Information
Elevators are present in almost any location that has multiple storied buildings. Offices, schools, hospitals, malls, hotels, and more all feature elevators that will transport individuals to the higher floors. These elevators need to be regularly maintained, however, or they will have issues that could lead to disastrous consequences. They must also remain clean; often, custodians will clean the elevators in a cursory manner, leaving the floors slick or slippery. Though these areas may not be large, they can still be ripe locations for injuries because of falls.
Commonly, a person will enter the elevator after a cleaning or a spill, only to slip and fall. Because of how small the elevators usually are, you may be more likely to hit your head on the way down, whether by colliding into the handrail or the wall. Fortunately, many of the worst cases, such as the elevator doors closing while someone is in between them, do not occur because of the motion sensors that force the doors open.
There can be over a dozen people in the elevator at once, and any number of factors could contribute to an accident. In addition to custodians and janitors cleaning the elevators, there could also be fluids leaked onto the floor from bags, slick materials tracked in on the bottom of shoes, and items dropped that could cause people to trip.
Slipping and falling inside an elevator can cause you to sustain various injuries, including broken bones, fractures, sprains, lacerations, broken teeth, bruises, hematoma, internal bleeding, and more. There may be lasting damages that take some time to heal, if they heal at all. For example, if you break a bone at an odd angle and the doctor is unable to properly set it, you may have a reduced range of motion in that region.
If you were injured in an elevator slip and fall accident, consult with a Los Angeles attorney to pursue a premises liability claim.
Premises Liability Laws
Premises liability works according to the status of the person who was injured. There are three classes that can be assigned to people depending on the circumstances of their presence at the location. If there is a lawful reason for the person to be on the property and there is a mutual benefit that will happen between the person and the property owner, the customer is an invitee. Licensees are those who have no contractual obligations and are not entering for any exact monetary or mutual benefit, such as social guests. Lastly, there are trespassers, those who are not lawfully on the property and were not invited or given permission to be there by the property owner.
Because elevators are usually present in buildings that share many different renters, it can be hard to pinpoint who may be responsible. Essentially, the property owner, or the person who has possession of the building, is responsible for the upkeep of the premises. For example, if you were in an office building that housed different businesses and you were involved in an elevator slip and fall accident, you would not outright sue the business where the accident occurred unless there was reason to believe that the business was responsible (if it hired cleaners, for instance.
More often than not, you will be able to sue the owners of the property. Property owners must take care to ensure that their properties are not hazardous; you can sue if there were no indication that the owner was going to fix the problem or if he were negligent in his duties. In order for your lawsuit to be successful, you must be able to show that you were owed a duty of care, that there was a problem with the property (as in a slippery floor in the elevator), that the problem led to an accident, and that the accident resulted in injuries.
As an invitee, you may be able to claim ample compensation for your damages with the assistance of an elevator slip and fall accident attorney. Do not hesitate to file a claim; although the statute of limitations for premises liability cases is two years from the date of the incident or injury, you may not notice your injuries until some time later. This can lead to a rushed process, and if you are not on time, the deadline will pass and you will be ineligible for any damages at all.
Possible Compensation
A slip and fall accident inside an elevator can have disastrous consequences, and as a result, you should be covered by the property owners for any injuries you sustain. A fall from any height and onto any surface can cause severe damage; elevators are especially dangerous because of the confined area and hard metal floors and walls that they are often made of. With the help of a lawyer experienced in elevator slip and fall accidents in Los Angeles, you can earn various types of compensation for your damages. These include:
Medical Expenses: Your medical bills from the accident can be covered by the property owner. These bills include surgery costs, hospitalization fees, medication costs, ambulatory transportation, physical therapy, and more. If you are required to undergo further medical procedures in the future, those expenses can be covered as well.
Lost Wages: Your injury may sideline you from work for a lengthy amount of time. During that time, you can receive reimbursement for your lost income; further, if you are going to miss additional days because of recovery time or other medical treatments, your future wages can be covered as well.
Property Damage: A slip and fall can lead to you dropping your property in the elevator and your personal items getting damaged or broken. You can have your personal items repaired or replaced, or the monetary value can be reimbursed.
Pain and Suffering: The emotional damages that accompany physical injuries are usually worse than the injuries themselves. These damages affect the mind and psychological state. You can receive compensation for mental anguish, psychological trauma, fear, anxiety, PTSD, and more.
Punitive Damages: If there were any intentions to cause harm or if there were gross negligence on behalf of the property owner, you could collect punitive damages for your injuries. These are merely additional forms of monetary compensation that are meant to punish the defendant and dissuade him from committing the same action again in the future. However, many courts view these damages as excessive and are reluctant to award them. As a result, only the most experienced attorneys will be able to win them for your case.
Consult with one of our elevator accident lawyers in Los Angeles for more information on what you can possibly earn in a lawsuit.
Our Law Firm
Our attorneys at Normandie Law Firm in Los Angeles promise to aggressively work to bring you the settlement you deserve. Elevator slip and fall injuries are serious matters, and you should not be held responsible for your own expenses if there were negligent behavior on behalf of the property owner. We will do everything we can to make sure the owner covers your expenses, and we are willing to go all the way to court to fight for your rights if necessary. We will not stop until you are satisfied with the result.
Call us today for a free legal consultation with an expert attorney. You can ask questions about elevator accident cases and premises liability laws. We will give you all the information you need to know to make a knowledgeable decision concerning legal action. We believe that all of our clients should have the necessary information before they make any drastic choices.
If you choose us for legal representation, you will also receive a zero fee guarantee on your case. This means that you will pay no out of pocket expenses from start to finish – our lawyers will cover all expenses, and we only get paid if we win your case. The fees will come out of the settlement we bring you, ensuring that the property owner will cover your legal bills as well as your damages. If we lose, you will not have to pay us a dime; we will eat all the costs of the case ourselves.
To speak with a qualified elevator accident attorney to sue the management for your injuries, get in touch with our team at Normandie Law Firm.