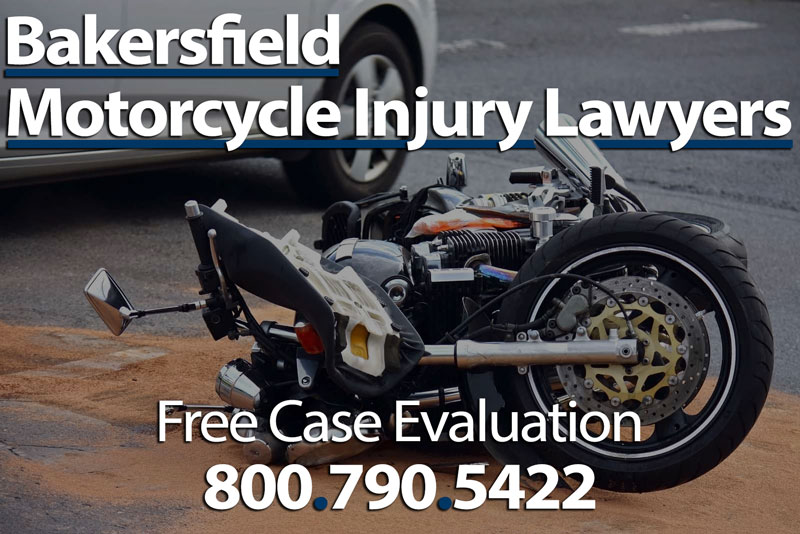 Motorcycle accidents can result in some of the most severe injuries possible while on the road. The bikes are not set up for safety like cars are; whereas automobiles have cushioned seats, roll bars, airbags, and preventative measures that keep the passengers safe, motorcycles are generally just two wheels attached to an engine – there is no seatbelt or anything to stop you from being flung from the bike or even dragged under it. We believe that all prospective motorcycle riders should pay careful attention to the laws and practice safe, defensive driving when they get on the road. In the event that an accident occurs, it would be wise to pursue legal action and receive compensation from the responsible party for your injuries. Our California motorcycle accident attorneys at our Bakersfield law firm, Normandie Law Firm, are here to help you receive a fair settlement for your damages. Our clients often call us with a need for information about filing a lawsuit after a motorcycle accident. Some of the questions they ask us include:
How can I file a motorcycle accident lawsuit?
Who are the most experienced Bakersfield lawyers for motorcycle crash cases?
I need experienced lawyers in Bakersfield to help me with my motorcycle accident claim. Who can I call?
Causes of Motorcycle Accidents
Motorcycle accidents are generally caused because of many of the same mistakes that regular drivers make. More often than not, it is a simple act of negligence or distraction that causes an accident to occur. Some drivers may not see a motorcycle in their blind spots and try to switch lanes, resulting in clipping the motorcycle; others may rear-end the vehicle due to not stopping quickly enough; still others ignore right of way laws and turn into motorcycle' lanes or cut them off as they turn.
One of the reasons motorcycle accidents occur quite often is the fact that lane splitting is legal in California. This means that motorcycles can weave through traffic in between lanes; some bikers do this at unsafe speeds, while others do so without any risk assessment – they throw caution to the wind. Because motorcycles are less common vehicles on the road, many people are not used to having to check for them in their mirrors; if they see an opening that can fit their cars, they usually instinctively accelerate. As a motorcycle rider, you should be wary of every other car on the road.
For assistance in filing a claim after being involved in a motorcycle crash, call a motorcycle accident lawyer in Bakersfield today.
Injuries in Motorcycle Accidents
Because of the lack of protection on motorcycles, the types of injuries that you can sustain in an accident can be quite severe, if not fatal. There is no seatbelt or protective seating, nor are there airbags. This means that any impact is absorbed directly into your bike and your body. The only protection those on motorcycles have is in the form of protective gear, such as helmets, elbow and knee pads, and special clothing. As a result, you can sustain injuries to virtually every part of the body. You may be afflicted with:
Broken bones and fractures
Sprains and strains
Concussions and brain injuries
Internal organ damage and internal bleeding
Hemorrhages
Lacerations, cuts, bruises, and hematoma
Amputated limbs and digits
Nerve damage
Paralysis
Death
Some injuries may put you out of commission for months or even years and necessitate extended stays in the hospital. We have seen cases where motorcycle accident victims were forced to live the rest of their days in wheelchairs because of the careless actions of other drivers. It is crucial that you seek out the necessary compensation with the help of a motorcycle accident attorney in Bakersfield.
What to Do after a Motorcycle Accident
After you have been involved in a motorcycle accident, it is very important that you take certain steps. Following these steps will put you in the best position moving forward, whether it is to file a personal injury claim or to safely return home.
Obtain medical treatment. This is extremely important; in many cases, the adrenaline that courses through you after an accident is enough to hide any injuries you have. In the coming days, however, those injuries would return with a vengeance, and may even worsen due to the lack of initial treatment. If the paramedics show up, get checked out regardless of how you feel. If they do not show up, go to the hospital and get tests done. They may show that you have a minor concussion or some kind of internal damage that you otherwise would not know about until it was too late.
Take down information. Whatever is necessary, you should take it down; this includes the full information of those involved (names, insurance information, type of car, and more), statements from any witnesses, police reports, and more.
Take photographs and record videos. In today's day and age, many motorcycle riders wear cameras on their helmets that are recording when they are driving; these cameras help show the accident as it happened and can assist in showing fault. However, not all riders have these cameras; thus, you should make sure to take photographs of the accident scene, your bike, the other car, your injuries, and more. You can also record the damages and witness testimonies to present to your lawyer.
Reach out to an attorney. It is very important that you enlist the services of a Bakersfield attorney with experience in motorcycle accidents so you can receive the maximum compensation for your lawsuit. If you were involved in an accident that yielded no injuries, you may not need a lawyer; simply provide your insurance agency with the necessary bills from the mechanic and other places that would deal with repairing or replacing your property and go from there. Insurance agencies tend to get more dismissive and difficult to deal with when injuries are involved, in which case, you should hire legal representation.
Legal Information about Motorcycle Accidents
Fortunately, just because you are riding a motorcycle does not mean you are to be treated any differently than another vehicle on the road. All drivers owe everyone else the same duty of care when operating a vehicle. In order for you to successfully win a motorcycle accident lawsuit, you must be able to prove these four points of negligence. A Bakersfield lawyer can help you show that these four points are true.
First, you must show that you were owed a duty of care. By default, this is true as long as you are on the road operating a vehicle. This means that you will do everything in your power to keep those around you safe whether by not driving distractedly or recklessly or by purposely placing anyone in harm's way.
Second, that duty must have been breached in some way, whether by driving in an unsafe manner, running a stop light, tailgating, or partaking in some other kind of activity.
Third, that breach must have caused an accident, such as a rear end accident, a sideswipe, or other similar type of crash.
Lastly, the accident must have led to actual injuries. You can only collect compensation for medical bills and more if you sustained physical damage in a crash.
If you need assistance, reach out to an attorney in Bakersfield
Compensation for Motorcycle Accident Victims
If you were injured in a motorcycle accident, you may be able to receive financial compensation for your damages. With the assistance of one of our Bakersfield motorcycle accident attorneys, you can receive:
Coverage of medical expenses, including surgery, hospitalization, physical therapy, medication, and more. Further, any future medical procedures that are required due to your injuries from the accident can be covered as well.
Property damage, including replacement or repair for your motorcycle and any other personal belongings that you had at the time office the accident.
Reimbursement of lost wages from both the past and the future if you are required to take additional time to recover or undergo medical treatments.
Pain and suffering damages, including PTSD, fear, anxiety, psychological scarring, mental pain, and emotional trauma.
It is important that you are aware of your rights and what the law can do for you. A Bakersfield motorcycle accident lawyer can give you more information.
Choosing Normandie
Normandie Law Firm in Bakersfield is home to some of the best motorcycle accident attorneys in the state. We know that these types of injuries can be severely debilitating, and we promise to do everything in our power to bring you compensation for your injuries. Our aggressive lawyers will not stop until we've brought you a settlement you are satisfied with. Call us today for a free legal consultation with an expert attorney. You can ask us any questions you want and we will answer them accordingly.
If you select us for our legal services, you are given a zero fee guarantee on your claim. This promises that you will pay no out of pocket fees for our legal help – our payment comes from the settlement we win for you at the end of the case. Thus, if we lose, you don't owe us anything at all. We do this to make sure your savings are kept in good standing and to prevent you from drowning in legal debt if you also have medical bills and other expenses to pay off.
To contact a motorcycle crash attorney in Bakersfield, call us at the Normandie Law Firm today.
OUR ATTORNEYS CAN HELP YOU GET THE NECESSARY COMPENSATION
How To Obtain A Traffic Collision Report from the Bakersfield Police Department
Bakersfield Car Accident Lawyer