Personal Injury Caused by Fidget Spinner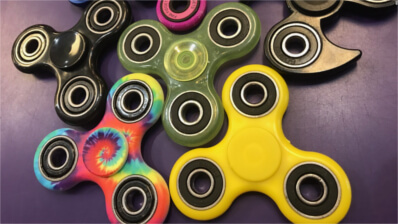 If you or a loved one has been injured as a result of a fidget spinner, you may be eligible for significant monetary compensation for your damages. The key to any successful lawsuit is a skilled lawyer with experience handling fidget spinner injury claims. At Normandie Law Firm, one of the top Los Angeles legal groups, our qualified attorneys with experience in defective product cases can guide you through the process of building your case and filing your claim against the at-fault party. If you have any questions after reading this article, please feel free to contact our law offices. An experienced attorney will be able to give you a free consultation.
Fidget Spinners
Fidget spinners are a recently trending toy that has become especially popular among school-age children. This latest toy craze has been around for years and was used to help children with ADHD. Today, children everywhere use these peculiar toys, which has, in turn, led to an increase in injuries caused by fidget spinners. More recently, the Consumer Products Safety Commission (CPSC) has recognized the dangers that fidget spinners pose. They have recommended the following:
That consumers stay in the room when their fidget spinner is charging at all times
To always use the cable that came with the device
To keep the toys out of the hands of children 3-years-old or younger
The injuries caused by fidget spinners can vary immensely, and in some cases can lead to long-term damages. Some of these injuries include:
Fingers being caught in small openings in the toy sometimes treated through surgery or even amputation
Swallowing of pieces that break off from the toy
Lead poisoning which can result from cheaper toys imported from across the world
Lacerations from sharp edges on the toy
Injuries can also be caused by the toy striking another person, which can result in eye injuries or other similar accidents. Injuries from a fidget spinner can be severe and in some cases may lead to long-term conditions. These palm-sized toys consist of a ball bearing that sits within a three-pronged plastic device that is flicked and spun. Schools across the United States have banned these toys, claiming the possible health risks the fidget spinners pose. If you have suffered any of these damages, you may be able to sue for the injury caused by the fidget spinner. An accomplished attorney who has experience in fidget spinner injury cases can help you file a lawsuit.
Who is Liable For a Fidget Spinner Injury?
Determining liability for a fidget spinner injury can be a bit tricky at times, as it depends on the aspects of any one particular case. However, in instances that involve injury caused by defective fidget spinner toys, the manufacturer or distributor may be held liable for the injuries. These kinds of claims are usually filed in accordance with product liability laws. Product liability laws are put in place to protect consumers from receiving a faulty and possibly harmful product. These laws also make it so that a consumer can more easily pursue legal action against the company or party responsible for the dangerous product defects. However, that is not to say that filing a lawsuit against a manufacturer is easy. Filing a lawsuit against any company can be especially challenging as they more than likely have the resources to employ a whole team of skilled lawyers who are willing to dispute your case. This is why it is crucial that you hire a skilled fidget spinner injury lawyer to assist you in suing the fidget spinner company, manufacturer, or distributor for injury. Bulleted below are the stages in which a product defect is likely to occur, and who would be liable under those circumstances:
Design Defects: Design defects occur before the product is assembled and sent to a manufacturer. This form of defect occurs during the initial design stage of the product. These defects are usually inherent in the product from the start and can often lead to large-scale recalls. In cases that involve design defects, the company which designed the product could be held liable for damages.
Manufacturing Defects: These defects tend to arise during the assembly of the product. In these cases, the company that organizes the product's assembly can be held liable for damages. This form of defect can range from individual product faults to widespread mistakes across a whole product line.
Marketing Defects: These sort of defects arise when there is a harmful error in the way the product is marketed. Marketing errors can include things like inadequate safety warnings, insufficient instructions, and improper labeling. Cases that involve marketing defects could find the marketing company responsible for the damages.
The process of suing for a defective fidget spinner can often be fairly challenging if ever taken on alone. When taking on a company for fidget spinner injuries it is highly recommended that you seek appropriate legal advice before doing so.
Due to the widespread safety risks that fidget spinners pose, victims who have suffered injuries can file a class action lawsuit against a fidget spinner company. If you or a loved one has suffered an injury as the result of a fidget spinner and wish to file a class action lawsuit, contact our law offices and we can discuss the details surrounding your case.
If your fidget spinner injury was caused by another individual on accident, that individual may also be held liable for the damages suffered. Most accidents occur due to carelessness, and in these cases, the individual who was less careful than the other must pay for at least a portion of the damages suffered. Determining liability in these cases can often be incredibly difficult to take on alone, and it is highly recommended that you seek legal consultation before moving forward. An expert lawyer experienced in fidget spinner injury cases can help you move forward with a claim.
About Normandie Law Firm
If you or a loved one has suffered an injury as a result of a fidget spinner, you may be entitled to monetary compensation for all the damages that you have suffered. If you file a claim with our top-rated law firm, you could find some, if not all, of these following expenses compensable:
The costs of any further medical care
Any future medical care and treatment
A loss of income and a loss of future earnings
Any non-economic damages such as emotional distress, trauma, and PTSD
Any punitive damages (which are difficult to win, as many juries see them as unnecessary; only an attorney with expertise in fidget spinner injury lawsuits will be able to secure them for your settlement)
Victims of fidget spinner injuries can contact our law offices to learn more about how to receive compensation for their monetary damages. Our well-versed attorneys are committed to ensuring every one of our clients has the resources to put up a fair fight for their burn injury case. As a show this commitment to you and your case we offer our clients the benefits of a zero fee guarantee policy. Under our zero fee policy, all clients don't pay for our services until we win their case. If you feel in need of a second opinion, second opinion case reviews are also free under this policy. Call now for a free consultation by one of our experienced lawyers, and we can guide you down the path of receiving proper compensation for your damages.