Attorney For FedEx Truck School Bus Crash on April 10, 2014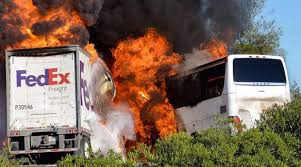 At least 10 people were killed and several more were injured in a violent truck crash between a FedEx truck and a bus carry future college students in Northern California, about 100 miles north of Sacramento.  The accident occurred on Thursday, April 11, 2014, as 3 buses carrying prospective college students from Los Angeles and Fresno were being transported to Humboldt State University in Arcata for a campus visit.  A FedEx driver crossed over a median and collided head-on to one of the buses.  Both drivers were immediately killed, and at least 5 students were also killed, as well as two chaperons on the bus.
The fiery crash led to a cloud of smoke that could be seen for miles, which occurred on the California I-5 Freeway.  According to witness statements, the FedEx truck sideswiped another vehicle before crashing into the bus.
Although the victims have not yet been identified, the students were from various high schools throughout California, including: City of Angels School, Diego Rivera Learning Complex, Middle College, San Fernando, Robert F. Kennedy, Manual Arts, Banning, Carson Chatsworth Charter, Dorsey, and John C. Fremont.
The bus carrying the students was owned and operated by Silverado Stages, one of the largest bus companies in California.  While FedEx is one of the world's largest shipping companies, records from the Federal Motor Carrier Safety Administration indicate they have been involved in 171 accidents in California alone, five of which have led to fatalities.
The National Transportation Safety Board notified victims that they are sending an investigative team to learn more about this tragedy.  According to an official, "…we're going to be investigating the human, the machine and the environment, and what's critical for us especially in highway accidents…"  The agency's main prerogative is to make sure accidents like this can be avoided in the future.
Unfortunately, however, the damage has already been done for these victims and their families.