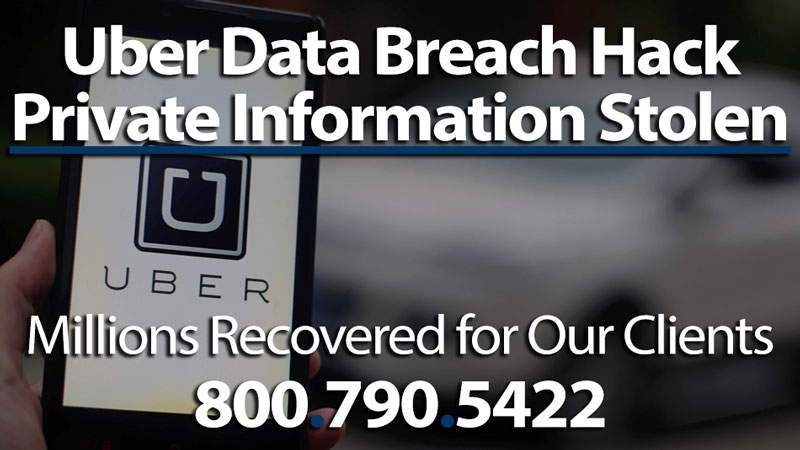 Recently, information has been let out concerning Uber and a compromise of millions of users' information. This data breach occurred in October 2016, and Uber learned of the hack one month later – but instead of alerting any authorities or customers, it paid the ransom the hackers demanded. The hackers claimed that they would delete the information, and Uber complied. Now, there is no telling if that information has been compromised elsewhere or what else Uber has hidden. There is also a question of how many instances of identity theft are the fault or Uber and similar companies committing similar acts?
Uber Information
Uber is a rideshare service that has revolutionized transportation in big and small cities alike. It works through an app on smartphones; the potential customer inputs his desired destination, and a driver will go to his current location and transport him to where he wants to go. It allows people to earn extra income on their own times, as well as allows passengers to reach places faster than they would if they were to use taxi services, and it is much more cost-efficient.
The issue with Uber does not stem from its programming, but rather from the poor decisions the company has made over its lifespan. Initially, Uber claimed that its drivers were independent contractors; this freed the company from having to pay any insurance premiums and absolved them of any responsibilities for the actions the drivers committed. After a law change, Uber drivers became de facto employees, and Uber provided coverage for them and their customers. These insurance changes allowed Uber drivers and passengers to be covered for up to $1,000,000 at different points of the journey.
Partially stemming from the fact that Uber claimed no responsibility for the actions of its drivers, there was an influx of sexual harassment and sexual assault cases that popped up. Uber did not go as in-depth as it needed to on background checks and allowed potentially harmful individuals to drive passengers around; further, there were fewer safety measures taken to protect the patrons in these cars.
Even with problems like this, the most recent issue that afflicted the company concerns a data breach and cover-up. This is not the first time that Uber's data on its customers has been compromised, but it is more extensive this time around. The information of nearly 60 million customers was obtained by hackers, and instead of immediately going to the authorities, Uber decided to pay the hackers the money they requested ($100,000). To make matters worse, Uber did not reveal the information until over a year after it happened, and there is no guarantee that the thieves did, in fact, delete the information.
If you believe you may have been affected by the recent data compromise at Uber, or if you have suffered consequences of this hack, contact an experienced lawyer at Normandie Law Firm today.
Steps to Take After a Data Breach
If you feel that you may have been affected by the recent data breach of Uber, you should make it a priority to take certain steps to protect your financial state. Unfortunately, you likely do not know how much information has been compromised; therefore, it is perhaps best to prepare for the worst.
Alert the Authorities: This step will make sure that any suspicious activity that occurs that has your name attached to it will be investigated in a swift manner. If a person using your name, likeness, or personal information does so in another state, or does so to commit illicit crimes or partake in illegal activities, he can be traced, found, and held accountable for his actions.
Alert the Bank: Your bank should be aware of the fact that your information may have been compromised. They will keep a close watch on your transactions, and if anything seems out of the ordinary, will contact you straight away. For example, if someone withdraws money from an ATM in another state from where you live, you may be alerted to this fact and have your account frozen to prevent any other transactions from occurring.
Double Down on Security: You may need to acquire new credit cards and change all of your passwords to your accounts in order to be doubly sure that no one will be able to compromise them. This includes unlinking your credit card for the time being from any apps and other online transaction services like Uber.
Pursue Legal Action: If you have suffered monetary losses or identity theft due to the Uber data breach, it is advised that you seek out the assistance of an experienced lawyer and take legal action against Uber. You should not be held solely responsible for any losses that occur to you, especially if Uber was negligent in alerting you or credit card companies to the breach.
Legal action can take different forms, and a data breach, while not necessarily resulting in physical harm, can still net you ample compensation.
Filing a Lawsuit
With the data breach of Uber, you may be able to file a lawsuit against the company citing negligence in protecting your information. This negligence could lead to your finances being compromised by hackers and identity thieves. You may be subjected to various credit card bills and tax bills that you did not file, suffer a negative impact on your credit and Social Security, witness raised insurance rates due to accidents from someone using your likeness, and deal with the consequences of criminal action if the person racked up warrants for arrest, parking tickets, or other crimes in your name.
However, because this data breach affected millions of Uber customers, there is the possibility that you will be able to join an already-existing class action lawsuit. An expert attorney will be able to represent a group of people who have been negatively affected by this data breach and will work to bring you fair compensation for your damages.
The draw of joining a class action lawsuit over enacting a single claim yourself is simple: there is often strength in numbers, and a company like Uber would find it very difficult to ignore the millions of claims coming their way. A few plaintiffs would be far likelier to get dismissed, but with the sheer amount of people affected, coupled with Uber's shady decision to not alert the customers or any authorities until well after the incident took place, a class action lawsuit would have a better chance of going through.
However, a class action lawsuit can result in a lowered amount of compensation for victims, due to the settlement being spread out among everyone. If you are more concerned with receiving some form of restitution, regardless of size, a class action lawsuit would be a good route to take.
Regardless of what path you want to explore, it is wise to consult with an accomplished attorney who will be able to help you earn compensation for a data breach at Uber.
Possible Compensation
Although a case of identity theft or stolen information may not necessarily cause you physical harm and the damages did not stem from a car accident, you can still file a lawsuit against Uber. Our team of expert attorneys can help you earn the compensation you deserve if your identity has been compromised due to Uber's negligence. We can assist you in receiving:
Lost Expenses: If a thief has used your information that he acquired from Uber to make purchases in your name or on your accounts, we can help you earn those expenses back, whether from suing Uber or working with your bank.
Lost Wages: Fighting a case of identity theft in court against Uber takes time, as does talking with your bank concerning any purchases made be a person that may not have been you. You may not be able to go to work at these times if you have court dates or need to sit down with authorities to sort out these problems. As a result, we can help make sure that Uber reimburses you for the days of lost wages at work and that you are not in a financially tight situation by pursuing legal action. You can receive compensation for both past and future lost wages.
Pain and Suffering: Emotional damages can be prevalent in these kinds of cases, as there will always be a lingering sense of fear that is present. You may always wonder if someone else out there has your information and is steadily working to use it for his own gains. This can cause fear, anxiety, PTSD, mental scarring, and psychological damage, which all can be compensated for in a lawsuit.
Why Choose Normandie
Our lawyers at the top-rated Los Angeles-based Normandie Law Firm are here to help you earn the compensation you deserve as a victim of a data breach of Uber. Our attorneys have handled Uber cases for years, and we are no stranger to the company. We believe our experience and background in all types of cases will be enough to win your case for you.
Call us today to receive a free consultation with an experienced lawyer. You can ask any questions you want and will be able to get more information on the legal process and what options you have moving forward. We invite you to talk with an attorney, as you may not know what to do in the aftermath of an identity theft situation.
Our law firm offers you a zero fee guarantee on your case as well. You are promised to pay no out of pocket expenses during the litigation process. We only receive payment if we win your case, and our fees are taken from the settlement itself; thus, your savings remain untouched. If we do not win your case, you do not owe us a dime.
Contact an attorney at Normandie Law Firm today to learn more about the data hack at Uber.