Arctic Cat Recall Attorney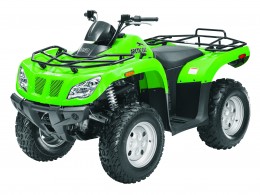 Arctic Cat has issued a recall of their popular ATV products due a potential crash hazard. According to reports about 40,000 units were sold, which can cause significant injuries to those using the product. Arctic ATV's has a component which exist in the front gear that can fail, which can cause the product to  have a loss of control, thus causing a crash. Such an accident can result in significant to catastrophic injuries. This is particularly true if the driver was traveling at high speeds without wearing protective gear such as a helmet and or guards. If you or a loved one was hurt as a result of the use of this product we would like to hear from you.
Product Liability Claim
A product is considered to be defective when it fails to meet the expectations of the end user. Generally, you have a few different types of defects. Either a manufacturing defect, design defect or a failure to warn issue. In this particular case it is likely that you can establish both a design and manufacturing defect, with reference to this product. A design defect deals more with the actual design element of the product. It does not focus on the mechanical components, but rather the overall design.
A product will be considered defectively designed, when and if it can be established that it failed to meet the design standards or if it was incorrectly designed. Products that are incorrectly designed will likely result in some type of injury to the end user, regardless of its use.
Manufacturing defects are more of a hybrid in terms of liability. A manufacturer defect involves some step of the manufacturing process that failed or was done improperly. This can apply wholesale to all products manufactured or individually. It is not clear whether this is a total manufacturing defect, but rather a design flaw.
At this time we are still investigating what type of defect has caused the recall and the injuries sustained by our potential clients.
Common Injuries
We have seen a wide variety of injuries as a result of this defect. Injuries vary widely depending on the terrain and speed of the vehicle at the time of the accident. The main recall for this product is the loss of control and ultimate crash hazard as a result of the failing gear case. Thus, depending on the speed of the collision and terrain you can suffer serious injuries. Here are some potential injuries which can result from the use of this product in its defective state:
Loss of control resulting in bone fractures;
Loss of consciousness stemming from a head injury;
Fractured foot;
Serious back injuries;
Broken ribs;
Knee injuries
This is a very limited range of injuries. Due to the relatively new value of the recall many parties who were injured have not yet come forward. Additionally, many of the injuries suffered by our potential clients have not yet matured. It is important however to have these injuries evaluated by a proper medical professional and get a correct diagnosis.
Who is Responsible?
It is clear that responsibility for these cases will be on the manufacturer. When a manufacturer produces and places within the stream of commerce a defective item, they will be liable for injuries sustained by the end user. This is particularly true if the manufacturer had knowledge or should have known of the potential injury.
However, just because liability is clear does not mean that you will have a simple case. Many times manufacturers even though they admit liability will deny payment of loss earnings, medical bills and pain and suffering. This is why retaining an attorney becomes critical early on to monitor and control how the case is handled to avoid issues.