Ankle Surgery Malpractice Attorney – Botched Podiatrist Operation Error Lawsuit

Every year podiatrists and orthopedics doctors perform thousands different type of ankle surgeries on behalf of their patients. The vast majority of these surgeries are successful. However in some cases patients suffer from debilitating post surgical complications often caused by the surgical malpractice of the practicing physicians. Our law firm is dedicated to providing legal representation on behalf of clients who have suffered serious health issues following a medical operation. Below you will find helpful legal information regarding financial recovery for the damages suffered due to the negligent actions of doctors and surgeons. If you have any further legal questions or if you would like to pursue a claim for medical negligence please feel free to contact our law offices.  All legal consultations, case reviews and second opinions are provided by our attorneys free of charge.
Establishing Medical Malpractice Liability – Winning Your Case in the Court of Law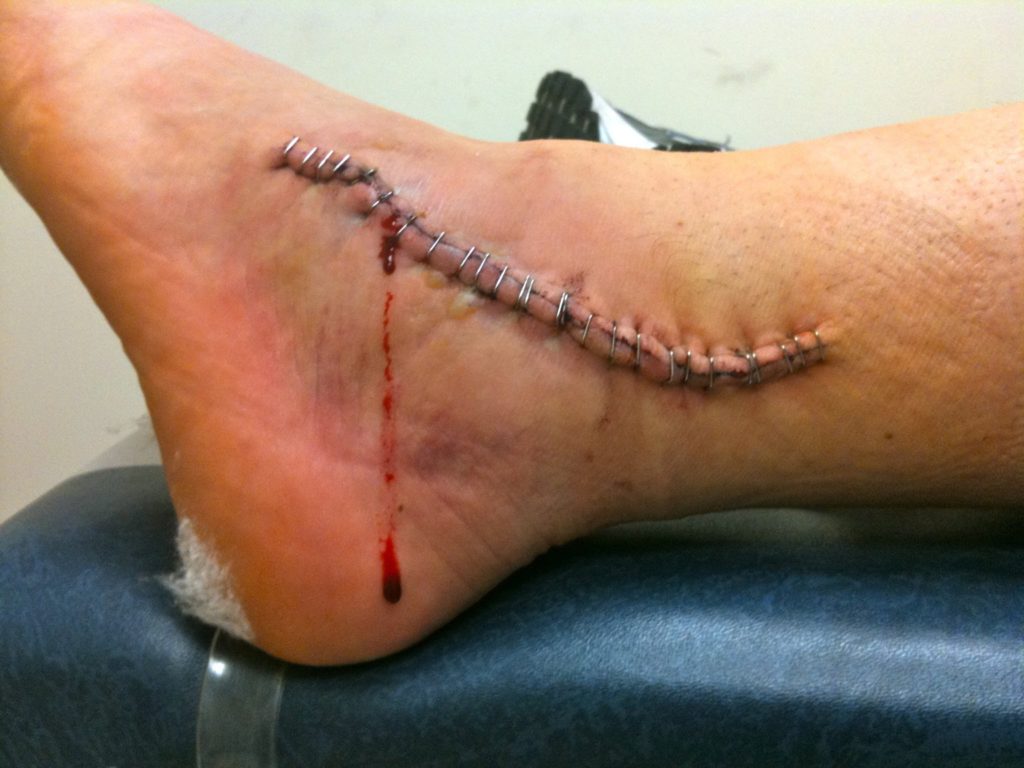 The vast majority on medical malpractice cases are predicated on negligence based cause of action. There are four elements which need to be ascertained in order to prove negligence.
Duty: The at fault party owed a specific duty to the injured party:
Breach of the duty of care:
Causation: The breach of the duty of care was the cause of the damages suffered.
Damages: The plaintiff (the patient) suffered discernible and diagnosable injuries resulting from the malpractice.
Establishing a Medical Duty and Breach of the Duty of Care:  A medical practitioner (surgeon) owes a special duty to follow the specific guidelines provided by the medical specialty he is a member of. Failure to follow such guidelines will result in the establishment of the breach of the duty of care. For example in a torn tendon surgery the orthopedics medical board of California has delineated a 10 step process that must be followed; the surgeon fails to follow steps 5. At that point medical malpractice will be established since the surgeon had a duty to follow steps 1 to 10 but failed to follow one of the steps.
Most Common Surgical Procedures for Ankle Surgery
Below if a list of some of the most common ankle surgeries and procedures in the United States.
Torn or ruptured tendon
Achilles tendinosis
Subtalar arthroscopy and Fusion
Tendon replacement surgery
Ankle ligament Reconstruction and or Stabilization
Endoscopy or arthroscopy of the ankle
Total ankle replacement surgery and insertion surgery
Cheilectomy – removal of bone spurs or a bony lump in the affected region
Surgery following a pilon fracture
Talar neck and body fracture surgery
Common Injuries Resulting from Ankle Surgery Errors
Some of the most common risk factors and injuries associated with ankle surgeries include the following…
Severed or impinged nerves – nerve damage
Misplacing of screws
Surgeons and hospital staff fail to remove surgical tools, instruments and other material
Performing surgery on the wrong ankle
Complex Regional Pain Syndrome – CRPS or RSD
Infections including sepsis and gangrene
Nerve entrapment
Failure to provide informed consent before the surgery
Amputation of the foot due t complications
Procedures which exceed the consent provide for by the patient
Post surgery medication errors
Development of blood clots including DVT – Deep Vein Thrombosis and pulmonary embolism
Financial Recovery Available on Behalf of Patients
Victims of personal injury are entitled to recovery for all losses incurred. A calculation of the damages recovered is predicated on important factors described below.
The level and severity of the damages suffered by the patient.
The length of time it will take for the patient to heel – and associated medical and rehabilitation care.
Total medical costs and estimated future medical care costs.
The level of pain and suffering and emotional distress suffered by the patient.
Loss of wages and future loss of income due to the injuries suffered.
Availability of punitive damage compensation.
Note: In the state of California all medical malpractice claims are subject to a $250,000 cap on recovery for non-economic damages which include pain and suffering compensation and punitive damages. Punitive damages are awarded in cases where the at fault party acted with the intent to cause injury to another or acted on gross disregard for the life and health of a patient.
Attorney Consultation Available: If you have any further questions and would like to speak with our attorneys feel free to contact our offices. All case reviews and consultations are free of charge.
Further Information:
Ankle Surgery Resulting in Foot Drop