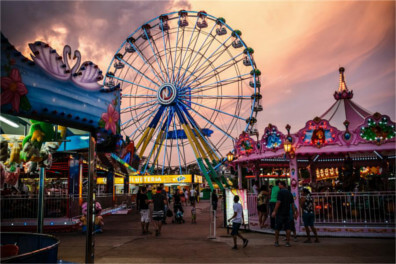 If you or a loved one has suffered personal injury from an amusement park in California, you may be eligible to file a claim. Thousands of people are injured every year because of amusement park rides. If you are one of these thousands, the park in question is responsible for damages. Hiring an attorney to sue the theme park (or amusement park) is your best course of action in resolving your case and getting you the compensation you deserve for your damages. Our skilled Los Angeles theme park injury attorneys at the top-rated Normandie Law Firm are committed to pursuing a positive resolution to your amusement park disputes.
Who Is Liable in an Amusement Park Injury Lawsuit?
Typically the way to determine which party is responsible in an Amusement park injury lawsuit is something called 'premises liability.' 'Premises liability' is the set of laws that are used to determine who (if anyone) is liable when a particular condition or use of a building, land, or other premises causes injury. Amusement parks, the rides, activities therewithin, and the general terms of amusement parks are included in these 'premises liability' laws.
While rules vary between states, premises liability usually recognizes three type of land entries: trespassers, licensees, and invitees. Regarding amusement parks, patrons can only legally be considered invitees or trespassers. To put it simply, a patron can only be someone who is admitted to the park and is allowed to be where he is at the time of the incident, or he is an illegal trespasser.
The defendant in an amusement park injury lawsuit case must maintain safe conditions within the park for patrons either as paying customers or those who are admitted for free. If the defendant does not live up to this standard of care of park conditions, they are considered within 'breach of duty,' and make them liable to an injured plaintiff in an amusement park injury lawsuit.
The Duty of Park Owners And Overseers
Park owners and overseers are expected to make rides safe for any reasonably foreseeable use. These safety expectations include:
Adequate restraints on park rides
Frequent maintenance of park rides
Frequent safety inspection of park rides
Proper and clear safety instructions
Proper employee supervision
These safety expectations protect a possible defendant, as any plaintiff who is injured on a ride that adheres to these guidelines will not be able to file a successful case. For instance, if a plaintiff disregards the listed safety instructions of a ride and injures himself, the park owners and overseers (possible defendant) would not be deemed liable. Amusement park owners are held to a strict safety code so that 'freak accidents' which can injure patrons are less likely to occur. Although in some cases, a plaintiff that has been injured by a ride can sue the ride's manufacturer for product liability if said ride were designed poorly or built with an inherent defect. Under product liability laws, a consumer injured by a defected product can sue the products' manufacturer.
For more information on product liability versus premises liability, contact one of our qualified attorneys with experience in amusement park injury cases.
Your Case
If you or a loved one has suffered an injury at any one of the following California amusement parks, you may be eligible to file a suit with one of our accomplished Los Angeles theme park accident attorneys. Examples of amusement parks that we can sue include:
Adventure City
Balboa Fun Zone
Belmont Park (San Diego)
California's Great America
Castle Park (amusement park)
Disneyland
Gilroy Gardens
J's Amusement Park
Knott's Berry Farm
Legoland California
Marshal Scotty's Playland Park
Micke Grove Zoo
Pacific Park
The Pike
Raging Waters
Roeding Park
Santa Cruz Beach Boardwalk
Scandia Amusements
SeaWorld San Diego
Six Flags Discovery Kingdom
Six Flags Magic Mountain
Sonoma Train Town Railroad
Ten Thirty-One Productions
Universal Studios Hollywood
William Land Park
Experiencing injury from an amusement or theme park can be a traumatic event, and can, like any other personal injury, lead to wages lost, emotional stress, and overbearing medical expenses. You should not have to overcome personal injury from an amusement park ride alone. If you or a loved one find yourself in need of a lawyer to sue an amusement park for injury, you must also understand the typical argument amusement park defendants use. An attorney with expertise in amusement park injury lawsuits can give you the rundown on common defenses. Some of them are as follows:
Assumption of the Risk: When visiting an amusement park, patrons are expected to realize that there are certain risks involved in riding on the rides hosted there. The effect of this term varies from state to state, but every patron must be informed of the risks before getting on a ride. If, for instance, there isn't proper instruction, the assumption of the risk's defense lacks legitimate ground.
Rider Non-Compliance: If a patron does not comply with the instructed age, weight, or height requirements for an amusement park ride, the defendant of said park cannot be held liable. This is doubly so if the injury were in some way caused by the rider's size.
Amusement Park Disclaimers: A defendant may argue that if a disclaimer is printed on an amusement park ticket, then you cannot bring a lawsuit against said park. However, this tactic rarely holds ground as patrons rarely read the disclaimer, which is often vaguely worded.
The value or expected average of any specific amusement park lawsuit case depends on the factors involved in the accident such as the injury itself, and the facts surrounding the incident. If you have been injured by an amusement park ride, we recommend you consult an expert attorney who has experience in amusement park injury cases so that he can develop a more precise estimate for you.
Our Team And You
Suffering personal injury from an amusement park ride should not be done alone or without proper compensation for the possible fault of a park owner or ride manufacturer. You should not have to pay out of pocket for the medical expenses of amusement park injury. Choose Normandie Law Firm, where we host some of the top personal injury attorneys in Los Angeles. Here at Normandie Law Firm, we are passionate about your cause and are willing to fight tooth and nail to make sure we win your case. We negotiate the fairest terms and keep you up to date along the way so you are not left in the dark.
Free Consultation
If you have suffered from an amusement park injury, please give our Los Angeles office a call today. For every possible client, we offer a free consultation and can help you determine the most efficient and worthwhile path to making sure you get the compensation you deserve.  We can discuss the accident, the aftermath, your injuries, all of your possible options, and what you can expect by filing your claim. An experienced attorney will be happy to talk with you.
Our team is made up of attorneys with experience handling amusement park injury claims. We are passionate about being helpful and transparent to our clients. We believe that building a trusting relationship with our clientele is the key to any successful business.
Zero Fee Guarantee
To further our commitment to you and your case, our firm and experienced lawyers operate under a zero fee guarantee policy. At Normandie Law Firm, we believe that you should not have to pay any fees for our services until we help you win your case. In the unlikely event that we do not manage to get you the compensation and benefits you deserve, you do not owe us any money. You only pay once we win your case.
If you feel in need a second opinion as to the value of your case, please feel free to contact our law offices. Per our zero fee guarantee policy, all second opinion case reviews are 100% free of charge, so please, don't hesitate to give us a call. A lawyer experienced in theme park injury cases can help you file a claim.