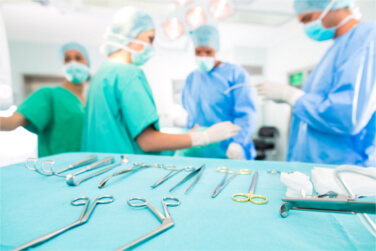 Medical malpractice can be truly traumatizing for those that experience it. When a healthcare provider makes a mistake out of negligence or misconduct, injuries are more than likely bound to occur. These injuries can range from a minor misdiagnosis to very severe wrongful amputations. Amputations can be incredibly damaging injuries that can cause trauma that lasts a lifetime. Not only do they leave lasting physical and emotional damages, but they can also leave victims with the often overbearing medical costs that come with amputation treatments. If you or a loved one has experienced the wrongful amputation of a toe, finger, hand, arm, foot, or leg, you may be entitled to sue the doctor, surgeon, physician or emergency room for the damages. At Normandie Law Firm, our qualified Los Angeles amputation lawyers can assist you in forming your case, filing your lawsuit, and eventually claiming compensation. If you have any questions after reading this article, please feel free to contact our top Los Angeles law offices for a free consultation with an attorney with expertise in medical malpractice amputation injury lawsuits.
Amputation Injuries
Amputations in controlled environments are widely accepted by the medical community as a viable way to stave off deadly infections and to treat life-threatening diseases like diabetes, gangrene, and cancer. While this article focuses on amputations caused by medical malpractice there are a number of other ways an amputation can occur. Some of these common causes are bulleted below:
Automobile Accidents
Agricultural Accidents
Firearm/Explosives/Firework Accidents
Electrocution Accidents
Building and Car Door Accidents
This is just a handful of incidents that can cause amputations, in reality, amputations can occur whenever there is severe damage to a limb or other portion of the body. The damages from an amputation injury can be incredibly severe beyond the expected physical and emotional trauma. Hospitalization, treatment, physical therapy and potential prosthetic replacements can all place a heavy financial burden on a victim. For this reason, when an amputation occurs due to the fault of another, amputation victims can file personal injury lawsuits against the at-fault party. A skilled lawyer experienced in amputation cases can help.
Amputation Caused by Medical Malpractice
In some instances, medical malpractice incidents can leave patients damaged with potentially lifelong conditions that should have never occurred in the first place. This is particularly the case for amputations caused by medical malpractice. Medical malpractice is essentially the negligence or misconduct of a nurse, doctor, surgeon, pharmacist, or any other healthcare professional. These physicians are expected to provide all of their patients with a reasonable level of care. When this level of care is ignored or not upheld, the physician that performed the procedure that caused injury can be held liable for the damages. Listed below are some examples wherein medical negligence resulted in the need for amputation:
Surgery on the incorrect region of the body (i.e: amputating the wrong limb)
Physicians' failure to recognize and treat post-operative blood clots, resulting in amputation of legs, arms or other limbs
Infection caused by a physician leaving surgical equipment in the patient's body resulting in a need for amputation
Administering the wrong medication. This includes the wrong dosage or method administration. In some cases, this can result in limb loss
Misdiagnosis of medical condition leading to the spread of infection resulting in a need for amputation
Mistakes happen, however, and when they do, those who caused them can be held liable for the consequences. This is particularly true of medical professionals who are expected to ensure the health and safety of their patients while under their care. An accomplished attorney who has experience in amputation lawsuits can assist you in filing a claim.
Filing a Medical Malpractice Lawsuit
When pursuing legal action against a physician for wrongful amputation, it is vital to understand the process in which a medical professional can be sued for damages. While the best way to ensure a successful lawsuit is through hiring a medical malpractice attorney, it is still helpful to understand the nuances that go into filing a lawsuit. Like all personal injury lawsuits, medical malpractice lawsuits for amputation require that the injured party prove that the healthcare professional acted negligently. Proving the negligence of a medical professional can be particularly challenging as it is more than likely that they have the resources to employ a whole host of legal experts to argue their side of the case. However, that is not to say that it is impossible. Like all personal injury lawsuits, there are a few essential items that need to be provided in order to file a successful medical malpractice lawsuit. A lawyer with experience handling amputation claims can give you further information.
The Existence of a Doctor-Patient Relationship: The injured party or patient must be able to show that the physician agreed to treat them. Likewise, the patient must also prove that they agreed to be treated. If this is not present in your case then you could find the suit thrown out entirely.
The Physician's Negligence: The injured party must be able to show that the doctor acted negligently. All healthcare professionals are expected to provide their patients with care that is reasonably skillful and careful. In these cases, the doctor's level of care is compared to that of how another reasonably competent doctor would have performed under similar circumstances
The Physician's Negligence Caused The Injury: The patient must be able to show that it is 'more likely than not,' that the doctor's negligence directly caused their damages. In these cases a patient is required to have a medical expert testify on their account that the doctor's negligent actions caused the injury
The Injury led to Specific Damages: The patient must be able to show that the doctor's actions resulted in specific damages. These damages can be anything from medical expenses to a loss of wages, and are expected to be compensated as a result of the lawsuit.
Medical malpractice lawsuits can often be challenging even with the assistance of an attorney. While it is within every individual's right to represent themselves in court, when facing off against hospitals and physicians in court it is always best to seek the help of a medical malpractice amputation lawyer to sue the hospital for negligence for your amputation injury. Having one of our expert attorneys with experience in amputation cases on your side can mean the difference between filing a successful claim for compensation, and having your case dismissed from court.
Free Consultation and Zero Fee Guarantee
The damages from a wrongful amputation caused by medical malpractice should never be suffered through alone. If you or a loved one has suffered from the damages of a wrongful amputation resulting from medical malpractice, you may be eligible to collect significant monetary compensation. If you file your case with our top-rated Los Angeles law firm you may find some, if not all, of the following damages compensable to you:
Any and all medical expenses
Loss of Income
Loss of potential income
Pain and Suffering
Emotional Trauma (anxiety, depression, PTSD, etc…)
Punitive Damages
At Normandie Law Firm, our team of experienced lawyers is committed to ensuring every one of our clients has the resources to put up a fair fight for their amputation injury case. As a show this commitment to you and your case we offer our clients the benefits of a zero fee guarantee policy. Under our zero fee policy, all clients don't pay for our services until we win their case. Already have an attorney and in need of a second opinion? Not to worry second opinion case reviews are also free under our policy. So, don't hesitate, give our law offices a call, and we can discuss the accident, your damages, the aftermath, and the best path to getting you the compensation that you deserve. An experienced attorney will speak with you.