ACE Express Train Derangement – Accident Lawsuit Information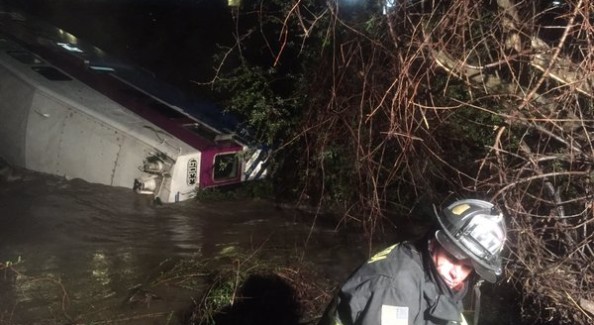 More than a dozen commuters have been reported injured in a massive derailment in the San Francisco Bay Area Monday night. According to investigators from the Alameda County Fire department rescue attempts are underway at the location of the tragic incident. No reports yet as to the exact cause of the accident. The derailment took place at approximately  7:30 PM local time.
The express train No 10. Of the Altamont Corridor Express (ACE TRAIN) was heading eastbound near the Niles Canyon Road. The train was heading from San Jose to Stockton. Officials have reported that close to 214 people were on the train at the time of the incident. So far is seem that a total of two cars were derailed. Local and state officials have organized a task force near the crash location. Train operators owe all passengers the highest level of care in protecting their life and health from unnecessary harm. Common carriers can be held liable for all injuries caused by their negligence.
Injured Victims:  Victims who have suffered harm as a result of the train derailment have the right to seek compensation for the injuries they have suffered. This may include recovery for all medical expenses, future medical care, rehabilitation case, lost wages, loss of income and pain and suffering.
Attorney Consultation: If you of a loved one have suffered injuries in a train accident please feel free to contact our law offices. All legal consultations are provided for free of charge. We are a state wide law firm able to take on cases across the state of California.
Further Information: