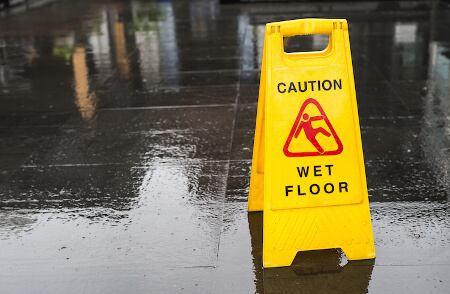 Signage that warns of slip and fall an accident is one-way store owners can warn their customers that there is a hazardous condition present that must be avoided. Normandie Law Firm, one of the top law groups in Los Angeles, has the expertise needed regarding slip and fall accidents. Our skilled slip and fall attorneys can guide you through the often arduous process of building your case and filing your claim. If you contact our law offices today, we can discuss the incident, the aftermath, the injuries and the best way to go about pursuing compensation for your damages. An expert lawyer with experience handling slip and fall claims will be able to help you receive a settlement for your injuries.
Premises Liability and Warning Signage
Store owners, or any other property owner for that matter, are expected to make every effort to ensure the safety of the premises for their customers, regardless of the establishment. This expectation includes stores like McDonalds, Ralphs, Target, Taco Bell, and other restaurants, grocery stores, and places of business. All owners are upheld to a duty of care, which states that the owner must either fix hazardous conditions in their place of business or employ warning signs to alert customers of the particular situation. However, the store must have a reasonable amount of time to be made aware of the situation through regular inspection. If no inspection occurs, and someone slips because of this negligence, then the owner or management may be deemed responsible for the accident. In another instance, if inspections were performed regularly, and a store employee or store management fails to put up the appropriate signage to warn customers of the spill, liability could also fall on the owner or management.
How To Prove Liability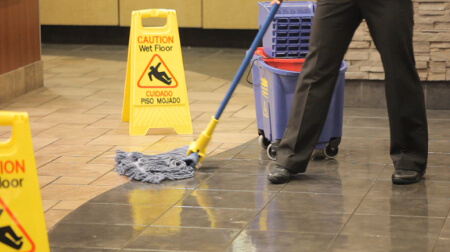 It is incredibly important to have enough evidence to show that the owner or management did not take the necessary steps to prevent a slip and fall accident. This evidence should be collected immediately after the incident, as important evidence may disappear after a short amount of time. One of the most useful forms of evidence that a victim could obtain is a photograph of the condition and whether warning signage was used. Filing an incident report is also an important aspect of collecting evidence. It may also prove useful to check to see if there are any video cameras in the area and to take a picture of the video cameras and any others that may be nearby. Afterwards, ask the management for the footage from the video cameras, as this footage would prove the circumstances of your case.
Witness testimony is also a viable form of evidence. If anyone saw your fall, reach out to them, ask for their contact information, and obtain a written statement if possible. It is also important to ask them if they have seen this incident happen before, or if they have ever seen prior use of the proper warning signage.
The last, most vital form of evidence is from a doctor through medical records that link your injuries to the incident. It may also help to take a picture of any of the injuries that you may have endured.
Free Consultation
If you or a loved one has experienced a slip and fall injury due to the absence of appropriate warning signage calls Normandie Law Firm today for a free consultation. Our skilled Los Angeles slip and fall attorneys can guide you through the process of building your case and filing your lawsuit against the owner of the establishment where you sustained our injuries.
No Up Front Fees Ever
While our law firm operates out of Los Angeles, our attorneys also practice in Oakland, San Francisco, Sacramento, San Diego, Riverside, Orange County, Bakersfield, Fresno, and throughout the entire state of California. As a show this commitment to you and your case we offer our clients the benefits of a zero fee guarantee policy. Under our zero fee policy, all clients don't pay for our services until their case is won.
Free Second Opinions
If you feel in need of a second opinion, second opinion case reviews are also free under this policy. Call now for a free consultation by one of our skilled attorneys, and we can guide you down the path of receiving proper compensation for your damages.