5 Freeway Sylmar Accident 8-9-2017
Man is Killed on the 5 After Being Struck by Multiple Vehicles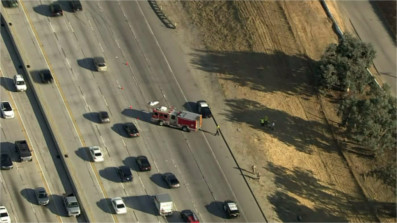 Our lawyers are currently investigating an unfortunate accident that occurred on the 5 Freeway.
On Wednesday, August 9, 2017, a man was killed on the 5 freeway during rush hour in Sylmar after being hit by multiple vehicles.
The victim, a man was struck several times by different cars after exiting his car for an unknown reason. Freeway lanes three, four, and five were blocked until 9:00 p.m.
The body was located in the sixth lane, while his body parts were scattered throughout the freeway on the other lanes.
What Can the Normandie Law Firm Do for You?
The Normandie Law Firm is here to ensure that your rights are protected in the case that you have been involved in a traffic accident. Car accidents can be incredibly traumatic experiences which can lead to severe injuries. It is important that you contact a personal injury lawyer who deals with car accidents so that you can get the legal representation and full compensation to which you are entitled. If you try to deal with the insurance companies all on your own, you may reduce the amount you are given which can severely affect your ability to pay for the resulting medical bills associated with your injury. The Normandie Law Firm will handle all of the intricacies of personal injury law and talk to the insurance companies for you, so there's no added stress on your part and you can focus entirely on recovering from the injuries.
What Compensation Is Available for You?
If you have been involved in a car accident, there are various damages for which you can be compensated. If you can prove that the accident was the result of negligence on someone else's part, you can receive compensation for the damages which were sustained in the accident. The following are the damages you can receive if you have been a victim of a car accident in Los Angeles, CA:
Bodily Injury – The accident in which you were involved may have left you with severe injuries which required immediate medical attention, and you are entitled to receive compensation to help pay for the medical bills you receive for those injuries. If you require future treatment, such as surgery, physical therapy, or medication, then you can receive compensation for those future costs, too.
Financial Loss – The injuries you sustained may have forced you to miss work. If you have missed work because of the injuries you sustained in a car accident, you can get compensated for your lost wages at your regular rate of pay. If you suffered a disability which will affect future earnings, you can get compensated for those lost earnings.
Disability and Changes to Lifestyle – Disabilities, whether temporary or permanent, often bring changes to lifestyles. For example, if you sustained a spinal injury and will require a wheelchair, you can get compensated for the purchase of that wheelchair.
Property Damage – If your property was damaged in the accident, you can receive compensation to repair or rebuild your property. Damage to your car counts as property damage, but also all other property that was damaged or destroyed in result of the accident.
Free Consultation
Contact the Normandie Law Firm today to see what we can do for you! We offer free consultation and the zero-fee guarantee, so there's no financial risk on your part.