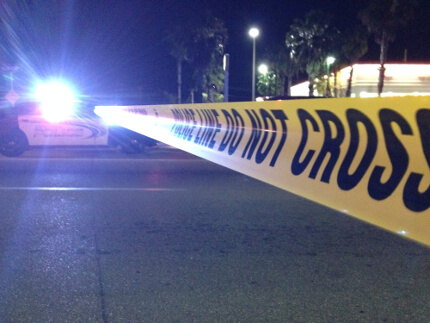 According to Los Angeles Fire Department, five people were left critically injured in a car collision in Northridge Tuesday afternoon on October 10th. Based on reports, the crash occurred at around 3:50 p.m. along the 19500 block of West Roscoe Boulevard. According to officials from the Los Angeles Police Department, the crash involved a silver Tacoma pickup truck, and a blue sedan, and was originally described as a hit-and-run. Amongst the injured, was a mother, a father, and their three sons who range from 18-months to 10-years-old. The sixth patient admitted was the driver of the pickup truck. Based on reports by the fire department, five were described as being in critical condition, while another was reported in fair condition, however, all six people were taken to local hospitals for treatment. Aerial footage from Sky5 showed the wreckage and the aftermath. Based on the video, a small child was taken to an ambulance, and it appeared as though at least one of the vehicles involved had crashed into a fence along the street. Based on eyewitness reports, the victims of the accident were yelling for help and many local residents tried to help them out of their cars. It is still unclear what caused the crash, or if one of the drivers fled the scene, however, the leading probable cause is either speed or an illegal left turn. According to local authorities all the victims involved in the crash are expected to survive, however, some of the patients were upgraded to serious medical condition later that night. Loved ones of the injured family have created a GoFundMe page to help the family pay for medical expenses.
How Normandie Law Firm Can Help
If you or a loved one has suffered any physical injuries or wrongful death as a result of someone else's negligence or misconduct behind the wheel, you may be entitled to monetary compensation for all the damages that you have suffered. If you file a claim with Normandie Law Firm you could find some, if not all, of these following expenses compensable:
Any and all medical expenses
Loss of Income
Loss of potential future income
Emotional Damages (anxiety, depression, PTSD, etc…)
Punitive Damages
Victims of this incident or incidents like this one can contact our law offices to learn more about how to receive compensation for their injuries. Our team of personal injury and wrongful death attorneys is committed to ensuring every one of our clients has the resources to put up a fair fight for their case. As a show this commitment to you and your case we offer our clients the benefits of a zero fee guarantee policy.
FREE CONSULTATION AVAILABLE: Under our zero fee policy, all clients don't pay for our services until their case is won. If you feel in need of a second opinion, second opinion case reviews are also free under this policy. Call our law offices today for a free consultation by one of our skilled attorneys, and we can discuss the incident, your damages, and the path to receiving proper compensation for your damages.