3 Family Members, Including Child, Hospitalized After South L.A. Pursuit Crash 9-4-2017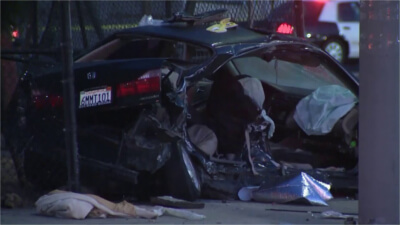 Our law firm is currently investigating an incident that occurred September 4, 2017.
According to local authorities, sometime after 11 p.m. Los Angeles Police Department officers began pursuing a possible stolen vehicle. During the chase, police received notice that driver of the car may have been involved in an assault with a deadly weapon. Sometime afterward, the vehicle traveled southbound on Central Avenue when it cut through the intersection at Gage Avenue and slammed into another vehicle.
The occupants of the second vehicle were a man, a woman, and a 5-year-old child. This second car struck a fence after the collision and came to rest. LAPD Fire Department arrived at the scene sometime before 11:15 p.m.
According to Los Angeles Police Department Detective Meghan Aguilar, the crash was, "very serious." The occupants of the second vehicle had sustained severe injuries, and paramedics did their best to treat the victims. The woman and child were sent to the hospital due to the severity of their injuries; the man was also transported and in serious condition.
After the first collision, the pursuit vehicle continued southbound, where it eventually crashed into a parked car and came to a stop. Six people were in the pursuit vehicle and were all juveniles with ages ranging from 13 to 17 years old. Detective Aguilar described them as four boys and two girls. All of the suspects were medically treated at the scene; the Los Angeles Fire Department reported a total of nine people were injured in the crash.
The juvenile suspects have been taken to the police station, where authorities are still trying to discern how to charge the teenagers. It was later confirmed that the vehicle was indeed stolen, and as such the suspects will likely be accused of stolen vehicle charges, as well as other damages the youth had caused.
About Normandie Law Firm
If you or a loved one has suffered any physical injuries or property damages as a result of the negligent conduct of others behind the wheel, you may be entitled to monetary compensation for all the damages that you have suffered. If you file a claim with Normandie Law Firm you could find some, if not all, of these following expenses compensable:
Any and all medical expenses
Loss of Income
Loss of potential future income
Emotional Damages (anxiety, depression, PTSD, etc…)
Punitive Damages
Victims of this incident or incidents like this one can contact our law offices to learn more about how to receive compensation for their injuries. Our team of attorneys is committed to ensuring everyone of our clients has the resources to put up a fair fight for their case. As a show this commitment to you and your case we offer our clients the benefits of a zero fee guarantee policy. Under our zero fee policy, all clients don't pay for our services until their case is won. If you feel in need of a second opinion, second opinion case reviews are also free under this policy. Call our law offices today for a free consultation by one of our skilled attorneys, and we can discuss the incident, your damages, and the path to receiving proper compensation for your damages.