23 Children Hurt After Platform Collapses In San Diego Trampoline Gym | 11-10-2017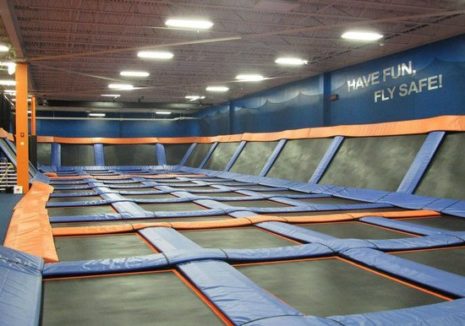 On Saturday evening, around 20 children were injured after a platform collapsed in a trampoline recreation facility in San Diego. Emergency authorities responded to the scene at around 7 p.m. The recreation facility was located near the intersection of Main and Sigsbee, in the Barrio Logan neighborhood. The structure which collapsed was one of many trampolines and gymnastics equipment in the business, called Vault PK, located at 1699 Main St. The platform in question collapsed when both adults and children were standing on top of it. Altogether, 21 children and two adults were hurt as a result of the incident. Four of the injured children were left in severe conditions, with severe injuries to their spine and neck, and according to paramedics were taken to the hospital. A woman was also trapped beneath the rubble, however, was freed by rescue teams. According to a report by local fire authorities, 150 children in total were in the building at the time. The platform which collapsed measured at about 10 feet by 30 feet. Firefighters are currently investigating if the platform's capacity had been exceeded. Video footage captured at the scene detail the aftermath of the collapse, with shards of glass and other dangerous debris scattered about. The case is currently under investigation.
What You Can Do
If you or a loved one were made a victim of this tragic incident, you might be eligible to file a claim for significant monetary compensation. While the case is still under investigation, either the manufacturers of the platform, the management of the recreation facility, or both could be found liable for the damages. The monetary compensation collected after a successful lawsuit could be used to pay for damages for medical expenses, pain and suffering, and even emotional distress caused by the incident. However, the process of filing a suit can be somewhat challenging, especially when the cause of the collapse is still unknown. For this reason it is, in your best interest that you seek legal guidance from a well-versed personal injury attorney with experience in representing victims of incidents of this nature.
If it is found that the collapse was caused by a defect in the platform, you may be able to file a product liability lawsuit against the manufacturing company responsible. Product liability law dictates that product manufacturers are expected to keep defective products out of the hands of consumers. However, if a defective product is manufactured, and the defect results in an accident, like this one, which results in severe injury, the injured consumers have every right to file a lawsuit against the company responsible. Unfortunately, cases of this nature can be somewhat challenging, as often there are a large number of companies involved in bringing a product from design floor to the hands of a consumer. For this reason it, is incredibly important that you can place liability on the company responsible accurately. Listed below are some of the areas in a production chain where a defect can occur:
Design Defects: These are the defects that can occur before the product is sent to the assembly line. The defects that occur in this stage of production are faults that make the product inherently dangerous. In most cases, these defects can lead to full-scale product recalls, and the company which organized the design of the product could be held liable for the damages.
Manufacturing Defects: These defects typically occur on the assembly line of the product. They can range from minor mistakes along the manufacturing chain to reoccurring mistakes that can result in wide-spread recalls. In these instances, the manufacturing company could be deemed responsible for the damages.
Marketing Defects: These defects occur during the marketing of a specific product. These defects include things like improper labeling, insufficient instructions, or inadequate safety warnings.
Since the cause of the collapse is still unknown, the incident could have occurred as a result of the gym staff not adequately monitoring the premises, or performing proper maintenance on gym equipment. Premises liability law dictates that property owners and business owners reasonably keep potential hazards from harming their patrons. If a customer or patron is injured as a result of a hazard that wasn't remedied in a reasonable amount of time, or as a result of a patron not being adequately notified of the hazard, that individual has every right to file a lawsuit against the property owner. However, with all personal injury lawsuits filed against property owners, it is important that you can collect adequate evidence, then used said evidence to prove the negligent actions of the owners or staff. This evidence can include things like photographs of the hazard that caused your injury, eyewitness accounts, medical records detailing your injuries, and even video footage showing details of the scene. This evidence can then be used to support the following claims of negligence:
Duty: The plaintiff (injured or damaged party) must be able to show that the defendant (property owner or business owner) owed a legal duty to the plaintiff under the particular circumstances of the case.
Breach: The plaintiff must be able to show that the defendant breached said legal duty through specific actions or failure to act appropriately
Causation: The plaintiff must be able to show that the defendant's actions or lack thereof caused the plaintiff's injuries
Damages: The plaintiff must be able to show that they endured some specific damages. This can usually be shown through the presentation of medical records, a loss of wages, or a loss of potential income.
Regardless if this tragic incident was caused by the negligent actions of the property owner or a product manufacturer it, is crucial that you are able to follow the statute of limitations that influence your case. The statute of limitations is the time period in which the injured party has to bring their case to court. If they fail to meet the statute of limitations, there is a high chance that your case will be dismissed from court entirely. It is also important to note that the statute of limitations varies from state to state. For instance, in the state of California, a personal injury lawsuit must be filed within two years of the date in which the incident occurred. In this case, it is important to seek assistance from an attorney familiar with the statute of limitations that influence the state in which the damages occurred.
This was a truly tragic accident, and those who were made victims of it, have every right to seek monetary compensation for their damages. While it is within every person's right to represent themselves in court, the best way to guarantee a positive outcome for your case is to seek legal representation from a skilled attorney. Having the right attorney on your side can make the difference between collecting adequate compensation for your damages, and having your case dismissed from court entirely.
How Normandie Law Firm Can Help
If you or a loved one have been injured as a result of this tragic platform collapse, you may be eligible to file a claim for significant monetary compensation. However, in pursuing compensation, it is best to seek the assistance of a skilled attorney, as large manufacturing and property owners more than likely have the resources to employ their team of expert lawyers to dispute your claims. At Normandie Law Firm our skilled attorneys can guide you through the process of building your case, filing your claim, and collecting compensation for your damages. Those who file a claim with our law firm can find some if not all of the following damages compensable to them:
All of you medical and hospitalization costs
All of your future medical care and treatment
A loss of income and loss of future earnings due to long-term recovery or permanent disability due to the accident
Compensable economic damages include loss of property or damaged property.
Compensable non-economic damages include emotional distress, trauma, PTSD resulting from the accident, pain and suffering and anxiety.
Victims of this incident or any other incident similar to this one can contact our law offices to learn more about how to receive compensation for their injuries. While our law firm is based in Los Angeles, our attorneys also practice in Oakland, San Francisco, San Diego, Sacramento, Orange County, Riverside, Fresno, and throughout the state of California.
Free Second Opinions
Other attorneys will sign you up for their firm but will disappear once your name is on the paper as they are busy signing up more cases. In these instances, their business is based more on volume and will attempt to sign up as many cases as possible. In turn, they will spend less time on cases resulting in severely reduced settlements. Our firm will not treat you like a number. We will be in communication with you throughout our lawsuit and will treat you like family. So if you already have an attorney don't worry, we'll give you a second review of your case 100% free of charge.
Zero Fee Guarantee-No Upfront Fees Ever
If you contact our law offices today, we can walk you through the complicated process of filing your claim completely free of charge. As a show this commitment to you and your case we offer our clients the benefits of a zero fee guarantee policy. Under our zero fee policy, all clients don't pay for our services until their case is won. If you feel in need of a second opinion, second opinion case reviews are also free under this policy. Please, feel free to give us a call, and we can guide you down the path of receiving proper compensation for your damages.