2 Pedestrians Seriously Injured in West Hills Crash | 9-7-2017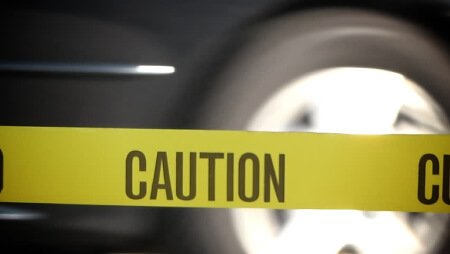 According to LAPD officers on Tuesday morning, two pedestrians were seriously injured after being struck by a vehicle in West Hills. One of the victims was pinned by the vehicle after the slow speed collision. According to a report by LAPD Sgt. David Delgado, the crash occurred at about 7:35 a.m. near the intersection of Stagg Street and Faust Avenue.
The driver of the vehicle was a woman described to be in her 60s and was said to have caused the accident after she tried to make a left turn with the sun in her eyes. She said she heard something hit the vehicle, but she didn't see anything.
The woman got out and was told by a witness that there was something underneath her vehicle. Due to the crash occurring at slow-speeds, the impact likely forced the victim to the ground and caused the victim to be run over.
The victim was taken to the hospital in critical condition. His wife, who had been walking with him at the time, was also struck and sent to the hospital with a critical condition. It was reported by authorities that the couple is in their 70s and 80s. Video footage from the scene showed the man's shoes on the ground and his hat on the roof of the car. The driver of the vehicle remained at the scene, and was described as distraught and upset.
How Normandie Law Firm Can Help
If you or a loved one has suffered any physical injuries or property damages as a result of the negligent conduct of others behind the wheel, you may be entitled to monetary compensation for all the damages that you have suffered. If you file a claim with Normandie Law Firm you could find some, if not all, of these following expenses compensable:
Any and all medical expenses
Loss of Income
Loss of potential future income
Emotional Damages (anxiety, depression, PTSD, etc…)
Punitive Damages
FREE CONSULTATION AVAILABLE: Victims of this incident or incidents like this one can contact our law offices to learn more about how to receive compensation for their injuries. Our team of attorneys is committed to ensuring every one of our clients has the resources to put up a fair fight for their case. As a show this commitment to you and your case we offer our clients the benefits of a zero fee guarantee policy. Under our zero fee policy, all clients don't pay for our services until their case is won. If you feel in need of a second opinion, second opinion case reviews are also free under this policy. Call our law offices today for a free consultation by one of our skilled attorneys, and we can discuss the incident, your damages, and the path to receiving proper compensation for your damages.