2 In Custody After Pursuit of Vehicle, Stolen Trailer Through San Gabriel Valley, Downtown L.A. | 9-18-2017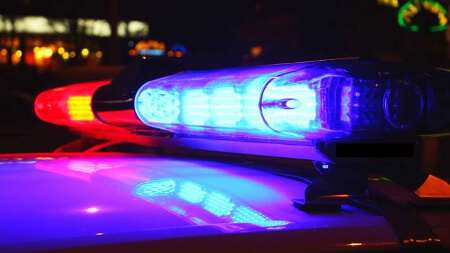 Two people were taken into custody after a lengthy two-hour car chase on Monday, involving the theft of a suspected stolen trailer. The chase took place across several freeways in the San Gabriel Valley and on surface streets in Downtown L.A. According to a report by Jodi Miller of the San Bernardino County Sheriff's Department, the chase began near the intersection of Fourth Street and Haven Avenue in Rancho Cucamonga, at around 12: 30 p.m.
A dark truck with a camper shell was seen towing a small trailer, which carried unknown contents. A video captured by Sky5 after the end of the chase, showed that the trailer may have contained personal belongings and household items.
Two people were reportedly in the vehicle, and authorities treated the situation as if the suspects were armed, although that has yet to be confirmed.
Sheriff officials had been in pursuit of the truck, but the CHP took over control of the chase at around 1:50 p.m. The driver reportedly headed west on the 10 Freeway, then exited at Alameda Street just after 2 p.m. Afterwards the suspect began using surface streets in downtown Los Angeles.
The driver was seen weaving through lanes of traffic on both sides of the road on a meandering path through the busy downtown area. A group of five CHP patrol SUVs followed not far behind.
At around 2:15 p.m. the truck pulled onto the 110 Freeway and then headed back into downtown near high-rise buildings. The truck eventually headed north on the 110 Freeway towards Pasadena, where at one point traveled down busy Colorado Boulevard through the Old Pasadena shopping area.
At about 2:35 p.m. the driver stopped the truck on the shoulder on the eastbound side of the 210 Freeway, near the Sierra Madre Villa Avenue exit. Both driver and passenger stuck their hands out the windows as a show of surrender.
Both the driver and passenger appeared to be men and were taken into custody without further incident.
How Normandie Law Firm Can Help
If you or a loved one has suffered any physical injuries or property damages as a result of the negligent conduct of others behind the wheel, you may be entitled to monetary compensation for all the damages that you have suffered. If you file a claim with Normandie Law Firm you could find some, if not all, of these following expenses compensable:
Any and all medical expenses
Loss of Income
Loss of potential future income
Emotional Damages (anxiety, depression, PTSD, etc…)
Punitive Damages
Victims of this incident or incidents like this one can contact our law offices to learn more about how to receive compensation for their injuries. Our team of attorneys is committed to ensuring every one of our clients has the resources to put up a fair fight for their case.
FREE CONSULTATION: As a show this commitment to you and your case we offer our clients the benefits of a zero fee guarantee policy. Under our zero fee policy, all clients don't pay for our services until their case is won. If you feel in need of a second opinion, second opinion case reviews are also free under this policy. Call our law offices today for a free consultation by one of our skilled attorneys, and we can discuss the incident, your damages, and the path to receiving proper compensation for your damages.