2 Children Killed When On-Duty Deputy Vehicle Strikes 5 Pedestrians in Boyle Heights Area | 11-16-2017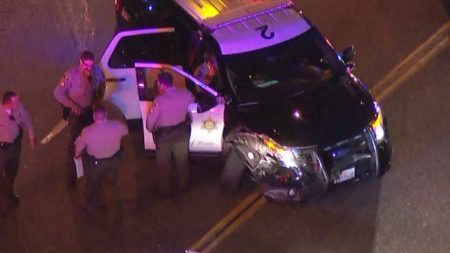 According to reports from the LAPD, two children were killed, and three others were injured in a multi-vehicle crash struck pedestrians Thursday night in the Boyle Heights area. The reports state that an on-duty Los Angeles County Sheriff's Department Deputy vehicle was involved in the tragic accident. The collision occurred at around 7:20 p.m. near Indiana Street and Whittier Boulevard. The scene of the accident is located on the border dividing East Los Angeles, and Boyle Heights. The deputies involved in the accident were southbound and responded to an emergency call involving a gunshot victim. The response was cut short when the deputies were involved in a three-vehicle collision. The deputy vehicle struck five pedestrians on the southeast corner of the street. According to reports, one victim died at the scene, and a second was pronounced deceased after being taken to the hospital. An update to the terrible story has detailed that the two killed from this accident were children. The victims' family has yet to be notified, and the LAPD has yet to release any names or genders, and have only stated that the two killed were children. Three others were taken to the hospital for treatment; however, their condition is still unknown. The two deputies involved in the crash were both transported to the hospital in stable condition and are expected to be released from the hospital soon. The other two drivers involved in the accident were uninjured and remained at the scene. LAPD officials are investigating what exactly caused the deadly collision, and anyone with any information should contact the East Los Angeles Sherrif's Station at 332-264-4151 or the LAPD Hollenbeck Community Police Station at 323-342-4100
If you or a loved one were made a victim of this truly devastating incident, you might also be eligible to file a claim for monetary compensation. Through the filing a personal injury lawsuit or wrongful death lawsuit, you could find some form of recovery for the damages that you and your loved ones have had to endure.
How To File A Claim
While the exact cause of the accident is still unknown, it is suspected that some amount of blame can be placed on the deputies involved in the crash. Filing a suit against a police officer can be incredibly challenging, even with a skilled attorney at your side. Police officers and other government bodies are usually protected by sovereign immunity. Sovereign immunity protects police officers from having lawsuits filed against them. However, that is not to say that suing a police department or sheriff's department for damages is impossible. With the help of an attorney experienced in fighting against police departments, you could find full compensation for all the damages that you may have suffered. Listed below are some steps that you can take to ensure a satisfactory outcome for your case better:
Speak to a civil rights attorney as soon as you can, as they will better understand the complexities that come with suing a police officer or law enforcement officer for the damages caused by misconduct.
Collect as much evidence as possible by taking pictures of the injuries, gathering eyewitness accounts, and holding on to any clothing or any other property that was damaged by police.
Report the incident to the police department, as well as the United States Department of Justice and the United States Attorney General's Office.
If this incident involved the wrongful death of a loved one you may be able to file a wrongful death lawsuit. Wrongful death lawsuits can only be filed by people who share a certain relation to the victim. Criteria for wrongful death plaintiffs in the state of California include:
The deceased person's "putative spouse" or the putative spouse
The deceased person's stepchildren
The deceased person's parents
As mentioned prior, the best way to guarantee a positive outcome for your case is with the help of an attorney with expertise in handling cases of this nature. While it is within every individual's right to represent themselves in court, doing so can be incredibly difficult, especially when attempting to file a lawsuit against a police or sheriff's department.
How Normandie Law Firm Can Help
If you or a loved one have suffered from this tragic car collision, you may be eligible to receive significant monetary compensation for your damages. With the help of one our well-versed attorneys at Normandie Law Firm, we can guide you through the often arduous process of building your case, filing your claim, and collect monetary compensation for your damages. If you file a claim with our law firm you could find some, if not all of the following damages compensable to you:
All of you medical and hospitalization costs
All of your future medical care and treatment
A loss of income and loss of future earnings due to long-term recovery or permanent disability due to the accident
Compensable economic damages include loss of property or damaged property.
Compensable non-economic damages include emotional distress, trauma, PTSD resulting from the accident, pain and suffering and anxiety.
Victims of this incident or any other incident similar to this one can contact our law offices to learn more about how to receive compensation for their injuries. While our law firm is based in Los Angeles, our attorneys also practice in Oakland, San Francisco, San Diego, Sacramento, Orange County, Riverside, Fresno, and throughout the state of California.
Free Second Opinions
Other attorneys will sign you up for their firm but will disappear once your name is on the paper as they are busy signing up more cases. In these instances, their business is based more on volume and will attempt to sign up as many cases as possible. In turn, they will spend less time on cases resulting in severely reduced settlements. Our firm will not treat you like a number. We will be in communication with you throughout our lawsuit and will treat you like family. So if you already have an attorney don't worry, we'll give you a second review of your case 100% free of charge.
Zero Fee Guarantee—No Upfront Fees Ever
If you contact our law offices today, we can walk you through the complicated process of filing your claim completely free of charge. As a show this commitment to you and your case we offer our clients the benefits of a zero fee guarantee policy. Under our zero fee policy, all clients don't pay for our services until their case is won. If you feel in need of a second opinion, second opinion case reviews are also free under this policy. Please, feel free to give us a call, and we can guide you down the path of receiving proper compensation for your damages.