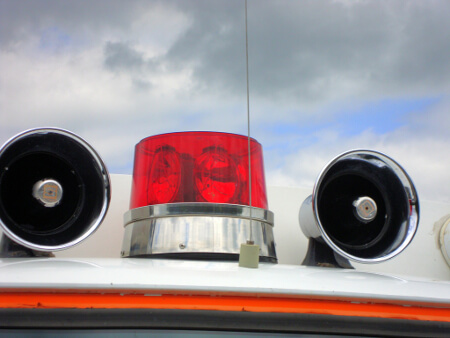 Two Los Angeles County Sheriff Deputies were a part of a multi-vehicle crash that killed one person and stopped traffic on the southbound 5 Freeway in Sun Valley for hours Friday morning. According to reports by California Highway Patrol Officer Elizabeth Kravig, the crash was reported at about 3:10 a.m. A Honda CRV had stalled in the carpool lane when a Honda sedan struck it. The driver in the CRV had exited the vehicle and attempted to warn others prior to the collision. The sedan was then struck by a Sherrif's Department patrol vehicle occupied by two deputies and two inmates. No one in the patrol vehicle was injured. Not long after this collision, the sedan burst into flames. The occupant of the sedan, who has yet to be identified, reportedly died at the scene. A video from Sky5 also showed that a fourth vehicle was involved in the crash and came to a stop on the right shoulder. There was no word on any other injuries that were caused as a result of the crash. A SigAlert was issued for the closure of the southbound 5 Freeway, near the 170 Freeway at around 3:30 a.m.
The CHP began moving traffic on the 5 Freeway again, at about 9:30 a.m. Around 1:30 p.m. the entire roadway was reportedly reopened.
How Normandie Law Firm Can Help
If you or a loved one has suffered any physical injuries or property damages as a result of the negligent conduct of others behind the wheel, you may be entitled to monetary compensation for all the damages that you have suffered. If you file a claim with Normandie Law Firm you could find some, if not all, of these following expenses compensable:
Any and all medical expenses
Loss of Income
Loss of potential future income
Emotional Damages (anxiety, depression, PTSD, etc.…)
Punitive Damages
Victims of this incident or incidents like this one can contact our law offices to learn more about how to receive compensation for their injuries. Our team of attorneys is committed to ensuring every one of our clients has the resources to put up a fair fight for their case.
FREE CONSULTATION: As a show this commitment to you and your case we offer our clients the benefits of a zero fee guarantee policy. Under our zero fee policy, all clients don't pay for our services until their case is won. If you feel in need of a second opinion, second opinion case reviews are also free under this policy. Call our law offices today for a free consultation by one of our skilled attorneys, and we can discuss the incident, your damages, and the path to receiving proper compensation for your damages.